FOR IMMEDIATE RELEASE; WED., AUG. 3, 2016
FROM CINCINNATI BENGALS PUBLIC RELATIONS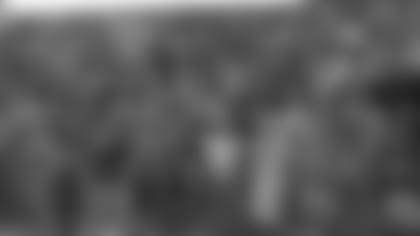 BENGALS INVITE DAYTON-AREA FANS TO ATTEND
PRACTICE AT WEST CARROLLTON HS ON SUNDAY, AUG. 21
            The Bengals will hit the road to bring the team closer to Dayton-area fans, with a practice on Sun., Aug. 21 at West Carrollton High School.  The session will begin at 3:50 p.m. and will be free and open to the public, with no passes required. At the conclusion of practice (estimated 5:20 p.m.), players will be available for an autograph session.
            "Dayton has always been very important to the Bengals because of the strong fan base in the area," said Bengals Executive Vice President Katie Blackburn. "To build on that great connection, we're excited to bring our players closer to the Dayton-area fans and offer a more intimate way for these fans to see the team practice and get autographs from their favorite players."
            Prior to the practice, head coach Marvin Lewis and selected players will meet with the West Carrollton High School varsity football team and coaching staff.
"Football season is fast approaching and we are working hard to get the team ready for our first game," said Lewis. "West Carrollton was a great host in 2014 and we look forward to returning to the area and practicing in front of a large crowd."
"We are really excited about hosting the Cincinnati Bengals practice," said Rusty Clifford, superintendent of the West Carrollton School District. "Their entire organization is first class - players, coaches, administrative support and owner.  The afternoon is a tremendous fan friendly experience for everyone."
The Bengals practiced at West Carrollton prior to the start of the 2014 season.  In addition to West Carrollton, the Bengals have previously practiced in the Dayton area at Centerville High School, at Dayton's Welcome Stadium and at Springboro High School.
ATTENDING WEST CARROLLTON TRAINING CAMP PRACTICE:
            The West Carrollton practice will be held at the high school stadium. Seating capacity is 5000 bleacher seats, plus additional room for fans to stand along the sidelines. No passes will be required to enter.
            Fans will be allowed to bring small soft-sided coolers, unopened bottles of water, and food. Concessions and Bengals merchandise will be available to purchase. No chairs or other temporary seating will be permitted.
            West Carrollton High School is located conveniently just off of I-75 at exit 47. Parking will be available for $5 in the lot adjacent to the stadium, with proceeds going to West Carrollton High School.
            Fans are encouraged to beat the traffic and arrive early in advance of the 3:50 p.m. practice. West Carrollton officials will do their best managing traffic and parking to ease the ingress as best possible.