Zac Taylor was here, but the thing A.J. Green noticed is the guys that weren't here.
That could have been just about anybody after an off-season the Bengals pulled off their biggest coaching overhaul ever. Plus, long-time defenders who played before Carlos Dunlap and Geno Atkins (defensive end Michael Johnson) and came in with Dunlap and Atkins (linebacker Vincent Rey), not to mention the leader of it all, linebacker Vontaze Burfict. It was the always controversial Burfict's release last month that might have been stronger than anything Taylor could have said during Tuesday's introductory team meeting.
But nine-year cornerback Dre Kirkpatrick, who played with them all and called Burfict one of his best friends on the team, has moved on.
"I know he'll do well out there in Oakland, but I can't dwell on that," Kirkpatrick said. "That was a business decision. I don't think it was personal. I'm just ready for what's going on and embrace my new coach. That was a move that was already understood. Hate it happened, but it's understood."
What's also understood is that Taylor brought the energy during his first day with his players. To a man, they said it. From Green, the future Hall-of-Famer, to William Jackson, the emerging Pro Bowler in his fourth year on the corner. Jackson said energy is the biggest difference he saw Tuesday.
"Oh man, he came with a lot of energy. You felt his presence," Jackson said. "That's always a good thing when you have the head man come in and you don't know him and you feel his presence … We didn't have (a lot of energy) last year for the most part."
The age thing didn't move the needle in the room. Taylor turns 36 next month and team leaders like Kirkpatrick, who turns 30 during the season, along with Green and Dalton, now in their early 30s, shrugged it off. Kirkpatrick joked, "Like my big brother."
"Age has nothing to do with anything," said Jackson, who'll turn 27 during the season. "He's just here to win games and have a strong energy and a positive vibe. It's all about us. You can take over any room when you say things like that. I'm excited to play for him. I just want to make plays for him."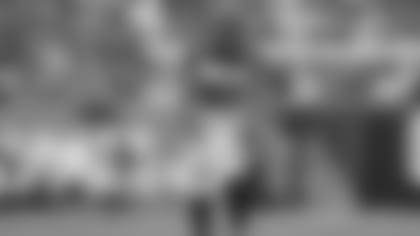 Tyler Eifert, the Bengals-would-be Pro Bowl tight end hoping his seventh season is lucky when it comes to health, agreed with Jackson. Taylor didn't show his age in front of the room.
"He seemed as comfortable as can be to me," Eifert said. "I know I would be nervous with all these new faces and all that. But it was a good first day. We've got a learning to do, a lot of getting to know each other and those types of things. I'm just excited. I think it's going to be a lot of fun and I think it's going to be good for us."
By the way, it's always a good day in Bengaldom when Eifert is healthy, but he can't answer if he's due for a healthy one after finishing four seasons on injured reserve. He politely tried, saying, "I would hope so. I mean, holy crap. But I don't know."
But he likes what he sees from a playbook that would find a Pro Bowl receiving tight end like Eifert.
"It's super exciting. Any time that's a possibility," Eifert said. "We had Day 1 install today, so my head's still spinning and I'm trying to figure out formations and the simplest aspects of the game. But we'll get to all of that down the road. It's definitely exciting. We're in it now, so we'll just follow the process one step at a time."
Dalton finds himself about four years younger than his head coach and they played the same position in college. He sees that as a plus.
"Just to understand the position he's in, conversations are easy, just the little bit I've been able to be around him," Dalton said. "I felt like from day one he was easy to talk to. I think it may be an age thing, it may be that we both played quarterback, whatever it is -- it's been easy from Day 1."
That's Taylor's idea for the next 364 days.
Welcome back to the Jungle! Check out photos of the Bengals arriving at Paul Brown Stadium for the first day of the team's off-season program on April 9, 2019.