It started as a joke, but soon became a reality. Bengals fans Ryan Bidlack and Julia Kofler got married at a tailgate party on Sunday morning a couple of hours before the Bengals kicked off against the Ravens.
Bengals.com talked with Bidlack before his wedding to learn more about the couple's plans.
How did you convince your fiancée to get married before a Bengals game?
I've been a Bengals fan since I was about 10 and have attended every regular season and playoff game played in Paul Brown Stadium. My fiancée understood my fanaticism and I was able to get her hooked enough to join me at most of the games (oddly enough, she's not much a fan of the colder games even though she comes from the Alps). So when she went along with the idea to have our legal wedding at the tailgate, we didn't hesitate. It should be fun!
My fiancée is from Austria. We met online when she was traveling to the U.S. and looking for tour guides for her vacation. For over a month, we only communicated through emails and texting apps until she came here for her trip. A week into her trip, she visited me in Indianapolis. However, once we met, our first date technically lasted over two weeks and included two Bengals' games. Over the next year, I visited her for over two weeks in Austria. She returned to the states for over a month before I returned to Europe to see her. We met in London to see the Bengals play the 'Skins in England.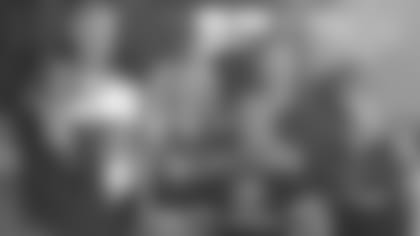 How did this wedding become a reality?
We became engaged and it was decided she would come over here to the U.S. to live. On June 18th, she arrived in the U.S. on a Fiancée Visa which stipulates that she has 90 days to be married or she has to go back. While awaiting her arrival, I met with my tailgating family and explained everything to them. The math was quickly done and everyone realized that the first home game of the season fell just barely within that 90 day window.
The jokes started flying that we should do a quick, tailgate wedding just to make it legal. It started out just as funny ideas everyone was throwing out there to have a tailgate wedding, football-theme takes on the wedding rituals, outlandish Bengals wedding costumes, wedding decorations in orange and black, etc. After a while, the jokes sounded like fun. The comments became more serious and suddenly it wasn't a joke anymore; it was an idea.
Ninety days is certainly not enough time to plan a full wedding and since we already "cater" the tailgate for home games anyway, my tailgating family offered to actually do it. I ran it by the fiancée, not thinking she'd go for it. Surprisingly, with only a couple stipulations, she agreed to do it.
What kind of vision do you have for the wedding?
We have an officiant who has presided over several family weddings already set to perform the ceremony. We have our Bengals-themed wedding attire. We have an ice luge on order with the Bengals 50th logo inside it as well as a tribute to our marriage planned to be etched into it. We have a Bengals wedding cake that also features the 50th anniversary logo. We have keepsakes for all guests that look like game tickets.
It will all go well with the tailgate we normally have with an airport shuttle bus completely decorated in Bengals gear and decals, a Bengals canopy (which will serve as the altar for the wedding), special decorations my fiancée created, and we even have professional photos of us in Bengals outfits my fiancée had taken just for the tailgate wedding. Toss in all the other Bengals stuff we normally have and it should make for a fun tailgate.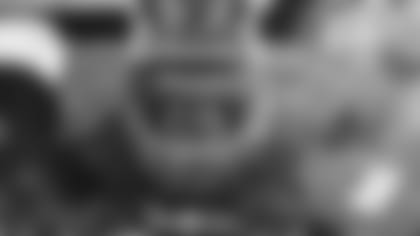 What will you and your bride be wearing?
Our attire will be Bengals wedding gear. I will be wearing my new jersey and trademark knickers (as I always do), but for the wedding, I will have a coat (with tails) and an orange bowtie. The bride has a custom-made outfit fashioned from several Bengals pieces of clothing.
Who will be at the wedding?
The normal tailgate crew, which consists of about 10 season ticket holders, the bride's mother and son, the parents of the groom, brother and sister-in-law of the groom, several cousins of the groom, several other friends/season ticket holders/Bengals fans who are semi-regulars at our tailgate and several spouses or friends of the normal crew who will be there just for the festivities.
What are you looking forward to about Sunday?
I'm honestly looking forward to the whole day. There are so many things going on in one day; it's almost overwhelming. The main thing is that my fiancée and I are finally going to be married, but it's even more than that. For roughly the last two years, we've been a transcontinental couple. Sure, the trips back and forth were fun and usually amazing (I've seen more of Europe in the last two years than I ever thought I'd see in my life), but for a relationship, they were too few and far apart. Finally, after Sunday, we will be a "normal" couple (albeit with an incredibly unique story). Beyond that, the whole event should make for one of our best tailgates. I'm looking forward to any surprises my crew has in store. I'm excited to expose my mother to a Bengals game (she's never been). I'm excited to have a bunch of my actual family meet my tailgate family. I'm hoping everyone has a great time at the tailgate and remembers it for years to come.
It started as a joke, but soon became a reality. Bengals fans Ryan Bidlack and Julia Kofler got married at a tailgate party on Sunday morning a couple of hours before the Bengals kicked off against the Ravens.