With the Bengals already getting ready for another trip and Thursday's game (7:30 p.m.-Cincinnati's Channel 12) in Washington, the Bengals spent Sunday mulling Saturday night's pre-season opener after getting in from Kansas City at 3 a.m.
The first game in the Zac Taylor Era wasn't much different than any other pre-season opener in NFL history, if you start with the premise that it's more a coaching exercise than a real, live pulsating game. It's the only way you can view it when you use four different offensive line combos in the first half. Not only that, it's always a race to see who supplies more vanilla. Graeter's or the opposing coordinators. The stuff they run in these games is nowhere near the game plan starting Sept. 6.
All that said, a few observations:
The No. 1 offense did exactly what it was supposed to do, taking it 14 plays for a touchdown on the first drive. Maybe that's the biggest takeaway of the night. Quarterback Andy Dalton likes this offense and this offense likes him.
The reason it looked that good is, let's face it, the first offensive line played better than people thought it would. Particularly in pass protection. And that seemed to be a thread throughout much of the night, except for the last 50 seconds of the first half. From the first group to the last group, they gave their guys time and only allowed three hits on the quarterback all night.
As good as the defense looked in the training camp practices, it didn't seem as confident or fast when the lights came on. But if that's a concern, then the defensive line has to be considered a strength because it showed up on every line of the depth chart. Yet they need better play at linebacker, hampered by youth, and in the secondary, hampered by injury, and those two things can get back on track with time during the four weeks between now and the opener.
The Bengals are crossing their fingers that special teams captain and back-up safety Clayton Fejedelem suffered only an ankle sprain that would keep him out about a week or two, but Monday should yield a more definitive call.
A look at the roster. (Years of NFL experience in parenthesis :)
Andy Dalton (9), Jeff Driskel (4), Ryan Finley (R), Jake Dolegala (R).
Dalton was terrific in the new scheme on seven of nine passing for 80 yards that included three-for-three on third downs. His one glitch, an underthrow to the wide-open Josh Malone, was an honest mistake. It was a double move, but Malone beat cornerback Bashaud Breeland so quickly on the first move that he didn't bother with the stutter step and that's what Dalton was expecting. No problem, next time all Malone has to do is raise his hand a la A.J. Green to let Dalton know he's in the clear.
Here's a new trivia question for Bengaldom. What quarterback began his career hitting his first 10 passes? That would be Finley, of course, the fourth-rounder that cooled slightly to finish 13 of 18 for 109 yards with an interception, along with the team's first touchdown pass of the season.
You have to love the kid's poise. Forget that 'Captain Checkdown,' stuff even though his yards per throw were barely 6.1. He began his skein running to the sidelines for the plays because his helmet communicator didn't work ("I don't know if it rattled me. I got tired") until his second series and carried it off with aplomb. He took what the defense gave him and showed nice pocket awareness, once on a six-yard scramble wiped out by a Kent Perkins hold and once on his 10-yard improv touchdown pass to rookie running back Jordan Ellis.
"That was a protection touchdown," said Finley, who patted the ball like it was a puppy back there until he stepped away from defensive end Justin Hamilton after feeling him on the backside. He ducked underneath, ran a few steps to the line and shoved it to a wide-open Ellis leaking out of the backfield on that side.
"That's kind of my game. I have to throw with anticipation. That's kind of what I have to hang my hat on," Finley said, and he could have been talking about his second completion that he whistled to Malone before Malone turned out of his break.
Driskel took 31 snaps to Finley's 22 and you'd have to say this backup QB thing is pretty close. Driskel flashed the back of his baseball card. Terrific athleticism and speed, but he also completed just eight of 19 passes for 79 yards with some late decisions. Still, he and the Chiefs' Patrick Mahomes would be on the top of the medal stand in an NFL Quarterback Olympics. The Bengals have a tough call. Keep two or three QBs. Dolegala was one of 16 Bengals that didn't play.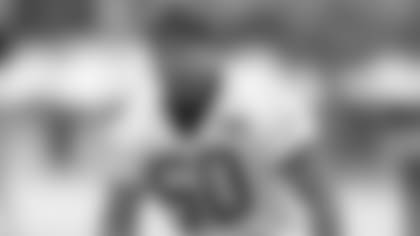 L-RT Andre Smith (11), G-T John Jerry (9), LT Cordy Glenn (8), RT Bobby Hart (5), RG John Miller (5), G-C Trey Hopkins (4), G Christian Westerman (4), G Alex Redmond (4), C Billy Price (2), T Justin Evans (1), C Brad Lundblade (1), RT Kent Perkins (1), LT Jonah Williams (R), G-C Michael Jordan (R), O'Shea Dugas (R), G Keaton Sutherland (R).
The one thing that came out of Saturday was how many guys played multiple positons throughout the evening. Smith played both tackles. Jerry played left guard and right tackle. Westerman played both guards. Hopkins backed up center Saturday, but probably plays left guard in Washington at some point. Price, who missed the first few days of camp, took some extra snaps late in the first half with that fourth different line combo and is getting his timing back.
(Don't forget that line protecting Finley on that TD, from right to left: Perkins, Westerman, Lundblade, Jordan and Dugas.)
Jerry had two holding calls and it appeared that Westerman allowed a sack at the end of the half when the Chiefs were all out, but their versatility and certain strengths are keeping them in the mix. Dugas allowed some pressures, but he's a guard adjusting to tackle and looks worthy of development.
The second line is where they just may be having a break-out player. Jordan, the fourth-rounder out of Ohio State, played right guard with the second group before moving to left guard in the second half on the way to an offensive-high 37 snaps (along with Dugas at left tackle) that really impressed them. At 21, he's the youngest Bengal and won't turn 22 until after the season. But his size, feet and brains have added up to good production and he may be maturing quicker than they think in a camp where he's also played some center.
The final roster number is usually nine and the versatility displayed by Hopkins, Jerry, Smith, Westerman and Jordan is huge. Redmond gets to show his stuff after being cleared Sunday, but probably won't play until the Aug. 22 Paul Brown Stadium game against the Giants.
A.J. Green (9), Tyler Boyd (4), Cody Core (4), Alex Erickson (4), John Ross III (3), Josh Malone (3), Auden Tate (2), Hunter Sharp (1), Ventell Bryant (R), Stanley Morgan (R), Damion Willis (R)
Core, Malone and Tate appeared to help themselves in K.C. They all made big catches and Core continues to be solid on special teams. Malone is trying to get there as a kick returner as Darrin Simmons searches for an Alex Erickson backup. Taylor isn't fooling around. He wants to get these guys snaps with the first group and it was telling that Tate was in there long enough to show how Dalton can allow him to contest those jump balls with his 6-5 climb-the-ladder height. Keep an eye on Tate. They love how he engages his body in the running game.
Saturday shows you how they feel about the undrafted Willis. He got as many snaps as Core with 34 and nearly three times as many as fellow undrafted receiver Stanley Morgan. But Morgan had a bigger impact on his 13 snaps with five targets and three catches for 42 yards (one of 19) while Willis finished with a one catch for four yards on three targets.
It all depends how Green rehabs, but the thinking is they'll keep seven.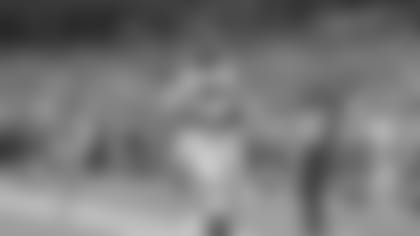 Giovani Bernard (7), Joe Mixon (3), Quinton Flowers (1), Trayveon Williams (R), Jordan Ellis (R), Rodney Anderson (R)
They were hoping to get Williams more than the five carries Saturday, but he showed his moxie bruising a rib on the final play of the half when his hustle tackle may have prevented a pick-six. (Where would that have fit in the pantheon of end-of-half Titanics chronicled relentlessly by Jay Morrison of The Athletic?) He says he's OK.
The undrafted Ellis, an interesting guy that just flat-out produces whether it's in one-on-ones or in a game, showed his versatility as the game's leading receiver with five catches for 44 yards. Flowers had apparently never caught a punt before Saturday and as one observer noted, he still hasn't after a miscommunication resulted in a fumble.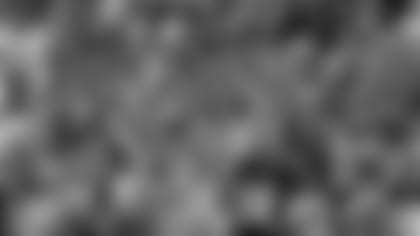 2019 Season Tickets
Bengals Season Tickets are officially on sale – don't miss a second of the action! Who Dey!
Tyler Eifert (7), C.J. Uzomah (5), Mason Schreck (3), Cethan Carter (3), Jordan Franks (2), Moritz Bohringer (1), Drew Sample (R)
During training camp this has been one of the position groups getting raves inside the building, along with the coaching of James Casey. They don't want to pound these guys, so Eifert didn't play and Uzomah only took 11 snaps to take care of their top two. Carter played twice as many plays on special teams than from scrimmage (11-5), which is about right, but he was also limited when he hurt his neck and it's unclear the extent of it. The CW is Sample rounds out the group and the second-rounder got the most work in the group with more than 30 snaps, ahead of Schreck's 24.
Sample is here to block and that was hard to gauge Saturday with the running game unable to get any kind of rhythm established with the revolving lines and backs. He has been as advertised in camp, though, and they had him out there in the first group for a few snaps where it looked like he belonged. He was one of the guys down field on Trayveon Williams' 13-yard screen on third-and-11. Typical game for a rookie, though. Some good plays and two penalties, a false start and pass interference.
LE Carlos Dunlap (10), T Geno Atkins (10), E-T Kerry Wynn (6), NT Andrew Billings (4), NT Christian Ringo (4), E Jordan Willis (3), E Carl Lawson (3), DT Ryan Glasgow (3), NT Josh Tupou (3), RE Sam Hubbard (2), E Andrew Brown (1), T Renell Wren (R), E Immanuel Turner (R).
These guys showed up Saturday and that's with four guys that figure to make the final nine not playing. Atkins, Lawson, Wynn and Wren. They really like the size that Tupou gives them in the middle. Just look at his team-leading 61 snaps on Saturday. Glasgow continues to round into form coming back from ACL surgery as they eased him in with a dozen snaps. Two guys that have had good camps staying put at end, Willis and Brown, played well against K.C. Brown had their only sack and Willis had a tackle for a loss.
MLB Preston Brown (6), SAM Nick Vigil (4), WILL Jordan Evans (3), MLB Hardy Nickerson (3), WLB Malik Jefferson (2), WLB Germaine Pratt (R), SAM Deshaun Davis (R), SAM Curtis Akins (R), MLB Noah Dawkins (R), MLB Sterling Sheffield (R).
A lot of youth here and it showed up when the Chiefs gouged them for 4.8 yards per carry on 24 runs and it's the backs and tight ends that still keep making the big plays on them and not the fleet wide receivers. The Chiefs' four longest passes went to tight end Travis Kelce (36), running back Darwin Thompson (29), tight end Blake Bell (23) and John Lovett (22).
They love Pratt's brains and tenacity and he led the backers with 29 snaps. They'll be looking for him to shore up his tackling after missing some Saturday, but he looks to be as advertised. They love Nickerson's football IQ (he had their only interception on Saturday), but he couldn't keep up with Thompson out of the backfield on that touchdown pass. They love Jefferson's athleticism and he had Lovett covered but couldn't find the ball. And he couldn't get off Bell's block on a jet sweep that went for a TD. Other than Pratt, no rookie played more than 14 snaps. You can almost hear DC Lou Anarumo right now telling them he needs more consistency from players that are talented.
CB Dre Kirkpatrick (8), S Shawn Williams (7), CB Darqueze Dennard (6), CB B.W. Webb (6), CB Tony Lippett (5), William Jackson III (4), S Clayton Fejedelem (4), CB KeiVarae Russell (4), CB Tony McRae (3), S Brandon Wilson (3), S Trayvon Henderson (2), CB Darius Phillips (2), S Jessie Bates III (2), CB Davontae Harris (2), S Demetrious Cox (2), CB Anthony Chesley (R), CB Jordan Brown (R), S Tyree Kinnel (R).
They're already banged up here. They're pretty solid across the corner front with Jackson, Kirkpatrick and Webb, but after that they've been much nicked. It'd be nice to get good news on Dennard's knee and whatever has been ailing Russell. Phillips may have lost his job as a punt returner with two drops on Saturday, but he proved he can make some plays at corner, tipping away a pass in the end zone. McRae is frisky, feisty and gives you everything in the slot. On Saturday that was a team-leading six tackles with a tackle for loss and a pass defensed. With Dennard hurting, they need slot depth.
Wilson's good camp translated into an excellent game on Saturday as he continues to play the best ball of his career. His interception was wiped away by a pass interference call on Lippett.
P Kevin Huber (11), LS Clark Harris (11), K Randy Bullock (8), K Tristan Vizcaino
Lost in the three dropped punts and 12 men on the field penalty was Huber's big effort. He dropped one inside the 5, two inside the 20, drilled a 55-yarder and posted a 44.6-yard net. It was also nice to see the rookie hit the 47-yarder in his first shot in a game after struggling in camp.