Looking to be de-briefed on the Bengals' 2020 NFL Draft, roundly praised by pundits and purists as one of the league's best, we sat down with Duke Tobin, director of player personnel, and Mike Potts, director of college scouting. In separate interviews they reviewed how the Bengals grappled with the league's first remote draft and how they put together their first virtual class of college free agents.
 GH: How did you improve the team, Duke?
DT: I think we've got a lot of guys with a propensity to buy into the team and can become leaders. We brought in a lot of intelligent guys that ought to be able to learn quickly and fit in and recognize roles they can fill. I feel good about the character of the guys we brought in. The football character, which is the most important component and these guys all have top quality football character as they went through college careers.
GH: It seemed like it was consensus all the way that Joe Burrow was your man.
DT: Yeah. He was. We all felt great about him and the fit for us and for him being here. It was in our opinion a good year to have the pick if you have to have it. To have a player like Joe is valuable to us. We feel great about it, now we have to guide the new players through the offseason.
GH: What was the best offer you got for the pick?
 DT: We don't talk publicly about offers. We really weren't interested in trading it anyway.
GH: It seemed like a trade was never an option.
 DT: We felt good about sitting there and taking him and that was the most important thing to us, more so than what any team might want.
MP: We weren't moving off that first pick. I could have told you that a long time ago.
GH: It must have been nice to have your family around, Duke, for the Tee Higgins pick at the top of the second.
DT: They were around for just about every pick. They were in the other room for the first-round pick, but I still think they made the cut on camera.
GH: Did you get any advice from your three boys?
DT: They like guys they recognize and know. So pretty much everybody we took they had some knowledge of and I think they were feeling good about it.
GH: Tee was popular, I would imagine.
DT: Yeah, he's hard not to know the way Clemson has been going.
MP: Tall and long with 34-inch-plus arms. Can widen the strike zone for the quarterback. Tracks the football naturally with outstanding production at a school that has produced many excellent wide receivers.
GH: We saw Duke on his porch. Where were you during the draft, Pottsie?
MP: I have a nice little set up in my basement. For the majority of March and April I barely lefty my basement. But like I told you before, as scouts we're used to working remotely. It wasn't all that foreign to us. I'm used to watching film at a school or in a hotel room on my computer or on my iPad. I'm used to VPNing in and typing reports, whether it's from home or the hotel room or in an airport. It was smooth on the scouting side because it wasn't much out of the ordinary to be working remotely.
GH: Looking back on it all, with all the technology, how did it work?
DT: We were pleased with the mechanics and how people adapted to it. We were able to communicate effectively with everybody involved and kept everybody involved. From a mechanical standpoint there are probably things we learned that maybe we can carry forward as we go.
GH: Did you pick up anything for future use?
DT: We'll see what the future looks like. Ideally, we'd like to be all together where you can interact with everyone, but it's nice to know you've got this as an option.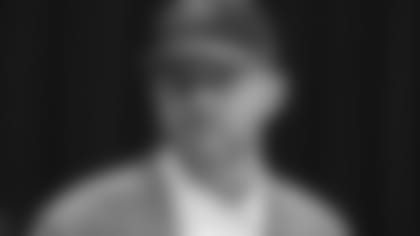 GH: Did the way you had to do things (no pro days, no visits, very little medical and measurables) contribute to how well you seemed to draft? Such as focusing more on tape?
DT: We always focus on how the guys play football. That's what we're going to employ him to do. That's always the No. 1 consideration any way. You get a little information on confirmed measurables, but those have always been secondary to us. So not having all of them was not a huge hit to us. We just went back to what the tape said and how they play and how that would translate in what they're going to do here with us.
GH: What's the best way to do this? The old way or this way?
MP: Probably a combination of the two. Maybe teams will look at the future balancing the two out. Maybe some of the aspects of the virtual meetings can be incorporated into how teams do things. Maybe it's worth looking to the balance between the travel and the stay at home to knock out more tape. It was skewed the opposite way before and now its skewed this way. The tape was skewed this time and in the past the travel has been skewed. I think a balance between the two would be ideal.
GH: How many days would you have traveled normally?
MP: Probably in March and April, between 20-25 days.
GH: So you were able to watch more tape
MP: For sure. You're not driving city to city, hopping on planes. Maybe you get an hour watching tape in an airport, whereas if you're at home in an office setup maybe you knocked out seven hours of tape. But there's a trade-off. On that day you watch an hour of tape on the road, you might meet five prospects in person and develop a relationship that way. That's the negative. But since I'm viewing it from a broader approach, getting in extra hours of tape is effective.
GH: I know you worked the phones furiously in almost every round, but you ended up staying put and took the guy that was there. And it looked like most of them were rated higher than where you took them.
DT: If there are players there you like and feel good about them, take them. There was never a spot in the draft we didn't feel good about what we saw at our pick. There wasn't a big need to move around a bunch. Some years it's like that. When you're leading off every round you get the best cut of each round. There were guys available where we were picking that we were very happy with, so we just went with it.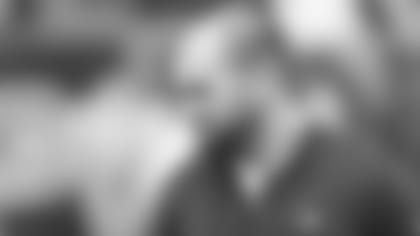 GH: It seemed like you guys came in thinking the wide receivers would run out early, the linebackers wouldn't, you'd get an offensive lineman late for whom you had high grades and in the seventh round you'd sit back and take the best guy no matter the position and it would be a bonus if it was a position of need. And you were right.
MP: I can honestly say we don't feel we reached in any round. Regardless of what teams want to say after the draft, I don't think most teams can say that ever year. I don't think it's always true teams pick the best available player even though that's what they say. Regardless, you're always looking to fill certain positions on your roster.
With six receivers and four true linebackers going in the first round, that receiver position was thinning out. With how quickly it was thinning out the odds of us staying patient at that receiver position for a guy we thought could come in and make a real impact at pick 65 in the third round, are that much lower. You roll the dice a little bit with the linebacker numbers, but the odds are there and in your back pocket you have the ability to trade up if a position group is getting picked over.
GH: You had to make a decision. If you went with a tackle early you would have taken yourself out of one linebacker and maybe two. Plus, I think you guys think you've already helped the offensive line.
DT: We think our line is coming on. Getting Jonah (Williams) back is a big benefit. Losing him last year was a big hit. That will make a difference for sure. But we don't approach the draft as just a position analysis. It's an ability analysis more than a position analysis.
GH: And the O-lineman you did get, Kansas tackle Hakeem Adeniji , looked to be a guy you could have got earlier.
DT: He's a guy that a played a lot. Good experience, character, good physical ability. As the draft goes on you look for guys at value at the time you take him.
GH: Purdue linebacker Markus Bailey looked to be a purely best-player-on-the-board pick at the top of the seventh.
DT: We try to approach every round that way and still address our needs and we were able to do a lot of that. You want the ability to override anything else. The guys we took had the ability for that spot and maybe higher. The first four guys were all targets we had going into the draft. We could visualize a role for them with us. High consensus on all of them. Those were picks you want to make when everybody in the organization feels good about them.
GH: Adeniji seems to hit you in a couple of different ways.
MP: I'm sure some people look at our draft and say, 'You should have addressed the O-line earlier.' But you have to know where the draft is strong and weak. The tackles flew off the board early in the first. We liked the next wave of guys and Hakeem would be included in that. We thought there was some depth and we could be patient. I think people from outside may be saying, 'Oh, they felt obligated and threw a dart at the draft board late for the offensive line.'
By no means did we feel he was sixth-round caliber. We were rushing to turn in the card at the podium at the top of the sixth so to speak. We felt the value of the player and the position was too much to pass up. I don't know if you took Hakeem Adeniji at the top of the fourth instead of the sixth if anybody would have been overly disappointed with that.
GH: How important did coaching the Senior Bowl end up being?
DT: I think we got to know some guys there that we were comfortable with and liked the way they approached the week. Like the way they approached football and meeting new teammates and how they interacted. It gives you a glimpse of how they're going to be in our locker room. It was valuable. It was a good year to have a Senior Bowl.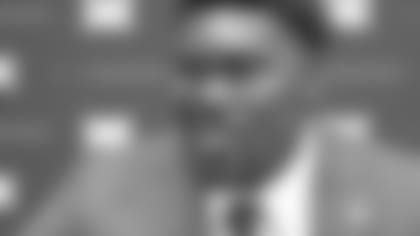 GH: Even though two of the guys didn't play for you, Adeniji and Wyoming linebacker Logan Wilson. You did see them practice.
DT: And we did get time with them outside of practice, which was good. Our scouts were down there and they would have interviewed everybody, but we got extra time with the North team and that was valuable.
GH: Getting Wilson at the top of the third seemed to be the key to the draft and put it over the top.
MP: The reason Logan Wilson is going to be such a good pick is because he's an all-around player. You can't say he's just a run and hit guy, he's just a cover guy, he's just an in the-box banger. No. He checks off so many boxes in his game. He's big, over 6-2, 241 pounds. He's athletic, he can run. He's got good length. He can get off a block, he's instinctive, he's got a ton of on ball production. He had no medical concerns. No character concerns. You look and say what's the negative? Because he played at Wyoming? We don't agree with that.
GH: Did you get a little anxious when Carolina traded with Seattle right in front of you at the top of the third, knowing they may be looking to replace retired linebacker Luke Kuechly?
DT: I think the draft is an exercise in being anxious a lot. There's always anxiety. You have your mindset as your pick is coming where you're going and you want him to make it to you.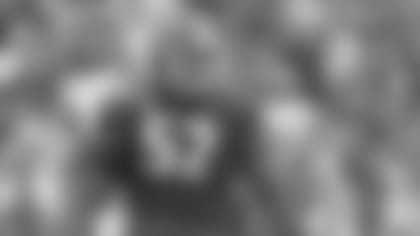 GH: Usually after the draft, it's crazy going for the undrafted guys. What was it like this time?
MP: In some ways we made the process more efficient. We had a document that we shared where everybody could see it on their screen and anytime a scout reached a commitment with a college free agent, that name would be added to that document under that position group with the terms and details of the contract and we could adjust accordingly as far as how much money was left and what positions we still needed to attack and where we were set. It was actually less chaotic in that regard with everybody being in front of their screen instead of scattered trying to find a quiet office to make phone calls.
Ownership and scouts were on a Zoom call the whole time. All the scouts had to do was unmute themselves and say, 'Hey, we may need a little more money to get this guy committed,' those types of conversations. That process is always crazy, but from what that process is, it was less challenging than I thought it would be. Really, the only issue was the scouts weren't sitting with the position coaches. It would be an extra phone call. 'OK, I've got guy this committed for X amount of dollars.' Or, 'This guy's going to Seattle and who's the next target?'
GH: The big undrafteds look to be Georgia defensive tackle Tyler Clark, Iowa State linebacker Marcel Spears, Jr., and South Florida tight end Mitchell Wilcox.
MP: Those were some of the guys that had draftable grades. Clark is long and plays violent with heavy hands and can re-shape the line of scrimmage. Wilcox is well-rounded and productive. Tough and willing blocker who catches the ball well. Spears is instinctive, competitive, a good tackler, can run and hit and has been productive in pass coverage. All three can compete for back-up spots with Wilcox and Spears can help their cause on special teams.
GH: Did you feel pretty good when you turned the computer off Saturday night?
DT: It's always an exhale when the draft is over. You wanted it to go well. I think everyone involved with us felt it did, was happy with the result and that's a positive thing. When the organization is united on what you do, that's always a great feeling after a draft.
GH: Is it bittersweet because you can't see these guys on the field yet?
DT: It's a tough offseason. It's always nice to see these guys come in a week or two later and get them acclimated to the city and to our facility and see each other and watch them practice. That's always a fun time for scouts that we're not going to have this year.
GH: The media gave you sweeping high marks.
DT: That's not the mark of what we're after. What we're after is what's still to come. Which is having the guys that come in and fulfill their potential that we see in them. The work is a long way from being done. But we feel like we've got guys that will work at it and have a good chance of realizing their potential and maximizing their abilities.