It's the "Get Ready" edition of the Bengals Booth Podcast with FOX Sports analyst Daryl Johnston previewing the game against the Detroit Lions. Also, an interview with defensive tackle D.J. Reader, analysis and #AskLap questions with Dave Lapham and "Know Your Foe" with "Locked On Lions" host Matt Dery.
Podcast highlights include:
2:11 - Interview begins with Johnston first talking about what has stood out about Cincinnati this season.
3:30 - Johnston talked about how quarterback Joe Burrow is similar to Hall of Famer Troy Aikman.
13:55 - Reader spoke about how well the defensive line has played and why the hard work in the offseason has paid off.
20:07 - Lapham discusses the opportunities the offense has to ramp up their points per drive.
36:33 - Why Detroit's screen game will be a key to watch for the Bengals defense heading into Week 6.
47:47 - Dery discusses the state of the Lions and why they are one of the toughest teams in the league.
For all of the Bengals Booth Podcasts, visit Bengals.com/podcasts. Fans can also download the Bengals Booth Podcast on Apple Podcasts, Spotify, Google Podcasts, Stitcher and wherever podcasts are available.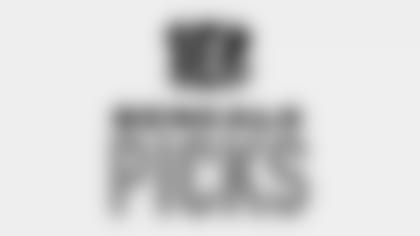 Bengals Picks, presented by OHIO Lottery
Play Bengals Picks every week for a chance to win prizes. Predict individual and team outcomes and compete against other Bengals fans for a chance to take home the prize, and the bragging rights!