The family of Dan Ross was honored at the most recent Bengals First 50 celebration. Wife Joanie, daughter Jillian, and son Dan.
Bengaldom holds on to the late great Dan Ross like that 19-yard catch he scraped off the Riverfront Stadium ice rink for Ken Anderson's longest throw in the Freezer Bowl. If it's not one of the greatest catches in the history of the franchise, it certainly has to be one of the more unworldly on that supernatural day of a minus-nine wind chill.
Dan Ross Jr. saved that catch and so many others and froze them in his own era on his phone. He sees that play a couple of times a year because that's how many times he usually watches that Currier and Ives AFC title game and the ensuing Super Bowl his father caught everything but hell when he tied the Big Game record with 11 catches two years before he was born.
He found the clips but it wasn't until a few weeks ago at one of the Bengals First 50 celebrations when his own hands discovered just how far Dan Ross Sr. had run down the seam of Bengaldom. The gangly kid from the blue collar North Shore of Massachusetts with the lobsterman work ethic and Prides Crossing hands had become an adopted Who-Dey son, his own son realizes now.
 "When I came off the field a couple of the fans slapped hands with me and one of the guys grabbed my hand and held it," Ross says. "He told me, 'Your Dad was one of my favorite players.  You should enjoy this moment.' Coming from someone I had never met, it was such an honor to hear that. It takes a weekend like that to actually appreciate he had fans, guys that grew up following him play like I followed tight ends when I was growing up. That was a cool moment."
It turns out there were a lot of cool moments on that weekend for him, his sister, and his mother.
"It was perfect," Danny Ross says.
They had come to Paul Brown Stadium 10 years ago to watch Danny's hometown Patriots play his team a year after he had so suddenly passed at 49 and that was a very nice gesture by the Browns. But it was the family's own private memory after a visit with Bengals president Mike Brown and head coach Marvin Lewis introduced them to his team after the Saturday practice.
"You know an NFL head coach is so busy," Ross says. "But he spent so much time with us."
Special. Yet not like this. Not like this when he would be on the field at halftime with the players he had only seen on video and heard about from his dad and he would hear his father's name announced to the crowd and he would do what he has done since that day they lost him and represent him well.
"It was such a surreal moment. So much emotion," Ross says. "Happy. Sad. Wishing he could have been there to experience it. How they remembered his accomplishments and seeing his ex-teammates.  He would have appreciated that.  When I heard the roar of the crowd at his name, I got chills all over my body."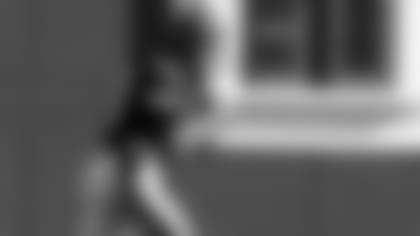 Dan Ross still shares the Super Bowl record with 11 catches by a tight end.
The entire last weekend of October has been catalogued like that.
Danny Ross, now 33, and born after the 71 catches, the Freezer Bowl, and the Super Bowl record, had been thinking about it. He works in distribution for an office supply company in South Boston and there is always time to think on the drive back to the North Shore in Peabody.
He is older than his father when he had done all those things.
His sister Jillian, two years older and her two kids back home in New England, had been born during the run. His mother Joanie found herself with some of the wives and friends that were around when she and Danny began their adventure at the end of the '70s when the Bengals drafted him in the second round out of Boston's Northeastern University.
 The First 50 weekend, 38 years after all the firsts, turned out to be another adventure.  There was the family reunion with the Montoyas, Patty and Max, who became close when they arrived in the same 1979 draft and still as close as an aunt and uncle. But on this weekend there were other reunions, too.
"To see my mum taking it all in and getting re-acquainted with people she hadn't seen in so many years was really something," Danny Ross says. "The players and the fans made it. To see his teammates and have them come up and talk to us about what a great player he was, it meant so much to us."
When the shuttle took them from the hotel to the stadium for the Saturday night dinner of that game's Bengals Legends and the First 50 players, it turned out they were with former tight ends Tony McGee and Reggie Kelly. Between the two of them they played 17 seasons in Cincinnati, more than double Ross' stint of five-and-a -half seasons. But they knew what he meant.
"What great guys. Both of them," Danny Ross says. "They couldn't have been nicer. Neil Rackers.  (Bernard) Whittington. All of them. (McGee and Kelly) couldn't have been nicer to my family.  They said we looked up to your dad and saw his catches and his records and it's something we looked up to as tight ends in the organization. That was a proud moment."
Back in Florida, McGee also savors the moment.
"There's a bond there," says McGee, hugely successful in the logistics industry. "You have to know who came before you. Without them, you don't get there. It had to be a proud moment for them. I know for me when you're a professional athlete and you're away from the 50,000 people going nuts, it's nice to hear again. They were very nice and outgoing. You could tell they were from Boston."
McGee was going through his own bonding. He was surprised his daughter, now a college student, wanted to join him for the weekend and he was even more surprised how much she seemed to enjoy seeing the city and riverfront where he spent nine years.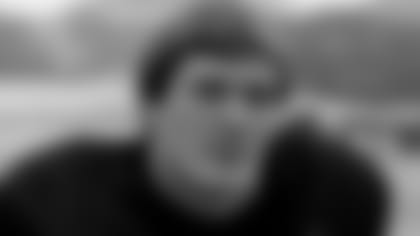 Dan Ross: still running deep down the seam in Bengaldom.
"I guess you realize," he says, "that's your legacy."
 No one threw more balls to Dan Ross than his kid. He coached Dan Ross Jr. starting in Pop Warner up through St. John's Prep. How many times did they go down to the park in Saugus, Mass., and throw? Danny was a quarterback and even went to Northeastern, but gave up the game after a few years.
"Maybe I fell out of love with it," Ross says. "He was always very supportive. Always there for me. He said, 'You've got to do what you want to do.
"I threw to him all time. He'd run the entire route tree. I could never get one by him."
Maybe that's why Dan Ross enjoyed the Saturday night stories the best. Dave Lapham, Ross' North Shore soul mate and the MC of the evening, had them rolling as he always does. How he showed up in the training room the week they were playing in Cleveland and the way Danny tells it the way Lapham told it is that his dad was missing a few teeth and his knee was the size of a softball.
"I guess you're not going this week," Lapham says to him and Ross flashes back with something like, "I'm not missing this game."
"And he didn't miss a snap. I thought that was pretty cool." Danny Ross says with a laugh. "That's how he was. He'd tell me, 'You never want to miss a game. Your backup might be better than you.'"
  Glenn Bujnoch, an offensive lineman from back in the day, spins a Ross yarn, too.
"He dropped a pass in a game and he comes back to the huddle and says, 'I'm sorry guys, it won't happen again,'" Danny Ross recites. "And he keeps coming back saying, 'I'm sorry, it won't happen again,' and they tell him, 'Relax, no big deal.' For the rest of the season he didn't drop one. That's one I liked."
Ross had never met the big No. 78 on the videos. Anthony Munoz. But there was Ross shaking the hand of the Hall-of-Famer as Munoz was introduced to the crowd.
"He was telling me how great of a player Dad was and how tough he was and how hard he worked," Ross says. "You won't find a better guy."
Munoz, of course, is No. 1 of the First Bengals when it comes to the fan voting. Danny Ross, who went to his Pro Bowl 18 years before Bengals.com, clicked in at No. 22.
"I didn't know he'd be as high as 22. I thought that was fantastic," says Ross, who made sure he voted about 10 times.  I thought he would make it with the 71 catches and the Super Bowl record, but you never know. That's another great honor. To have people who never saw him play actually takes the time to vote for him."
Danny Ross is driving again from South Boston to Peabody and he can still hear the cheers of a celebration weekend.
"What an honor," he says. "It was something I'll remember for the rest of my life."