Cedric Benson, the brutish running back who bridged two eras of Bengals play-off football with three straight 1,000-yard seasons, died over the weekend from injuries suffered in a motorcycle accident.
Benson, 36, revived his career in Cincinnati when it ran aground after three turbulent seasons in Chicago. The Bears took the Texas legend with the fourth pick in the 2005 draft, but he surfaced with the Bengals early in the 2008 season with a difficult marches-to-a-different-drummer reputation. Yet given a clean slate by head coach Marvin Lewis and his staff, he filled the void left by Rudi Johnson and helped the Bengals march into contention with a 2009 AFC North title under quarterback Carson Palmer and a 2011 Wild Card berth under rookie quarterback Andy Dalton.
During that 4-11-1 season in 2008 without the injured Palmer, back-up quarterback Ryan Fitzpatrick raved about what a good Benson teammate had been in the locker room for the first signal that Benson was bowling over perception and putting it on its head.
He helped set the tone for the next season during a game in Pittsburgh when one of his runs knocked off the helmet of Steelers Hall-of-Fame safety Troy Polamalu. In '09 the Bengals stunned the pundits when they knocked off the Super Bowl champion Steelers and swept the division with a re-built offense held together by Benson's first 1,000-yard season on a career-high 1,251 yards. He finished it all off bulling to a franchise post-season record of 169 yards at Paul Brown Stadium in the Wild Card loss to the Jets.
"Guy was relentless competitor. Great player," texted Andrew Whitworth on Sunday as the former Bengals left tackle recalled how he took Benson home with him the day he signed in Cincinnati. "Never forget how determined he was to prove who he was as a player and help us win football games. He never wavered from that. He was always a loyal guy and a good teammate. Thoughts with his family and friends at this time."
Benson followed up his career year with 1,111 yards and when the offense was revamped again 2011 with the rookies Dalton and A.J. Green, he offered a vet-steady 1,067. Fumble problems late in the season led to his exit in an offseason the Bengals signed BenJarvus Green-Ellis. His career ended in Green Bay the next season with a foot injury.
"I can still see that smile. He loved to play," said Jim Anderson, his Bengals running backs coach. "That's the thing about the great runners. They love it … He loved contact, now. If you tackled him, you had to think about tackling him the next time.
Anderson coached the Bengals backs for 29 seasons and Benson was the last of his three to have three straight 1,000-yard seasons, joining Johnson and Corey Dillon. Benson was determined to get a fresh start and Anderson was just as determined to give it to him.
"You don't make calls. You don't go back and talk to people who coached him," Anderson said. "You start fresh. You start from the beginning. I was thinking about this today. He was 36. When we got him, he was a young man. You just didn't think about him like that because he had played pro baseball and he'd been in the league. But he was a young guy. He opened up and he accepted our coaching and he gave us a boost. No question about that. He gave us a boost."
Benson's signature game was his revenge of the Bears in "The Benson Bowl," on Oct. 25, 2009 at PBS. Against his old club Benson banged for 189 yards on 37 carries in a 45-10 victory that said it all. But Anderson recalls how he was one of the first players he remembers to go to great lengths to take care of himself.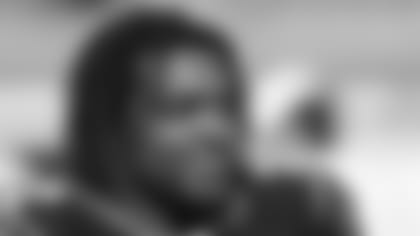 "That meant a lot to him and we knew it meant a lot to him," Anderson said. "The thing is, Cedric was a practice guy. He didn't shy away from it at all. And Fridays were a day you didn't have to work out, but he'd go in there and he'd do these unorthodox workouts. And he'd been eating that seaweed and all these different drinks He was doing that way before anybody else."
Before Sunday's practice, Dalton took time to remember a guy that also served as a bridge for him. From youth to the pros as his first NFL bell cow that was such a stabilizer for those young gun Bengals of '11.
"I grew up watching him. I knew of him when he was at Midland (in high school) and I knew of him when he was at Texas," said Dalton, a native of Katy, Texas. "I followed his whole career. He had the best college career you could have. Then to play with him, that was pretty cool. A guy that had been through it. A reliable back. He was always great to me, a good teammate."
Dalton could only shake his head.
Anderson, thinking of the 25-year-old Benson, found it tough to think of him gone 11 years later.
"Once he bought into our system, he was like a flower. He just blossomed," Anderson said. "He gave us an element we didn't have. We had complementary guys, but Cedric gave us a missing element. He was a good man. He was one of my guys and it hurts. Life is too short."