Congratulations to "Bengal Jim" who is the Bengals nominee for NFL Fan of the Year. The NFL began the Fan of the Year contest to "celebrate extraordinary fans who inspire others through their love of football and bring an 'original spice' to what it means to be a fan." A staple in section 158, "Bengal Jim" Foster embodies everything that is Who Dey Nation.
The Bengals surprised Foster at Paul Brown Stadium with a videoboard message from C.J. Uzomah. "I had no idea what was going on," said an emotional Foster who was fighting back tears. "It's crazy, it just means beyond what anybody can ever think. It starts with the city. I love my city. I love football. When you combine the two, it's my city, my team."
As a lifelong Bengals fan, Foster has been attending games since he was a child, and joined the Season Ticket Member ranks in the early '90's. Foster helps spread the Bengal fandom to others and ensures those cheering alongside him in The Jungle are having the time of their life.
That's in part how the "Before the Roar" tailgate got its start back in 1993. It's the longest continuous running tailgate in Cincinnati football history, and Foster says they haven't missed a game since its inception. Even during the pandemic they didn't skip a beat, hosting a drive-in tailgate for a fan-less matchup against the Los Angeles Chargers at the start of the 2020 season.
Foster has made it his mission to ensure each and every Bengals fan that stops by his tailgate enjoys the experience, and most importantly, has fun. About six to eight years ago, Foster and his team saw their tailgate beginning to take off and expand. "Football Sunday is an event," Foster says proudly. "You tailgate, you hang out with friends and family, people you don't get to interact with sometimes outside of gamedays."
The map where out-of-town fans place a pin on the location where they're from made its debut at the tailgate in 2017. "We started to see so many fans come in from out of town. An amazing amount of people from all across the country. We wanted to start tracking that, so we made this big giant map." The "Before the Roar" tailgate map has pins marking 43 states and 23 different countries, representing Bengals fans from across the world who have enjoyed Foster's tailgate before entering Paul Brown Stadium.
The "Before the Roar" tailgate isn't the only thing Foster is known for among Bengals fans. Every week along with fellow Bengals fan Jamie Stephens, Foster welcomes viewers to listen in as he and guests talk Bengals football on their YouTube channel. This platform for fans to talk about the team they love originated on draft night 2020. Foster's plan was to be in Las Vegas to witness the team drafting Joe Burrow first overall, but as everything moved virtually due to the COVID-19 pandemic, so did Foster. He and Stephens thought of the idea to host a virtual draft party with guests, fans, former players and media members so they could still share that moment together.
"We had about 2,000 live viewers that night. This was something people wanted and needed, so I said let's just keep doing it." And from there the "Talking Football with Bengal Jim and Friends" show was created. The YouTube stream has gone live almost every week since, and has featured guests from current players, to legends, to media members and Bengals fans from near and far.
But the connection to the fans and city of Cincinnati stems further than Foster hosting a weekly YouTube show and tailgate on gamedays. He is using his platform to give back. So far in 2021 Foster's crew has raised over $28,000 for local Cincinnati area charities. He has been blown away by Bengals fans donations, most recently before the teams Thursday Night game on September 30 where Foster brought in more than $10,000 to the Alzheimer's Association of Greater Cincinnati. It's something Foster takes pride in, "local charities are benefitting from Bengals nation and that is really cool to see."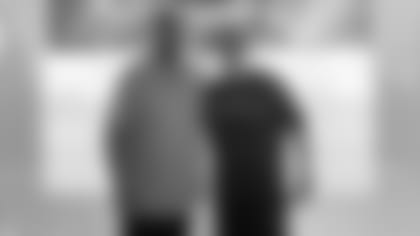 Foster also organized the Jungle to the Hall event this past June where more than 200 fans rallied at the Pro Football Hall of Fame to support the movement for more Bengals players being represented in the HOF. You can read more on that event from Geoff Hobson here: www.bengals.com/news/jungle-to-the-hall-rallies-for-bengals-greats
Along with being the Bengals nominee for NFL Fan of the Year, Foster will receive a custom jersey with the NFL Fan of the Year patch, will be the Ruler of the Jungle Week 17 against the Kansas City Chiefs and he's going to the Super Bowl. Foster and a guest will represent Who Dey Nation in Los Angeles at SoFi Stadium for Super Bowl LVI. Foster hopes he's not the only one in stripes heading to L.A., "I always said I would never go to the Super Bowl until the Bengals go to the Super Bowl. So the Bengals better be in the Super Bowl this year because I'll feel a lot better when that happens. I will be there watching the Bengals play in Los Angeles and my wife and I are just beyond excited right now."
Foster is one of 32 nominees in the running to be named the NFL Fan of the Year, which will be announced at the NFL Honors Ceremony in February of 2022. For more information on the NFL Fan of the Year contest, visit nfl.com/honors/fan-of-the-year.