When free agent quarterback Matt Barkley signed a two-year deal with the Bengals in March, he joined his fifth NFL team in six professional seasons.
So how does he possibly keep that many playbooks straight?
"I like to think of the plays and concepts as geometric patterns," he told me. "You learn to forget and learn terminology.
"I think it's an easy way to visualize it. Football in general is a game of angles and geometric patterns. It's seeing the distance and relationship between players and where they are on the field."
But Barkley doesn't strictly have to rely on geometry to learn the Bengals' playbook. Offensive coordinator Bill Lazor was his quarterback's coach when Matt was a rookie with the Eagles in 2013.
"There are elements of what we did in Philadelphia and there are elements of the west coast passing game that I've done in other offenses too," said Barkley. "I think my experience will help a lot.
"(Coach Lazor) is one of the reasons why I was attracted to sign here. I've so far loved my time being with him – he's a guy that shoots you straight and isn't going to sugarcoat things. He's not a 'yes' man and I don't like coaches like that. I like someone who will spur you on and goad you when they need to motivate you."
Following the departure of AJ McCarron as a free agent to Buffalo, the Bengals need a backup quarterback behind Andy Dalton. Barkley has played in 11 NFL games, including six starts for the Bears in 2016, and will battle for the backup role in training camp with incumbent Jeff Driskel and rookie Logan Woodside.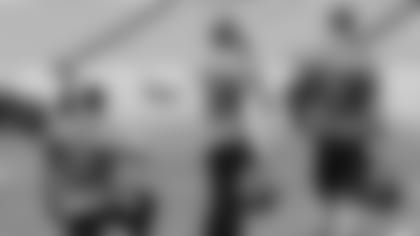 "We played against him when he was with Chicago and I was in Green Bay," said quarterbacks coach Alex Van Pelt. "It took us to the last play of the game to beat him. He had a heck of a game that day (30-for-43, 362 yards, 2 TD).
"He's a veteran guy who has had some starting experience. His arm strength is good, he threw the ball well (in minicamp), and we're just getting him more in tune with the footwork and timing of the routes that we have in this system. But that's coming."
In addition to his prior relationship with Lazor, Barkley has known Dalton for several years having trained together in Los Angeles under quarterbacks' guru Tom House.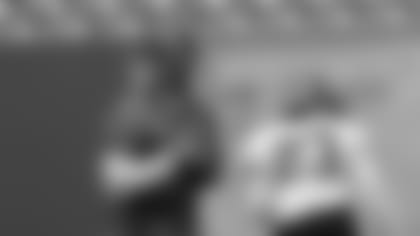 "I've known Andy for four or five years now," Barkley said. "We've trained together in the off-season and done a bunch of different events over the years. I knew it would be a good QB room and a system that would fit me well."
"I've enjoyed having him around," said Dalton. "He's been in several different systems, been around the league a little bit, and been on different teams so he can pull on past experiences. And he's played too. It's cool when you get a guy that you've gotten to know over the years to come join your group.
"We've got a good room. I'm looking forward to seeing how it all plays out once preseason starts."   
Barkley was a four-year starter at USC and finished 6th in the Heisman Trophy race as a junior in 2011. He was selected by Philadelphia in the fourth round of the 2013 draft, but the Bengals had him graded considerably higher.
"I haven't spoken a lot to Mr. Brown but he kind of mentioned that indirectly one of the first weeks that I was here," said Barkley. "I wish they would have picked me up earlier, but that's how it goes sometimes. I'm glad to be here now."