Even though he tore his ACL in the season finale back on Jan. 3, Bengals center Trey Hopkins calls his injured knee the last gift of a malevolent. 2020. But he's spent the early part of 2021 turning the calendar back to the good old days.
The glue of the Bengals offensive line has been knocking on a lot of wood since Dr. Marc Galloway, the club's medical director, performed Hopkins' reconstructive surgery when they rang in the New Year on Jan. 20.
"Galloway must have been great in surgery because I haven't had too much pain," Hopkins says. "It's been going great. It's a hard road, but … the guys are taking care of me. I haven't had a setback. Knock on wood."
They think their luck is changing up front, too. Much has been made of the adjustments pending on Hopkins' offensive line, punctuated last month by free agent Riley Reiff replacing right tackle Bobby Hart in a move that figures to be a harbinger of the changes coming in the wake of the draft later this month.
But as Hopkins grinds to get back, waiting for him when he returns just may be the line's biggest change. Hopkins, the last lineman from the Paul Alexander days, changes line coaches for the third time in four years. During old/new offensive line coach Frank Pollack's one year with the Bengals in 2018, Hopkins started nine games at all three inside spots and loved it.
"Ecstatic," Hopkins said when Pollack was rehired and he keeps saying it.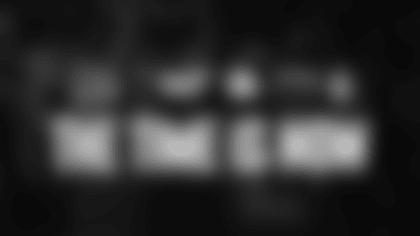 Be A Part Of Something Special
Join the team with your own Season Ticket Membership. WHO DEY!
As far as the scheme goes, Hopkins isn't sure how it's going to look because this is the first time Pollack has been working with head coach Zac Taylor's offense. But Hopkins knows all of Pollack's practice toys are about to come out and he's probably got a few more after coaching the Jets offensive line the past two seasons.
"It's a jungle gym out there. Every piece will be used," Hopkins says. "I can say the difference is going to be how much we drill it. Camp with Pollack is a lot different than it's been around here for a little bit."
For one thing, Hopkins says, not only is the equipment going to be used, but also their pads.
"A lot more banging. More (physical)," Hopkins says.
He's already dreading one drill that Pollack sprung on them the first couple of days of spring ball.
"The forward rolls. I know you remember those forward rolls," Hopkins says of the duck walks leading to the barrel rolls.
But even though Hopkins is still going to be in rehab next month, when OTAs probably won't begin as scheduled, he doesn't think he'll be getting away from Pollack's playground.
"He doesn't change his drills too much throughout the season," Hopkins says. "It's a grind throughout the year. It's not like just because it's week five you're going to slow down because it's the season. Pretty much the majority of the year we were doing the same stuff we started with in camp. It makes the games easier."
You can be sure at the pro days Pollack is putting the line prospects through some interesting drills. If you've caught any of the pro days, you see things like him rolling small rubber baseballs on the ground at them and making them bat it while it rolled. That allows Pollack to scout the feet, how they track a target and how far they can bend and sink the hips.
"Footwork. Making sure you're making your feet go where they don't want to go," Hopkins says. "What I love about Frank, everything he does, you may not like it, you might be tired, you might be uncomfortable. But there's never a point where you can be like, 'This is a waste of time.' Just because everything he's doing is directly correlated to football. You can see we're doing that drill because of this play."
The "guys,' keeping an eye on Hopkins before Pollack gets him are the staff of head certified athletic trainer Paul Sparling and his rehab point man, Nick Cosgray. During his 16 offseasons at Paul Brown Stadium, there aren't many surgical scenarios Cosgray hasn't seen.
So he has seen an interior offensive lineman suffer a late-season torn ACL and be back in time to start the opener. But to say that Hopkins can do what Bengals left guard Clint Boling did seven years ago after he tore his ACL on Dec. 1 and had surgery Dec. 31, well …
Hopkins, the brains of the outfit as the University of Texas biology major who can play at least three instruments, sets you straight on when he can return.
"Nobody knows," Hopkins. "I'm just glad it's been pretty smooth so far."
Hopkins saw Boling come back in that 2014 training camp because he was a rookie and he started in Boling's place in the preseason opener. Boling missed all of the spring, but was ready for camp and the opener.
And Sparling's men put Boling back together well enough that he saw his Pro Football Focus ranking rise from 35 to 28 among guards. So they've done it and Hopkins has seen it, but he's just happy with his own progress.
"Yeah, that's what we've been talking about. Clint came back pretty quickly," Hopkins says. "But nobody knows (when). It's still early."
But he's been able to do enough to get back in the weight room pretty regularly. He's not running, but he's working on his quads and pushing a sled. So far, 2021 looks good.
"Knock on wood," Hopkins says.