Jack Clary could tell a story, that's for sure. And as an author of 67 books before he passed away last week at 87, he chased down a lot of them. That's because he knew the story is about the story and not the teller. His biggest catch of all remains the Bible of Bengaldom.
P. B: The Paul Brown Story, the autobiography of the team founder told to Clary during the late 1970s, shortly after he ended the innovative career that formed the foundation of NFL coaching that cements the game today.
"I thought it was a good effort by both of them," reminisced Bengals president Mike Brown of an old friend. "It was a good combination."
Indeed, Brown's kind of straight talk and Clary's kind of no-holds barred reporting was so good that Brown got fined $10,000.
"I still have a dozen or so copies," Mike Brown said. "They're precious to me. I periodically give one away when it strikes me right and the interest seems to be there."
When Clary convinced Brown to tell his long sought story, with the help of NFL commissioner Pete Rozelle, it generated massive interest that not only shook the league office but still reverberated a few years later in the hallways of a New Jersey junior high.
"I found the whole thing fascinating. It's the story of a pioneer and if you love football like I did as a kid it's almost like reading about the Wright brothers," said Greg Roman, 47, Clary's nephew who carried the book around school while he was reading it for the first of a few times. "It's the story of a very, very special man's life and I always took pride in my uncle and the job he did."
Roman is blazing a few trails himself these days as the Ravens offensive coordinator who gave flight to an MVP season for quarterback Lamar Jackson last year with a 21st century virtual reality running game. He did much the same for quarterback Colin Kaepernick seven years ago when the 49ers made the zone read a calling card for NFL teams, much like Paul Brown made the draw play and screen pro staples decades before.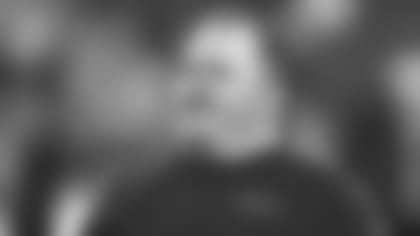 It was also on that national media stage for the Niners where Roman conjured up his pre-teen days with his uncle at Bengals training camps at Wilmington College in the early 1980s, just when the Bengals were off a Super Bowl of their own. Last week the memories, always there, rose to the surface.
"To be around that and meet a man like Paul Brown," Roman said, "my uncle opened those doors and changed my life."
Roman grew up around the table listening to the stories from his mother's brother even as his uncle was putting them to paper. An Atlantic City, N.J., native and a graduate of Fordham University, Clary was a New Yorker all the way. With an accent to match and his shock of white hair on top of affable, twinkling eyes, Clary was the classic hail fellow well met. The minute you met him you felt like you could trust him with secrets that wouldn't go A-1 with the afternoon edition ball scores.
It was a perfect trait for his times. After receiving his Master's as the recipient of the Grantland Rice fellowship from the Columbia University Graduate School of Journalism in the heart of the 1950s, he came of age in his business just as the NFL of Paul Brown and Pete Rozelle began to flex its muscles as a national force.
But pro sports were in between, an awkward teenager with a letter jacket. Teams were still riding the trains. TV was more a curiosity than a necessity. Free agency was still decades in the works and social networking was a world away. It was still same day telegrams and not this second Instagrams. The players made about the same amount of money as the writers. NFL teams, still second fiddle to the college game, were easy media access and far from the information fortresses they are today.
(His pen straddled volumes. Clary wrote the book with the best coach of the 20th century, but knew the best coach of the 21st century when he was Navy assistant coach Steve Belichick's little son. Bill Belichick was always "Billy," to Clary. And Bill Belichick, noted football historian and PB expert, once invoked the book before a 2004 Bengals-Patriots game. He grimly noted that the family dog had defaced his copy and when the media asked what kind of dog, Belichick's reply of "a dead dog," was truly one of the great one-liners of any weekly opponent conference call anywhere.)
"He was a sportswriter in the classic sense back in the '50s and '60s when the NFL was just kicking in," Roman said. "There was a different relationship with journalism and the world at that point. And he was a true journalist. The relationships with a lot of the coaches he had were really, really strong relationships. He was able to tell me a lot of stories and pass on a lot of wisdom from those men."
The Paul Brown book is Roman's favorite, but not far behind is Clary's 1976 work The Gamemakers. A self-help book for coaches and published by the NFL, Clary's look at eight NFL head men (Paul Brown, Chuck Knox, Tom Landry, John Madden, Chuck Noll, Bum Phillips, John Ralston, Don Shula) became a classic.
"I'd recommend both those books for any coach," Roman said. "When I was with him I'd ask him a million questions and he answered everyone."
Clary wasn't generous to just relatives at Wilmington. During Paul Brown's last training camp in 1990, Clary was more than helpful to a green reporter in his first year on the Bengals beat.
Clary may have pitied the kid or identified with his East Coast roots, or both. But whatever it was he automatically took the guy under his wing. He showed him the kind of binoculars he used in the press box and how the best way to follow the play is to focus on the guards. Or, he might give the kid a crash course on PB 101. A veteran of the take-no-prisoners Boston newspaper wars as a Herald sportswriter, Clary knew the guy was a hopeless baseball fan and never grew tired answering countless questions about the 1967 Impossible Dream Red Sox.
(The day they picked up Elston Howard for the final 45 days is gold.)
This is how generous Clary was:
He had covered the World Series and the Super Bowl and the greatest names in the business. And yet he was more than willing to write for a fledgling, obscure website less than three years old, back when team web sites were trying to find their sea legs. Something called Bengals.com.
When Al Heim, the Bengals' first public relations director, died during the 2003 offseason, Clary lent the site his prestige to pen a tribute in a story that featured his ace storytelling.
"Al recalled the time when PB, then the Bengals head coach and general manager, tossed writer Leonard Schecter from training camp," Clary wrote. "Schecter was notorious for pillorying his subjects, and he had recently done a hatchet job on Vince Lombardi in an article for Look Magazine. He came to the team's training site at Wilmington College to write a story on Brown for Look, and when he showed up at a press conference, PB went right after him.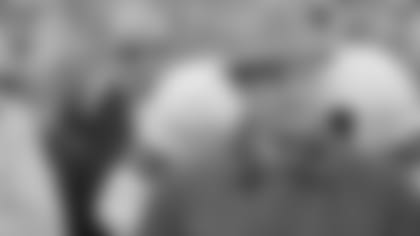 "Get out," he bluntly told him. "You are not welcome at my training camp, and I have the final word on who will stay and who will go. You slandered my friend Vince Lombardi and I am not going to be a willing subject for you to do the same to me."
"That was it," Al recalled. "I didn't have to do a thing. The guy got up and left and the issue was closed."
Mike remembers the book project beginning with Paul and Jack huddling in Paul's office at Riverfront Stadium going through the Bengals scrapbooks and clippings they both had from the Cleveland days. Some headline or quote would jog P.B.'s memory.
"It was very thorough," Mike Brown said. "My father would talk and Jack would form it and they'd review it."
The book led to a close friendship with the families. Jack and his wife Pat would never miss a training camp visit, either at Wilmington or Georgetown College in Georgetown, Ky., when health allowed. They lived in Stow, Mass., and whenever the Bengals played the Patriots on the road the Clarys would visit the team hotel.
"I'm going to miss Jack," Mike Brown said. "A good guy. A good writer. He was lively. Top rate."
Clary didn't pull any punches when it came to Paul Brown's firing in Cleveland at the hands of Art Modell and Brown wouldn't have let him. The book came out 17 years after Modell unceremoniously ended Brown's 17 seasons in Cleveland, where Brown built the NFL's first dynasty. But the wound was clearly still fresh.
Modell called the book ''libelous and trash,' and complained to Rozelle. Modell denied Brown's claims, one of which is that he wanted Brown to play Ernie Davis to help attendance even though Davis was suffering from Leukemia. Brown didn't back down. Rozelle fined Brown $10,000. The next year Clary would accuse the Browns from blackballing one of his stories about PB from a magazine. The team denied it, but the fiery Fordham scribe wasn't backing down, either.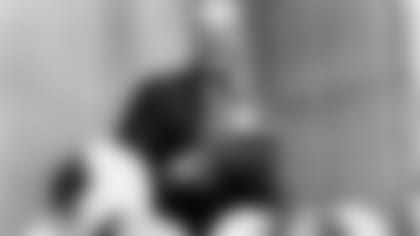 "I have sent (Rozelle) his check, but I stand by the book as written," Paul Brown said at the time. "His (Rozelle's) action is not based on any judgment on the facts I have presented."
That's the way Mike Brown remembered it.
"I think they were guarded about what they said about Modell … My father's rebuttal was, 'But it's true,'" Mike Brown said. "My advice to him was it's not a defense that it was true. You're not allowed to technically say anything disparaging about another owner. Oddly, there's been a lot of that over the years. I think that must have been the only instance when someone was fined for it."
P.B. was Clary at his best. Letting the story seamlessly write itself. That's hard, but he made it sound easy.
"I think one of the reasons he was such a great writer is it was never about him," Roman said. "It was about telling the story. When he was talking about Paul Brown, he did such a good job making himself invisible and really focused on what he was writing about or who he was writing about. He was a very giving person. Just a wonderful human being. A wonderful man."
Just go back and read the man's own words when he said good-bye to Al.
"Al Heim, the PR man, was friendly and gregarious," Clary ended his Bengals.com piece. "Current Bengals PR boss Jack Brennan, who succeeded Heim in 1994, had it exactly right when he said publicly the other day, "Al was one of the most genuinely good-hearted, good-natured people I ever knew. He was very human. He was kind and respectful of every one.'"