Bengaldom takes a timeout this week to mourn the passing of Jim LeClair, the latter-day Cincinnati strongman who captained the Bengals' first Super Bowl defense with a physical ferocity that once allowed him to pin a loss on an undefeated 457-pound bear in their fateful wrestling match.
"He was a tough one. He meant business. He loved playing the game," said Betty McGinn LeClair of her high school sweetheart she married 49 years ago. "If he had to live life all over again, he would have done it again. He said God made him to be a football player."
LeClair, who battled Alzheimer's for several years, died Monday, five days after his 69th birthday. A third-round pick out of North Dakota in 1972, the 6-3, 234-pound LeClair was the consummate down-hill run-stuffing middle linebacker who played a dozen seasons with the Bengals while going to the 1976 Pro Bowl, leading the 1981 AFC champions in tackles and anchoring the NFL's No. 1 defense in 1983. When he was installed as one of the First 50 Bengals two years ago, two his three children and two of his nine grandchildren attended the Paul Brown Stadium ceremony.
 "Jimmy taught me the intensity level necessary for a linebacker to make the leap from the Ivy League to the NFL," said Reggie Williams, the Bengals' two-time Super Bowl linebacker who broke in on the outside of LeClair in his Pro Bowl season. "Jimmy had an amazing intensity, but I never saw it in anger. We never had an argument in all the years (eight) we played together."
The stories of LeClair's toughness and strength are legendary and legion. Bengals radio analyst Dave Lapham, LeClair's teammate with both the Bengals and the USFL's New Jersey Generals, remembers his rookie training camp working on blocks with veteran tackle Stan Walters in a scrimmage setting against the middle linebacker. The vet's advice was simple: "There's one thing you better not do. When you come off the double team, don't peek. LeClair will take your head off."
"And he would. He had forearms that would rip you," Lapham said. "He'd bring it, now. Big, broad shoulders. He was hard core."
Kim Wood, whose first year as the NFL's first strength coach coincided with LeClair's rookie year, remembers the dichotomy of the smile on his face in the Riverfront Stadium locker room after the minus 59-degree wind chill of Freezer Bowl and the red rash scurrying across his body. It turns out that LeClair had four tackles and knocked down two passes while wearing only his No. 55 jersey and nothing under his shoulder pads.
"He was one of the strongest men I've ever seen," Wood said. "A real man's man."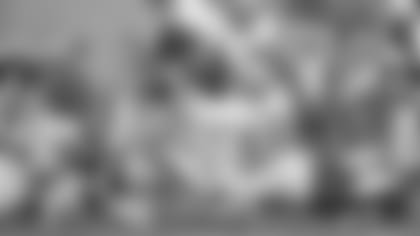 Williams can still remember his rookie eyes popping out of his head when he participated in his first NFL goal-line stand in the pre-season opener at Green Bay. There was LeClair taking on two offensive linemen at the same time while letting out a scream that sounded like the last rep of a weight-room lift.
"And he didn't give an inch," Williams said. "I had the best seat in the house for the Jimmy LeClair House of Horrors.
"I knew (then) I needed to step up my intensity to play beside this competitor."
Williams swears the hardest he was ever hit in the NFL came at the hands of LeClair in a Monday night game when Steelers running back Franco Harris ran a delayed draw. As Harris had a habit of doing, he hopped and skipped as Williams closed on the front side and LeClair from the back. Harris scooted away as Williams and LeClair collided in a Columbia Parkway smashup that ended with Williams looking straight into the lights unable to feel one of his sides while LeClair also needed to be attended.
"It almost knocked both of us out," Williams said. "I ran into Alonzo Highsmith on the goal line and broke my face in '87 and I was able to get up. But the only time I wasn't able to get up is that time with Jimmy LeClair."
But the violence was softened by a Christian devoutness that was cultivated with the help of the Bengals chaplain of that time, Wendel Deyo, and saw him evolve into one of the leaders of the the team's bible study.
"We're forever grateful," Betty LeClair said. "Jim has said the best thing to come out of his career playing pro football has been finding Christ as our personal savior."
Betty and Jim LeClair's life also revolved around family. After a coaching stint at Mayville State University in Mayville, N.D., decades ago, they were drawn to the welcoming attitude of the small town between Fargo and Grand Forks on the east side of the state and settled. Jimmy actually served a term as mayor, not very surprising when you realize how they met as high school seniors in South St. Paul, Minn.
Betty McGinn was up for homecoming queen and LeClair was the football star for the South Side Packers. That week he was featured in the "Packer Profile," and he introduced himself by handing her the newspaper with his photo and asking, "Who's this good-looking stud?"
"He was a late bloomer. I hadn't noticed him until then," Betty said. "I noticed him at that point. He had a lot of confidence. That caught my attention."
Jim LeClair was also a late bloomer when it came to the pros. Wood watched him build himself up from a 210-pound rookie. When he faced off against Victor The Bear on Jan. 31, 1974 at a downtown Cincinnati sports and travel show, he had played two seasons as mainly a special teamer. Victor was probably more well-known at that point as a well-traveled attraction at sporting events that challenged humans to wrestling matches.
"Jim was a great small college wrestler and Pete Brown was always on the lookout for wrestlers," said Wood of the Bengals late personnel chief. "They said Victor was undefeated. But, I'm telling you, Jim beat him. That bear was 35,000 and one."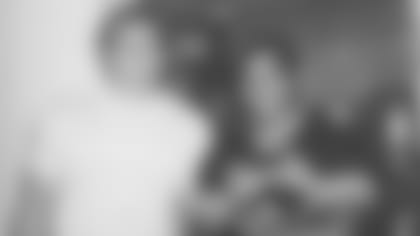 Lapham: "The bear was huge. He's batting guys into a pool with his arm. Jimmy was out there shooting the bear's legs, putting wrestling moves on him. He got the bear off his feet. I guess that almost never happened. The bear's handler wanted to stop it because he knew Jimmy knew what he was doing."
Lapham still remembers LeClair telling him how the bear would wrap his tongue around his head and how it was the foulest thing he had ever smelled. Wood can still see the move LeClair used to put Victor on his back.
"It was a take down," Wood said. "He took his heel to get behind the bear's heel and tripped him. That got the bear on his back and (LeClair) went up and covered him for the pin. I'm telling you, he pinned him."
Betty was there, of course, watching in the stands with their two-year-old daughter. The United Press International reporter, who called it a draw, tracked her down and she observed that night, "I think Jim got the best of it. I really thought he beat the bear.''
Which sums it up pretty well for James Michael LeClair, bear tamer, husband, father, Christian and heart of the Bengals middle.