7,454 miles. That's the round trip distance from Edinburgh, Scotland to Cincinnati, Ohio and the distance Bengals fan Scott Gibb and his girlfriend Vicky Caird traveled to watch the Bengals play at Paul Brown Stadium for back to back home games against the Browns and Broncos.
Each year Paul Brown Stadium welcomes Bengals fans from all over the world. But Gibb's story to Cincinnati is a unique one, and one where the awareness was brought on because of a tattoo … a Bengals tattoo that is. When Bengals fans Harold and Lisa Anness took a vacation overseas to Europe, they made a stop at a small pup called The Worlds End in Edinburgh, Scotland. To their surprise they noticed a Bengals "B" tattooed on the bartender's calf, which sparked an easy conversation. A conversation where the Anness's would learn that Gibb lived in Scotland, was a die-hard Bengals fan, and would be traveling to Cincinnati this season for two Bengals home games; and from there the story about Scott Gibb and his tattoo made its way back to the states.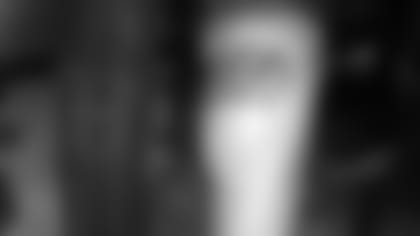 Now Gibb is not your average Bengals fan. Born and raised in Scotland, Gibb never stepped foot in the city of Cincinnati until November of 2016 when he attended his first game at Paul Brown Stadium. But his Bengals fandom began long before that season. At 8 years old, Gibb was watching the 1988 Super Bowl between the Cincinnati Bengals and San Francisco 49ers, and fell in love with the Bengals tiger stripes. "It's one of my earliest sporting memories," Gibb shared, "over in Scotland you can change your house, car, or wife, but you can never change your team, and obviously I'm not going to change my stripes either now. I'll always be a Bengal."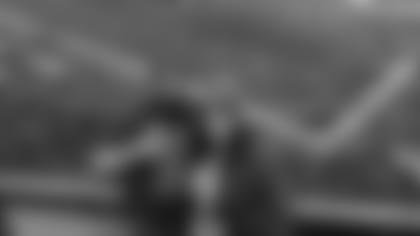 As soon as the 2018 schedule was released Gibb sprang into action. First he narrowed down the dates. Home week 12, then home again week 13 was a no brainer for the bartender from Edinburgh. Gibb joked about the detail that went into coordinating a trip like the one he was just on, "when I'm planning a trip I've got a million tabs open. Laptop, IPad, IPhone, schedules, flights, it's like a military precision transaction." Gibb has used that highly trained travel agent-like skill before.
The first Bengals game Gibb attended in person was four years ago at Gillette Stadium for Sunday Night Football against the New England Patriots. Since then he's attended five games; one at MetLife Stadium against the Giants, another at Wembley Stadium in London against Redskins, and three at Paul Brown Stadium. But it was the last two games that Gibb had really been looking forward to. Being able to spend almost a week and a half in one of his favorite American cities, Cincinnati, which he refers to as "underrated." It may have been easier for Gibb to stay in Europe and travel to watch an NFL game, but he wouldn't have been satisfied by that, "Instead of going to London once or twice to see random teams," Gibb said," I'm gonna fly and see my team."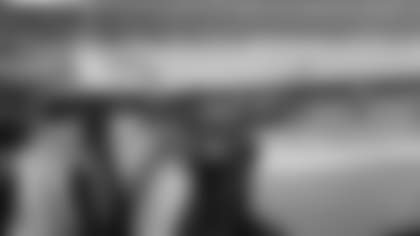 This trip marked just the second time Gibb spent time in Ohio, and the first for Caird, who was actually making her first trip to the United States. "It's such a great vibe around here. So much good food, craft breweries, and everyone is so friendly… it's just a great town," Gibb shared as he raved about his "hometown" team and city. Gibb ensured he and Caird had a jam-packed schedule while in town. The pair not only attended the two Bengals games, but being avid sports fans they went out to two Cyclones hockey games, as well as a Xavier basketball game. But the two game days spent with the Bengals topped the list.
It should come as no surprise that with Gibb's outgoing personality he made friends in the Cincinnati area before coming on this trip. Local residents Stacy and Tony Bosch met Gibb while in London for the 2015 Bengals-Redskins game, and they have remained close to this day. So close, that the Bosch's picked Gibb and Caird up from the airport when they first landed to begin their trip. Gibb also listed about five tailgates that he and Caird had to attend before the Broncos game. Including the friends he's met on Twitter like @BengalsJim_BTR, who has a map of the world at his tailgate to highlight Bengals fans that have traveled from all over the world to Cincinnati. Gibb proudly put his pin on the map as he met his new friends in person for the first time.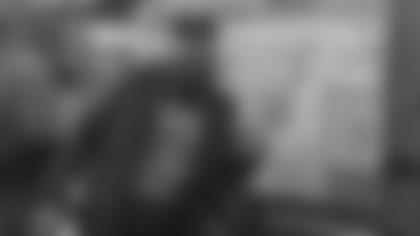 But if you think it'll be a while before Gibb makes a return to the Queen City, think again. Gibb is already planning to make a trip back in 2019. "I might end up with a squad coming over next year," Gibb said with a smile as he explains how many of his friends in Scotland are San Francisco 49ers fans. The Bengals will host the 49ers in Cincinnati next season, but won't know the exact date until the schedule is released.
"It was a dream coming true doing a home and home series. I'm glad I got to spend a little bit longer in this great and vastly underrated city," Gibb comments. It will be interesting to see how Gibb's next trip will top this one. The first thing that comes to mind for Gibb is seeing his Bengals win in person, for the first time.