Pete Prisco, the CBS Sports guru, gave the Bengals an A. So did Pro Football Focus and The Sporting News. Even ESPN's Mel Kiper Jr. found little wrong and offered a B-plus. Here are some notes and quotes from what looks to be a popular draft.
FIRST ROUND: Clemson edge Myles Murphy: Suffice to say, the appearance of Murphy at No. 28 stunned the draft room. Director of player personnel Duke Tobin's staff had so much regard for him that they figured the last time they would see him in the Paycor Stadium offices was when they said goodbye to him after his visit a few weeks ago. This guy wouldn't drop out of the top ten, right?
So when they grabbed Murphy on Thursday night, senior defensive assistant Mark Duffner, who works with the edge players, came charging out of his office to greet the scouts and head coach Zac Taylor. The man who popularized the war cry, "They have to play us," during last season's playoff run kept it simple.
"I had a Who Dey proclamation and a Thank God proclamation," Duffner says.
Ever since COVID, Duffner has become one of the most prolific Zoomers in the NFL when it comes to scouting edgers. But after all that, Murphy became the first defensive lineman to be drafted by the Bengals in the first round since 2001, when Duffner was the Bengals defensive coordinator, without a Duffner Zoom. That's because Murphy came in for a visit, which confirmed what they already knew. Quality all the way.
But here's what Duffner saw on tape. A guy who fits defensive coordinator Lou Anarumo's versatility requirement. Edges have to magically turn into backers at times.
"The one characteristic I look for is recoverability," Duffner says. "He can recover and get back into a play. He's got the great ratio of a quick get-off, quickness, length and speed."
Senior personnel executive Trey Brown, who pretty much floats through every region as well as free agency with director of college scouting Mike Potts and director of pro scouting Steven Radicevic, says it's a good reminder to put the work in on everybody on the board no matter what. That's why they scheduled him for a visit.
"He's not just an athlete who tests well off the field. His physical traits show up on the field," Brown says. "He's excellent when converting speed to power consistently going against offensive tackles. He's excellent chasing on the back side of plays."
Defensive line coach Marion Hobby came in two years ago already as a highly-regarded guy and his stock has kept rising with his Bengals' unit that has been a key part of the franchise's renaissance. It looks like Hobby, a former national championship co-defensive coordinator at Clemson who followed Murphy's college career, has another one.
"He's an excellent teacher," Duffner says of Hobby. "He's got a way to connect to players and get across the fundamentals. He's a very good position technique coach."
Now Hobby and Duffner have the guy they didn't think they'd get.
"Surprised? Duffner is asked. "I think everyone in the country is surprised."
SECOND ROUND: Michigan CB DJ Turner: Area scout Andrew Johnson is making hay in Ann Arbor. For the second straight year he helped the Bengals emerge with a top Wolverine, the defensive backfield mate of the Bengals' first-round pick from last year, safety Dax Hill. Turner made headlines with the NFL scouting combine's fastest 40-yard dash in 4.26 seconds, but it is his ability to play man with elite speed that has the Bengals pleased. According to Pro Football Focus, Turner allowed just a 46.5% completion percentage into his coverage and forced 14 incompletions.
Johnson, who watched his every snap of the last two seasons, also loves his competitiveness. He's not just a speed guy. Johnson had the 6-1, 179-pound Turner for just one missed tackle this season and that was against TCU wide receiver Quentin Johnston. He's got a lot of the same qualities as Hill. Smart. Tough. Good teammate.
"He and Dax were good friends up there and it's really cool to see them together," Johnson says. "It's going to be great watching them play together again."
THIRD ROUND: Alabama S Jordan Battle: Some people thought the Bengals grabbed the best safety in the draft at No. 95. Others are wondering if he'll be teamed with Hill in the starting lineup by Thanksgiving. One thing is for sure. Battle used his 18-minute interview well with the Bengals at the combine.
"He was fantastic," Trey Brown says. "When you speak to him, you see why he's been successful. He's played a lot of football at Alabama. He's highly intelligent. Great leadership skills. Great knowledge of playing the safety position and he was able to present all that in a short time. I think all these guys have the right stuff and Battle is one of these guys that really fits into the culture Zac has been building here.
"Very versatile. He can play high. He can play low. He has good range, good ball skills, as well as a good, physical tackler. He checks all the boxes you look for in a safety."
Battle also had a good feel for the Bengals in the same 18 minutes.
"I remember they stood out because of how cool the coaches were," Battle said after he was picked. "How they came off, how the vibes were, how supportive they were. Having that relationship early from the combine, and to now, was great."
The Bengals would love for Battle to have the same impact as another Bama safety wreaking havoc in the AFC North with the Steelers. As advertised, Battle has been keeping notes.
"I like to watch a lot of Minkah Fitzpatrick. I love the way he's used," Battle said. "I love how he plays in the box. He's one of those guys when I talk about versatility, one of the guys who does that at the next level. They move him around the slot, the deep part of the field, and in the box. He's a guy I like to watch because he comes down, he does tackle the way he does, and has that playmaking ability in the deep part of the field in making plays and being rangy. He's a guy I like to watch a lot."
FOURTH ROUND: Purdue WR/Returner Charlie Jones: One might look at Jones' three stops and wonder. Buffalo, Iowa. West Lafayette. Area scout Christian Sarkisian looked and came away impressed, believing it shows they're getting a guy with that ever-elusive right stuff.
"He left Buffalo, bet on himself and went to Iowa as a walk-on and won a scholarship," Sarkisian says. "At Iowa, that offense is not a very friendly offense for wide receivers and he bet on himself again when he hooked up with his childhood friend."
That would be Purdue quarterback Aidan O'Connell and both benefitted by the move. On Saturday, after the Bengals took Jones, the nation's leading receiver with 110 catches, O'Connell went two picks later to the Raiders.
"They were roommates and in their free time they put a big whiteboard in the family room and went through the playbook drawing up plays and talking about different route concepts and finding out exactly what the quarterback wanted and what the receiver expected," Sarkisian says. "Then Charlie Jones triples his career production by week three at Purdue."
Sarkisian saw Jones early in the season when Purdue hosted Penn State on a Thursday night. He and Potts went to that game and then Sarkisian took off for a Friday night game in Champaign, Ill. So on back-to-back nights he ended up scouting the Bengals' fourth- and fifth-round picks.
"At both places (Iowa and Purdue) they loved the person," Sarkisian says of Jones. "A unique athlete with excellent speed, great hands. Go back and look at his return numbers from Iowa (a kick return TD and a punt return TD and the 2021 Big Ten Special Teams Player of the Year) because they didn't use him a lot there at Purdue. But put on his special teams tape at Iowa you see a guy that can be a starting NFL returner."
FIFTH ROUND: Illinois RB Chase Brown: The character is impeccable. Soon everyone is going to know the story of how Chase and his identical twin brother Sydney overcame homelessness growing up in London, Ontario, with a relentless and cheerful work ethic along with a tight family unit consisting of their younger sister, mother, and grandmother. Sydney, a versatile safety who went in the third round to the Eagles, got drafted first Friday. Then it was Chase the next day in a hail of tears.
"You're not going to find a safer bet in terms of work ethic, leadership intelligence. The life this kid has lived is made up of all the right stuff," Sarkisian says.
And when it comes to football, there's a lot to like, too. You know those break-away home runs they've been seeking? They think this guy can deliver some of that. Yes, Sarkisian says, there are things he needs to clean up, but he was an outrageously productive runner who had two 1,000-yard seasons and is coming off a 328-carry year he racked up more than 1,600 yards on five yards per carry.
But there are also his workout numbers. He had the best vertical leap (40 inches) and broad jump (10-7) of the backs at the combine, as well as the fourth best 40-yard dash at 4.43 seconds.
"He's a very good No. 2 rookie with starting upside. He can be a potential starter," Sarkisian says. "Explosive. He's very urgent. He runs aggressively. He runs around you, runs away from you and he can run over you."
Sarkisian says Brown also has a great understanding of the big picture. So he knows that Joe Mixon is the lead guy because he's been watching him for years do it for the Bengals.
"He's versatile. His jump cut, his ability to get in and out of breaks. He's an overall great running back. His ability to stretch on outside zones and in the zone game is a lot of fun to watch," Brown said of Mixon after the call came.
Talk about being self-aware, he also talked about how he needs to work on his pass-protection and ball security.
"It's definitely something that I need to work on. Coming in, it's going to be something I'm extremely focused on. I'm blessed to have this opportunity to come in and get better," Brown said of pass-pro. "Obviously, I've got to keep the ball close to my body, close to my chest. Definitely see improvement in that area."
SIXTH ROUND: Princeton WR Andrei Iosivas: Now might be a good time to recall that T.J. Houshmandzadeh was the 204th pick in 2001 and ended up catching the fourth most balls in Bengals history with 507. After leading the Ivy League with 66 catches, Iosivas went 206 on Saturday. His head coach, Bob Surace, who saw Houshmandzadeh make most of those catches as a Bengals offensive line assistant from 2002-09, says his guy can play in the league.
"Absolutely," says Surace, an avid and knowledgeable Bengals fan who has to calm his kids down when Cincy plays. "They've got some guys in the room right now with unique qualities and he fits that mold that way in that he's got some rare measurables. He took so much pride in his blocking. He's a physical player. He'll do the little things. Like any rookie, he's got a lot of growth. But he's a smart kid. He's got everything you want in a leader. He was a captain of our team and never made mental mistakes."
Here's a guy who pole vaults more than 16 feet and set the NCAA Indoor record for the 60 meters in the heptathlon. The Princeton track coach, Fred Samara, a decathlete in the 1976 Olympics, told Surace he thought Iosivas could be an Olympian. Surace knows this.
"He knows he's not going to go in there and beat out Chase and Higgins. But he'll walk in the room and not look out of place," he says.
Andrew Johnson, the area scout for Princeton, actually played tight end for Cornell against Surace's Tigers a decade ago. As an Ivy Leaguer, Johnson knows how demanding the spring and summer had to be for Iosivas. Until last year, Iosivas only attended meetings during spring football because he was competing in track and his summer internships weren't on Wall Street or Washington, D.C., as they are for many who play Ivy. Instead, Iosivas' summer internships were more workouts for football.
"It's tough no matter how you look at it," says Johnson, who once interned in the NBA office and was doing workouts at 4 a.m. before going to work. "He's got the skill set to be able to play multiple positions. He hasn't done it, but he might be a guy you could try as a kick returner. He's big and fast."
Johnson thought Iosivas could go as early as the fourth. Surace, who sat in enough draft rooms to not be sure about anything, thinks Houshmandzadeh and Iosivas have a couple of things in common even though Iosivas hardly ever played the slot for him.
"Andrei shares T.J.'s competitiveness, reliability, and leadership qualities," Surace says. "And I have no doubt the Bengals would sign up for Andrei to have a career like T.J. He was such a critical player to our offense's success."
SIXTH ROUND: Michigan P Brad Robbins: *Andrew Johnson has been all over the Michigan program and has known Robbins for six years. He says he's an impressive guy and has a hang time to match.
"He's beloved in Ann Arbor," Johnson says of how he's viewed in the building. "He's a grinder, worker, leader. They have as many good things to say about him as anybody up there."
Johnson went to the Michigan pro day, which started inside on a chilly, rainy day. When Robbins started banging punts off the ceiling of the facility, the scouts started looking at each other wondering when the thing could be moved outside so they could see where the punts were going. It was soon. Then the Bengals got an even better read a few weeks later when special teams coordinator Darrin Simmons made the drive to work him out privately. By all accounts, it appears they hit it off.
"I really appreciate how he conducts his business, and who he is as a person. I believe he is straightforward. In my personal opinion, I don't believe he sugarcoats anything," Robbins said after the pick. "He tells you exactly what he needs, when he needs it and how he needs it. And I feel like that's how I take coaching the best. He couldn't be a better fit for me. Just talking to Coach Simmons throughout the combine, throughout the entire process, throughout the workouts and stuff, I'm just really excited. I think our personalities will mesh well. You know, there's no one who's going to take their work as serious as I will."
SEVENTH ROUND: University of Miami CB D.J. Ivey: Trey Brown thinks this pick is a good example of getting on a player early. Far from a last-round afterthought (a 4.46 40, a 39-inch vertical and a 10-6 broad jump made sure of that), the 6-1, 190-pound Ivey had been very much on the radar.
Brown and Radicevic started watching Ivey two years ago. Then Potts and defensive coordinator Lou Anarumo went to the pro day. Then they brought him in for a top 30 visit a few weeks ago.
"We identified him in the fall and thought he could be a potential target for us at some point in the draft," Brown says. "We had exposure to him in a lot of different ways. On the field in the last two seasons, at the pro day and the face-to-face interaction when we got comfortable with him at our top 30 visit. That's the beauty of the draft. Being able to identify guys early and then coming out with them. I thought it was great execution by all parties. Us in the front office and also the coaches coming together and identifying a guy and ultimately getting the guy you identified."
Brown, a former Jim Thorpe watchlist UCLA cornerback, has this take on Ivey:
"He's a strong and athletic corner that can run and cover. He can smother at the line of scrimmage when he gets opportunities. He has a good combination of what we look for in our corners. He's big, strong, long, and fast and has shown up on both defense and special teams and is a nice option in there late."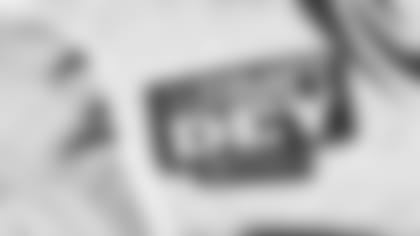 2023 Draft Dey Center
The official sources of news, photos, interviews and more of Draft Dey 2023, presented by Integrity Express Logistics.