Sam Wyche, the Bengals Super Bowl coach who started his career 0-5, had a word of advice for everyone in Bengaldom Wednesday and not just Zac Taylor.
"Fans. Coaches. Players," said Wyche, who has been battling melanoma. "Wear sun tan lotion."
The recurrence of skin cancer didn't deter him from the Sunday ritual of watching the Bengals in the first three weeks of the season. It's also not going to stop Wyche from phoning up Taylor soon and offering him the same kind of encouragement he got after that fifth loss in 1984.
Joe Gibbs, off back-to-back Super Bowl appearances with Washington, reached out to Wyche after his club had got to 3-2 with a shutout of the Eagles.
"He wanted to remind me that he had lost his first five games when he was a rookie head coach in Washington," said Wyche of the 1981 season. "Obviously that meant a lot to me to get a call from a great coach and for him to say the right words. Honestly, I can't remember (the words). Basically, 'Don't let this get you down. Don't let the media wear you down. Don't let the close losses linger in your mind. You should concentrate on the next one.' That kind of stuff."
That's the kind of stuff Wyche plans to say to Taylor when he gets him on the horn and no doubt Taylor won't care about the words, either. But he'll remember the sentiment 35 years later from a man so revered in Bengaldom that his words and image grace the Paul Brown Stadium walls. P.B. himself, Wyche's boss, was always there with an encouraging word, too. The way Sam remembers it, Brown was always in his corner, Never threatening. No ultimatums.
"He'd try to help me," Wyche said. "Not advice. But encouragement."
Wyche, 74, and Taylor, 36, have a lot to commiserate about despite the generation gap. They both had tough Opening Days out west. Wyche had to contend with John Elway in Denver in a 20-17 loss while Taylor dueled with Russell Wilson in the 21-20 loss in Seattle. Wyche remembers the Bengals had "Elway trapped," despite throwing a 35-yard touchdown to Butch Johnson. But it's a small world. Elway got hurt and Gary Kubiak came off the bench to throw the winning TD late to erase a 17-13 lead. Kubiak, whose son Clint coached with Taylor at Texas A&M, would became a sort of play-caller role model for Taylor.
"We were playing pretty good ball," Wyche said. "We weren't making a lot of mistakes. It wasn't like we didn't have the personnel. We were just losing close games."
And even though it was 35 years ago, the AFC Central looked much like the AFC North does today. The Steelers were 3-2, but one of the losses was to the 1-4 Browns. The 0-5 Oilers waited for the Bengals at Riverfront Stadium and Wyche got his first one to start an 8-3 run while winning seven of the last nine.
"It just clicked," Wyche said. "It just finally clicked. That's the word."
That's something else Wyche may mention to Taylor, too. It took time to get his program going.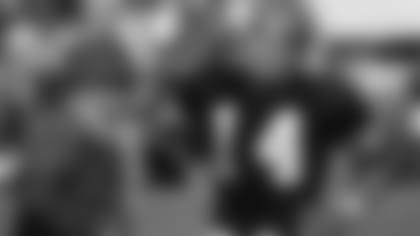 "Every aspect of it takes time," said Wyche of breaking in a coaching staff. "You're learning your players and the players are learning what you really mean when you say something a certain way. It even takes a while for a veteran staff coming off a Super Bowl to get going again. You see that a lot … There's lot of good competition out there. A lot of good players. Only the (1972) Dolphins won every game. Don't get discouraged when you lose one. What did I learn from that loss? Maybe I'm one player away. Maybe I'm one idea away."
Even though Wyche's kids are older than Taylor, the no huddle offense that Wyche spawned in the 1980s spans both generations. Especially since Taylor's playbook grows out of Rams head coach Sean McVay's system. Talk about small worlds. Like the no huddle, McVay's playbook is rooted heavily in Bill Walsh's West Coast offense. Walsh, of course, coached Wyche in Cincinnati and hired him in San Francisco as his passing game coordinator.
San Fran is where the germ of the no huddle was planted. After Wyche needled world-record-hurdler -turned wide receiver Renaldo Nehemiah about his lack of speed on one deep ball, he never forgot Nehemiah's response. "Hey Coach, I'm breathing heavy because I just ran 60 yards as fast I can run it. Give me a few seconds and I'll be breathing through my nose again." That got Wyche thinking about fast-break football and giving the opponent less time to breathe through his nose.
"I think they do some imaginative things," Wyche said of Taylor's Bengals. "When I watch them play I do see a little West Coast in them and I see a little from the former Cincinnati (offense) that came from the West Coast, too. But I also see some good things that come off of other teams. This guy looks like he studies the game to me I don't think he's studying my playbook. But he's got enough variety there that I think he's a student of the game for sure."
Taylor calls his own plays and so did Wyche. And you best believe Wyche approves.
"I see coaches out there and I don't know what they do," Wyche said. "I see them nod every now and then, or say, 'Yes.' They don't seem that involved. I don't think I could do that. I like the way he coaches. I think that's the right way to do it. You've got the ultimate responsibility, you might as well make the calls."
Wyche is ready to make another call.
"Slip him a message that I'm going to try and get a hold him in the next week or so," Wyche said.