Cody Core: most improved showed up again Saturday.
A.J. Green had just started his patented go route Saturday and had kicked into one of those invisible gears that give him a few steps on cornerback Dre Kirkpatrick, quite a feat Saturday since Kirkpatrick was an orange-and-black quilt of a blanket.
But on this snap Green had so much space he was shrieking back at quarterback Andy Dalton. Yet Dalton had already seen the other wideout running a go, rising sophomore Cody Core, and put it on his No. 16 for a touchdown.
Two targets getting separation on the same play? That didn't happen last training camp.
Saturday, the last day before the Bengals put on their shoulder pads at training camp and the cornerbacks couldn't press, Dalton conjured up images of 2015. Except for a pick-six thrown at Kirkpatrick, Dalton was at his point-guard best. In front of Bengals all-time passer Ken Anderson and his grandson, Dalton used all his weapons.
Slants to Green. A bomb to Core. Dig routes to wide receiver Brandon LaFell. Swing passes to running back Giovani Bernard. Outs to tight end Tyler Eifert.
Also running around was wide receiver Tyler Boyd, coming off the most prolific rookie season by a wide receiver not named A.J. Green in 35 years. And just starting to get his feet wet in his second NFL practice was their No., 1 pick and the fastest man ever to bolt out of the NFL scouting combine in rookie wide receiver John Ross.
Not to mention the most impressive rookie of the first two days, running back Joe Mixon, a 230-pounder who moves like he's 200. If fans were  wondering how can they not start this guy early in the season, their reverie was broken early in practice when they cheered wildly for Mixon as he pulled away from the pack on a simple run up the middle.
"I'm not going to say this is the most talented team we've had, but it's got to be up there," Dalton said. "And we've got to go out there and prove that this is the most talented team. That's what we've done in years past. We proved we were talented. Now we've got to go do that this year."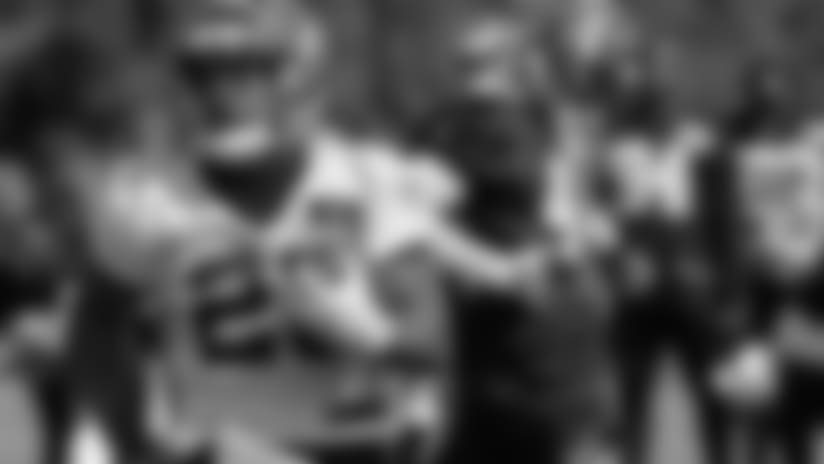 Joe Mixon has drawn cheers.
Without getting technical, these past two days are the first time since December of 2015, when Steelers defensive end Stephon Tuitt broke Dalton's thumb and the rampaging 10-2 Bengals that they have been full up.
Eifert missed the first six games. Green missed the last seven games. Bernard missed the last six games. Marvin Jones and Mohamed Sanu left via free agency, LaFell came via free agency and Boyd and Core arrived in the draft like Jones and Sanu in 2012.
"This will be the first time everybody is full go since I've been here," LaFell said. "If we stay healthy and everybody does their job and what they're supposed to do, we'll be really good."
On paper, the receiving picture looks so much deeper and better than last year. Last time he was healthy in '15, Eifert went to the Pro Bowl. Core came into this camp as their most improved player of the spring. Mixon looks ridiculous. LaFell, who got hurt in the last training camp, never got open, and didn't get going until the season began, looks like a different guy. Remember, he basically went yard-for-yard and catch-for-catch with Marvin Jones in Detroit once he hit his stride in the regular season.
"That's the game. Staying healthy," LaFell said. "If we can stay healthy and get our chemistry going  here instead of waiting until the season … "
That's paper. Green rips up paper for a living.
"I don't know if I'd say that," Green said when asked if this is 2015 all over again. "These guys have to prove themselves. They haven't done it in the league yet."
Maybe because the enormously talented Eifert has missed 27 of his 64 NFL is he tired of hearing about what-ifs with this offense.
"I'm sick of hearing about potential," Eifert said. "We talk about the weapons. We just have to put it all together, you know?"
Cincinnati Bengals host Training Camp at Paul Brown stadium Practice Fields 7/29/2017