Jake Kiser may not be the top name on their draft board when the festivities get underway in eight days on April 23. But next to that guy, this draft may belong to him and his staff as the Bengals prepare to mobilize their beefed-up technology program that has spent the previous decade morphing into one of the team's power players.  
Kiser, 39, is the club's senior director of technology, which in the parlance of the day makes him the I.T. director. Which means in this virtual reality of a draft where the Paul Brown Stadium draft room is shuttered, the hardwire reality is that Kiser is A.J. Green, Joe Mixon and Geno Atkins all rolled into one for the weekend.
Well, maybe make that Kevin Huber and Clark Harris, the Bengals' long-time punter-long snapper combo quietly a season away from becoming the eighth and ninth Bengals to play 180 career games.
"We lurk in the shadows. You don't know us unless there's an issue," says Kiser Tuesday. "It's nice to kind of show we can adapt and bring value in an emergency situation where we can adapt to the changing dynamics and meet the demand."
Vice president Troy Blackburn compares them to the offensive line.
"And it's not only the I.T. department, but also video with Travis (Brammer) and his staff along with the coaches and scouts," Blackburn says. 'We've invested a lot in technology over the last several years and we feel like Jake and his people have put us in a position as good as we ever could have thought."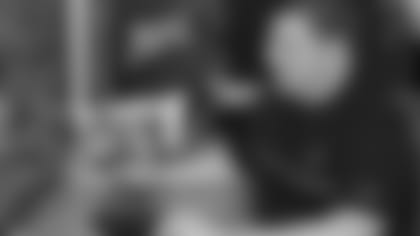 Kiser, the former fullback-linebacker out of northern Kentucky's Simon Kenton High School, is feeling good. He has just left what is now one of the Bengals hubs of the draft, the Anderson Township porch of director of player personnel Duke Tobin on Cincinnati's leafy east side. Tobin's wife commandeers the office in the family's home, but while gazing at a lush patch of greenery Kiser has plenty of room to finish off Tobin's work space for next weekend to give him at least three monitors.
"I don't know how you can keep track of anything much more than that," Tobin says. "At some point that reaches diminishing returns."
Their I.T. department, which has had a full year to sync up with the coaches, is another reason why this most unique draft of all seems to be playing to their strengths. If there is one year to have the top pick each of the three days of the draft and avoid the pitfalls of the unknown of picking in a new world, this is it.
Like Tobin says when asked about the biggest challenge of a virtual draft. There's never been one.
"I can tell you after we do it," he says.
Not only that, when pro days were cancelled last month, that left the staffs of the Bengals and Lions exposed to the most prospects after they coached the Jan. 25 Senior Bowl.
"We've been doing a lot of this stuff for months," Kiser says.
Still, it may be unique but Kiser and his staff are making sure the Bengals are drafting like they've always drafted through a mix of remote meeting technologies.
That means Bengals president Mike Brown is chairing the proceedings with his top lieutenants at his side synthesizing toward consensus. Except this year Brown, Tobin and head coach Zac Taylor are doing it from their homes in what makes up three software hubs sizzling with a streamlined staff of coaches, scouts, a trainer and a doctor all video conferenced together.
(One of the news bytes of this draft? Mike Brown, who sat next to his father when he drafted Jim Brown 63 years ago, has embraced his computer during the last decade or so in the PBS corner office and now has one in his home.)
Since the league has limited the number of participants, expect Brown, Tobin, Taylor, the scouts and the three coordinators to carry the majority of the water. The position coaches have already made their reports on line and in several remote meetings, but if they're needed the coordinators easily have access to them since they'll probably be on the network somewhere. The same with trainer Paul Sparling, medical director Dr. Marc Galloway and their staffs.
Kiser has been assigned to Tobin's hub per the NFL's mandate that one I.T. person can be in one of the homes.
"He has to be somewhere so he's here," Tobin says.
Kiser has got it so on one monitor Tobin has the NFL's clock spitting out each pick in real time, much like he sees it in the draft room. On another monitor is going to be the holy grail of this or any other draft, the Bengals in-house scouting network Kiser and company have custom made with everything from a prospect's stats to interviews.
And Kiser isn't sure what chart Tobin is going use, but the focal point of the meeting is going to be some kind of a draft board that no doubt has the available prospects ranked in some form.
"Instead of looking at whatever it is in the draft room, people are going to be looking at it on a screen," says Kiser, who is feeling good because a lot of this is just that. More familiar turf than you might think.
Kiser figures most of the participants can easily have three monitors. They've got an iPad, a laptop and another screen if you can plug the laptop into a TV. He'll call everyone during the next week to make sure everyone is set up the way they want.
"The scouts and coaches are used to working remotely," Kiser says. "That's where the scouts do their work. On the road. And the coaches are used to scouting guys on the road in the spring and are used to working from home."
The challenge, he says, is to knit it together.
"It's dealing with the unknown," Kiser says. "When you're working at the stadium, we built that environment. We understand that environment. With people working from their homes, they have different internet speeds, different connections, different resources. That's the challenge. There's not necessarily a standard fix for every issue like there is in the office. Here it can be anything."
What they're certain of is the scouting network that has been evolving at warp speed since the Bengals made a major free-agent move in 2017 and hired Kiser after his stint as I.T. director at VonLehman, a regional CPA firm. Tobin, along with consultant Geoff Smith, built the foundation of the system in the early days and in the last couple of years Smith has teamed with Kiser, application developer Tyler Gross and area scout Christian Sarkisian to not only expand the data base for college prospects, but to make it easier to access.
"Last year if you called up a running back, it might take 15 seconds," Kiser says. "Now it's immediate."
One of the reasons the Bengals were so comfortable in free agency last month is it was the second year the personnel department worked with the coaching staff. Kiser feels the same way with his crew of Smith, Gross and football data analyst Sam Francis, a guy hired only last year shortly after the scouting combine.
Kiser isn't deterred by the stark fact that there isn't nearly the same amount of information available that has been offered in previous years. For instance, there are really no true times and sizes and medical reports for non-combine players. Yet, he's confident that whatever they have, they can reach.
"You have to take advantage of technologies like the other teams. They can't know you better than you know them," Kiser says. "That's why I placed such an emphasis on football. But the tools we're using now are business tools, so it's kind of blurring the line between business and football because now the football side is benefiting from the business side of it."
But football is football and reality is reality, virtual or not. Kiser grew up a Bengals fan, always drawn to their quarterbacks.
"Jeff Blake, all those guys," Kiser says. "But my favorite was Boomer (Esiason). Watching Boomer made me like football."
There could be a quarterback on top of the board, but this is Kiser's draft.