The Dallas Cowboys clock is where Scott told Tenika is the only place she could put it. A closet with the door shut. But their son, Bengals WILL linebacker Jordan Evans, thinks Saturday's second pre-season game in Dallas (7 p.m.-Cincinnati's Channel 12) is timely enough for his mom's side of the family to show its true colors.
"They still love me and support me," Jordan Evans said this week. "But I still wouldn't put it past them to mix and match. Show up at the game wearing Cowboys jerseys and Bengals hats and something like that. That's their roots."
There are no such divided loyalties for Scott Evans because his football roots stretch all the way back to pre-Bengals Cincinnati, when his father Jack played defensive end for Xavier. Born the same year as the Bengals in Cincinnati, his son can rattle off names from the '70s like he's making a call for the wholesale lumber he sells in Norman, Okla.
"Coy Bacon, Isaac Curtis, Ken Riley, Kenny Anderson," Scott Evans recited. "But I was a bigger baseball fan and bigger baseball player. I spent my summers in the backyard listening to games and going to Riverfront Stadium. I idolized Griffey, Perez, Foster, Rose, Morgan, Johnny Bench."
Jack got transferred from General Motors in Norwood to Oklahoma City when he was 12, but the Bengals and Reds stayed Scott's favorites. A year later he remembered watching the first Bengals-49ers Super Bowl on a small TV riding back from a skiing trip in Colorado. Then when Jordan became a Bengal 36 year later with a sixth-round pick, Scott could only call it "shocking."
"It's a circle," said Scott, who could drive straight to his old addresses in Forest Park and Fairfield when he visited Jordan last year.
Small world? Jordan Evans lives in the Rookwood neighborhood, about a mile from Xavier and right near where Jack worked at GM.
"A coincidence," Jordan Evans says.
The roots are Cincinnati but they have a southwest bloom. Scott grew to be 6-3, 260 pounds long after Xavier took its last snap and, besides, he stayed home to play at Oklahoma, where he moved from his dad's spot inside to defensive tackle and was named All-Big Eight three times and set the school sack record before Phoenix took him in the eighth round in a 1991 draft best remembered for the Cardinals taking Hall-of-Famer Aeneas Williams in the third. Scott made the practice squad, played in one game and the next season careened to Green Bay and then Atlanta before deciding, "I didn't want to be one of those guys that bounced here and there."
Instead he stayed in the same spot, away from the big cities like Dallas, went to grad school, and married the Plano, Texas girl he met at school. Tenika may love the Cowboys, but not Texas. She's OU all the way. They had three kids and the oldest, Jordan, succeeded Scott as a captain for the Sooners. But you would hardly know it. Maybe if you saw the newspaper story hanging in his office listing the top 100 Sooners of all-time and ran your index finger down near the end of the list, you'd figure it out.  Scott Evans isn't very impressed with himself: "I don't think a lot of people knew I was still in Norman."
"He didn't talk much about his career," Jordan Evans said. "I'd go to Oklahoma games as a kid with friends, but he'd stay home and watch it."
That was the old coach in him. He'd tape the games and run back the plays so he could see who made the good plays and who made the mistakes. Scott coached Jordan early on but backed away when he got to high school.
"My dad knows football," Jordan Evans said. "He knows the work load. He gives me advice. But he's not the kind of guy living through his son."
Jordan Evans has played in 14 more NFL games than his dad and that number is going to grow for the rising sophomore. He'll start again Saturday in place of Vontaze Burfict and if he plays like he did in Thursday's pre-season opener he'll be on the verge of solidifying an Opening Day start and in the following three games Burfict serves an NFL suspension.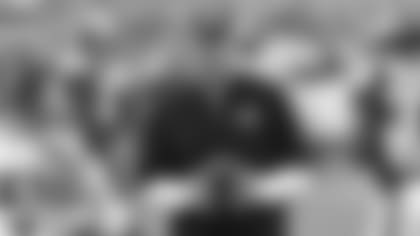 Talk about timing. The question mark on the 235-pound Evans coming out of Norman was his physicality but he answered that pretty quickly in last year's training camp. If there's still a doubt, check it out Saturday when the Bengals play the Cowboys' elite of the elite NFL run games.
"That's going to be fun to watch," said linebackers coach Jim Haslett. "They've probably got the best offensive line in the league."
Scott Evans' DVR eye is catching the same thing as the Bengals coaches.
"I've left him alone in camp. Those are tough days. Long days. I text him once in a while," Scott Evans said. "I watched last Thursday. He looked more comfortable. He looked like things had slowed down. It looked like he was seeing better and he should by this time. The key is getting everything down mentally."
Haslett (the '70s) played his college ball in the decade between Jack ('60s) and Scott (the '80s), but he had a sense he was staring at the future of the game when he watched Jordan Evans' Oklahoma film in the run-up to the draft. "He's one of the better cover guys I saw in that draft." As the passing game evolves, the big cover guys are gold and Haslett liked how he broke into college as a corner. If Scott is now fourth on the OU sack list, Jordan has the second most career pass breakups by a backer. He's still trying to clean things up. At the moment, MLB Preston Brown and SAM backer Nick Vigil are getting a lot of the first-team nickel reps.
"I think he's getting better," Haslett said. "He still has those cover skills and he's getting much better against the run. He's improved a lot. I'm excited watching him grow and grow some more."
The 6-3 Evans grew to 250 pounds checking into OTAs, but now he's down to 242 and that's where he wants to be. For the run and the pass. He won't have to worry about putting on any weight at some kind of family bash Friday night. Scott and Tenika can't leave for the three-hour drive to Dallas until Saturday morning because things are gearing up in Norman with their daughters (a high school junior and senior) starting school this week and Tenika headed back to her teaching job. But somebody's going to be there. This week Evans could be seen grabbing an envelope from his locker neighbor Hardy Nickerson as he accumulates 32 tickets.
Scott Evans detests the Cowboys. The only time he ever rooted for them is when Barry Switzer, his old college coach, coached them for three seasons in the '90s. Usually Tenika ends up walking out of the room on him when they're playing but that can't happen Saturday with all the Evans acreage in the stands and the fact they'll be rooting as much for Jordan. There is no tail gate party and Scott, who has some good seats from his company, plans to be there when they open the doors so he can walk around Jerry World, find his spot and watch warmups.
"It was always hard to find the Bengals on TV down here. They had to be playing somebody big," Scott Evans said. "He may not play much in the second half, so a lot of guys are probably going to leave early. We're hoping we can see him after the game."
That's OK if it's a short visit. They know their way to Cincinnati.
"Summers at King's Island," Scott Evans said. "When I go back the first thing I do is run down to Gold Star and get my cheese and coneys and I'm good."
Small world? His son goes home to take the next step in the hopes of becoming a Cincy regular.