Darqueze Dennard looks to break out in Year Four.
With a nod to one of founder Paul Brown's more memorable quotes, T-Shirts with the words "Run on your own gas," graced the lockers Thursday as his descendants reported to the 50th Bengals training camp. With practices set to start Friday at 3 p.m. on the fields adjacent to Paul Brown Stadium here are three competitions that should help fuel one of the more entertaining training camps in a few years with the help of a rookie class of 11.
OPENING DAY CORNERBACK: William Jackson has bulked up six pounds to 193 and Darqueze Dennard is down from 202 to 198 with an eye to a playing weight of 195. Both former first-rounders are hoping to weigh in as Adam Jones' replacement when he serves his Opening Day suspension.
"I'm leaner," said Dennard after an offseason he tweaked his regimen, but he didn't have to adjust his answer to why he's gone lighter when he invoked the name of his position coach.
"Trying to make Coach (Kevin) Coyle a little bit happier," Dennard said.
Jackson said he felt too thin and opted for the extra muscle.  After spending all but the first three days of the last camp on season-ending injured reserve as a rookie, the 6-0Jackson, labelled a bit of a project with Pro Bowl measurables, says he's come a long way in a year.
"I'm not raw anymore. We're ready to go," Jackson said. "When you're playing you don't actually learn that much. This year I know the small things of football. Where the receivers line up and how they're trying to set you up to make a big play. Watching on the sidelines, I've learned a lot."
Dennard has been on the sidelines more than he cares to know since he arrived in 2014. In those three seasons he's got just four starts and he's never played more than 350 snaps in a season, largely because of injuries. But he says this is the best and healthiest he's felt since the Michigan State days.
"It's my first time in OTAs and going out healthy and having a full summer to really train my body and do a lot of things I haven't been able to do since I came out," Dennard said. "It's about that time (to be healthy). I changed my body to get stronger, quicker, faster. Right now, stay healthy. That's been my problem the whole time. Not being healthy. It's not that I can't play. I'm just not healthy."
Dennard kept training at Tony Villani's speed stable in Boca Raton, Fla, but he also trained in Miami with something called "Animal Flow."  "Google it," Dennard said, and the best we can come up with is one entry that says muscles can be toned by mimicking certain primal movements. 
It apparently involves squats and crawls designed to work on thighs and abs.
Dennard also stayed in Miami to go to the NFL's master of business degree program at the University of Miami to supplement his communications degree from East Lansing. He says he's "got a few things going," when it comes to business and he hopes to get the degree in 11 months.
But don't forget about Jones. Even though he turns 34 the day before the Bengals play in Cleveland Oct. 1, he wants to play four more seasons and he looked terrific at 182 pounds while claiming three percent body fat.
"Last year I kind of slacked off a little bit as far as conditioning. I was trying to work myself into condition when camp came," Jones said. "This year, I'm in shape. I'm in probably one of the best shapes I've been in. I think I've done a great job with Chip (Morton) and with my body. I've been here the whole offseason. I've had two weeks to travel, other than that I've been here working on the ins and outs of seeing how I can get better and how I can make the team better."
Jones took some heat last year after he got beat on a couple of deep balls early, but according to profootballfocus.com he got beat for just two touchdowns all year and was in the middle of the defense's renaissance over the second half of the season.
"Punt return wise I don't think I had enough room. I didn't get enough run on punt return," Jones said. "Defensive wise I think I had two bad games. I wouldn't say I played bad the Denver game, but on the long pass the push off and came back to make the play on the slant. You can nit-pick on each and every game, but the numbers don't lie. All I do is go out and compete. It may not be as pretty as you guys want it to be, but I go out and compete and lock down my side of the ball. I wish I would have had a lot more interceptions last year, but it just didn't work that way."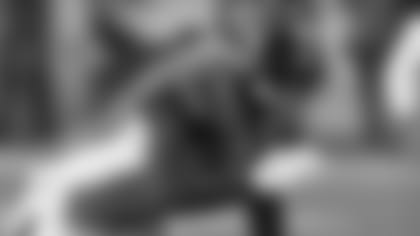 Gilberry's next NFL game is his 125th.
ANOTHER STAND FOR GILBERRY: Defensive lineman Wallace Gilberry comes into his sixth Bengals season as the consummate pro and savvy veteran making a stand against a bevy of kids in his 10th year in the NFL. Like he says, that's nothing like the inner competition raging inside him.
"Whether it's year one or year 10, that's the way it always is. You're always competing," Gilberry said. "That's the only thing that gets the dog out of you is the competition. I battle that with myself every day. That fight there is harder than the fight out here any day. Know what I mean?"
 He knows what it means that there are not only two high draft picks from this class making a run on the edge (third-rounder Jordan Willis and fourth-rounder Carl Lawson), but a fourth-rounder from 2015 (Marcus Hardison), who, like Gilberry, can play both end and tackle. That's also the hope for 2014 third-rounder Will Clarke.  But Gilberry has done it while Hardison has yet to play a game because of injury and Clarke is still seeking consistent reps in the final year of his deal.
"I'm not trying to battle with a veteran or a rookie or whatever," Gilberry said. "We're all trying to get better and be on the same page. My job is strictly to go in here get this team better and this organization better."
Gilberry thinks Willis and Lawson "are good. I think they'll be real good, actually."  But, at 32, it is Gilberry who has the experience and is at his best when he's rotating at both spots. Last year he showed up late in the season and secured 2.5 sacks in five games, his most since a career-best 7.5 in 2013. As an undrafted free agent out of Alabama in 2008, he's played 124 NFL games by simply playing and not paying attention to draft picks and projections.
"You could name the whole line," Gilberry said of his competition. "We're trying to get better, fix our mistakes, and become an exclusive group."
Besides running on his own gas, Gilberry is the quintessential Paul Brown guy, a guy that is already a success in what Brown called a life's work even as they were playing. Gilberry owns in his native Gulf Coast on the tip of Alabama (and not in any particular order) a sports bar, a trucking company, a barber shop, a clothing store, and a massage and tanning salon. But his real goal is waiting.
"I want to coach my son's high school team," said Gilberry, who's got time since he's eight.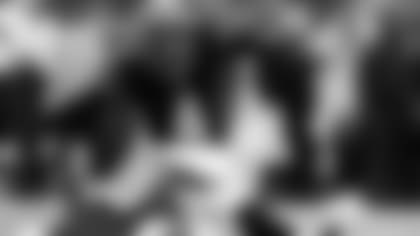 Randy Bullock hit five of his first six field-goal tries as a Bengal late last season.
THREE's A CROWD: Randy Bullock, the veteran, has never seen three kickers in a training camp. But he ruled his last camp competition, a 2015 win over Chris Boswell in Houston. Conventional wisdom is fifth-rounder Jake Elliott is the front-runner just by virtue of his draft status and that powerful free-agent Jonathan Brown, who has never kicked a field goal in any game anywhere, is simply a good story.
But this is Bullock's sixth season and he's seen plenty to know nothing is a lock. Just take his 43-yard try at the gun for the Bengals Christmas Eve in, of course, Houston. After all, kickers are competing every day of their careers. It is what they do.
"I don't think it changes. You have to make the most of your chances," said Bullock, who is pretty immune to competition after twice coming off the street last year to hook on with teams. "There are only 32 of these jobs. If you don't have one of them, you're fighting and scratching to get one."
It's going to be the fairest of competitions, thanks to iron man long snapper Clark Harris. His string of no unplayable snaps as a Bengal since 2009 has reached 1,149, 545 of them for kicks.
That's the more important streak. His 117 straight games, tied for fifth on the Bengals all-time list with tight end Tony McGee, came to an abrupt halt late last season with a groin injury that cost him three games. He limped to the finish against Buffalo ("There's not many backups playing my position,") and he was mad he was iced the next week because it stopped the streak and because punter Kevin Huber now has him beat with games played.
But the playable snap string lives and will be on display plenty because of the busy competition.
"I've been loosening up. I'm ready,' said Harris, who knows he'll probably break his record of snaps in training camp, whatever that is. "They won't have to worry about a thing. I'll just get it back there and let them do what they do."
The Bengals First 50 recognizes the top 50 retired Bengals players as voted on by fans and media. Here are the results for 10-1