The NFL calls four-time Bengals Pro Bowl tight end Bob Trumpy to the Pro Football Hall of Fame after his four decades in the broadcasting booth blaze a trail for Cincinnati Bengals and Cincinnati kids alike and Bengals.com tracks his rise.
Trumpy, 69, who converts a decade as the NFL's first modern tight end, a rich, smoky voice, and crystal clear opinions into a juggernaut of an announcing career, is named this year's recipient of the Pete Rozelle Radio & Television Award.
Dave Lapham, a former Trumpy teammate and the Bengals' long-time radio analyst, says the appointment is overdue after hearing of the Hall's news release: "A real pro. He always did his homework. Never took any shortcuts. He was a great guy to learn from … He taught me never to say no. Whatever they want you to do, do it."
Trumpy's career spans not only four Super Bowls, four Pro Bowls, and six Hall-of-Fame Games before he retires in 2007, but he also works three Ryder Cups and three Olympiads. He's also the first in a line of former Bengals that make it big in the booth. He literally launches the careers of Lapham and Emmy-award winning Cris Collinsworth to begin a parade of network blazers that includes Boomer Esiason, Solomon Wilcots, and Sam Wyche. Not to mention a kid out in Anderson Township who religiously listens to Sports Talk. Lance McAlister, current host of the WLW sports talk show that Trumpy made, remembers when he's 15 and stuns his parents during a vacation on Cape Cod by picking up the phone and jawing with Trumpy about the Reds.
"If it wasn't for guys like Trump or Marty Brennaman, I wouldn't be here today,' McAlister says. "Listening to a guy like that (inspired) me."
"I'm proud to put that on my resume if I helped them in anyway," Trumpy's unmistakable baritone barks today. As for the call to Canton he says, "Never crossed my mind … Never expected it."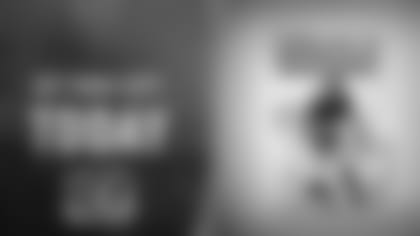 This is an excerpt from the limited edition book "This Day in Bengals History" by Geoff Hobson. To purchase the book, visit the Bengals Pro Shop or go to Bengals.com/Book.