On his second carry of the night Bengals running back Corey Dillon goes over 700 yards for his rookie season to earn a $30,000 bonus. A total of 37 carries later Dillon sets a priceless record when he breaks Jim Brown's single-game rookie rushing record with 246 shock-absorber yards, a feat magnified by Brown's legend and the 40 years since he went for 237 against the Rams. The 6-1, 225-pound Dillon's angry power runs complete with ferocious stiff arms have already made him a Riverfront Stadium favorite this season but now the crowd is chanting, "Co-re-ee, Co-re-ee," throughout the second half of a 41-14 rout of the Tennessee Oilers, their one-year nickname as awkward as their eight-man front that backfires.
When Dillon sets the record on one final run, a 10-yarder, he holds the ball aloft to the crowd and later says, "I didn't realize how well I was doing. I wasn't looking at the scoreboard to see how many yards I had in the game. They gave me the ball and my job is to do something with it." Running backs coach Jim Anderson is keeping track, though, and after Dillon is pulled from the game, he goes back in when he's told he's 14 yards shy of the record. Dillon attacks the Bengals record book like its Oilers strong safety Blaine Bishop. He ties the club record with four touchdowns, sets the team record with 39 carries and breaks James Brooks' single-game rushing record, as well as the total scrimmage yards with 276. "That's some nasty stuff right there," says right tackle Willie Anderson. "We just kept telling him to keep going because they didn't want to tackle him he was running so hard."
While Dillon chases down a legend, Bengals quarterback Boomer Esiason solidifies his own with a razor accurate 20 of 28 passing for 245 more yards. Esiason, the former NFL MVP who arrives in the offseason as Jeff Blake's backup, is now No. 1. In his third game since being installed the Bengals score at least 30 points in three straight games for the first time in history. And since it's just four days since the Eagles outlast them, 44-42, it's the first time they've gone back-to-back for at least 40 since Esiason did it 11 years ago.
"I feel like I've been handed a new toy," Esiason says. "I have a Ferrari at running back and those big diesels on the offensive line." After leading touchdown drives on the first four times they have the ball, Esiason has led them to 19 TDs on his 36 series, as well as three field goals. Offensive line coach Paul Alexander is amazed at how Esiason orchestrates the game at the line of scrimmage and uses his checks to send Dillon to where the Oilers aren't. "A lot of credit goes to Boomer," Alexander says. "That was probably the hardest game plan of the season and we had only two days to put it in."
Only Bengals president Mike Brown can truly offer the benediction. His father Paul Brown coached Jim Brown during his first six seasons in Cleveland. "In my book Jim Brown was the greatest running back I ever saw and I've seen a lot of great running backs," Mike Brown says. "He set the standard for running backs and to break any record he set is a significant achievement you can tell your grandchildren about. He's powerful. He's got a lot of pride and determination and those are two things Jim had. I don't want to put him on a par with him Jim Brown for one or two games, but Corey is a very good back in his own right."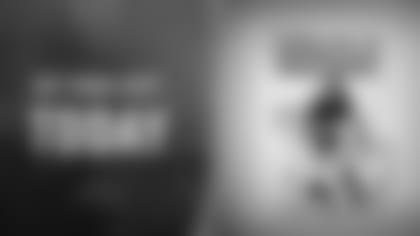 This is an excerpt from the new book "This Day in Bengals History" by Geoff Hobson. You can purchase the book at the Bengals Pro Shop or online at Bengals.com/Book.