Rookie Bengals head coach Marvin Lewis likes to show his team clips from a movie the night before a game, so why not pull a clip from "Ali" when Muhammad Ali stunned Sonny Liston for the heavyweight championship of the world? "Marvin told us this fight started off with speed, with Ali getting to him, but then Ali went blind for a whole round," says right tackle Willie Anderson, an hour after the Bengals pull off their own shocking upset today by hauling down the NFL's lone unbeaten team and Sports Illustrated cover subjects in a 24-19 win over the 9-0 Chiefs and validating Lewis' re-building project.
"But then he came back; he kept hammering away. That's what (Lewis) said; just keep hammering away. Keep hitting them with speed. Keep playing fast, keep hammering away, they'll fall."
The Bengals floor the big-play Chiefs with three round-house blows of their own in the fourth quarter. After Peter Warrick's 68-yard punt return for a touchdown, he counterpunches the Chiefs' first touchdown on the longest catch of his career for a 77-yard touchdown with 6:05 left.
When Kansas City crawls within five with 3:19 left, running back Rudi Johnson, whose middle name is actually Ali, buckles the Chiefs on a 54-yard run that helps keep the ball from the NFL's most prolific offense one final time and bathes him in "Rudi, Rudi," chants during 165 yards on 22 carries. When the Bengals look up into the stands of Paul Brown Stadium during the last minute, the sell-out crowd salutes Baltimore's loss in Miami and the 5-5 Bengals arrival in first place in November for the first time since that last playoff run in 1990.
"I think it's the biggest win in the NFL this year," says middle linebacker Kevin Hardy. "Anytime a team is undefeated for nine weeks, they're on top and we were able to come up with a victory. The first-place Bengals in November. That's huge." "It was loud out there, the crowd was great," Anderson says. "It was like The Jungle back in the '80s. We've seen those clips. We've heard what that was like."
One of the more relieved guys in the building is wide receiver Chad Johnson, whose teammates seem more upset with his Ali guarantee of a victory days before the game than the Chiefs. "No more of that," says Johnson, who finishes with 74 yards on seven catches. "But the guys had my back. They sure did." Still, after apologizing to Chiefs head coach Dick Vermeil, Johnson will still sign your SI with Chiefs quarterback Trent Green on the cover and add "Guaranteed" under his signature.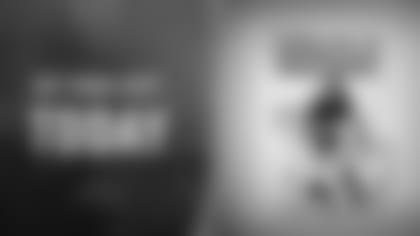 This is an excerpt from the new book "This Day in Bengals History" by Geoff Hobson. To purchase the book, visit the Bengals Pro Shop or go to Bengals.com/Book.