The Bengals roll up their sleeves today at crazed Riverfront Stadium and smash through to the elite when they plow the Bills' feared No. 1 defense to the tune of 232 rushing yards in a 35-21 victory that drops Buffalo to 11-2 and prevents them from clinching home-field advantage throughout the AFC playoffs. As the sign hanging high in the upper deck suggests ("Boomer Bombs Buffalo, Part 1"), the fans expect the 10-3 Bengals to meet the Bills again in the playoffs and that is most likely in the AFC title game.
And the Bengals now have a shot to host after rolling up 455 yards against a Buffalo defense that hasn't allowed that many in a game this season while giving up a mere 101 yards rushing a game. And the Bills haven't allowed 35 points in a game since linebacker Cornelius Bennett joined the club more than a year ago. "Today was like a play-off game for Cincinnati," says Bills defensive coordinator Walt Corey. "I don't know if we're ready for a play-off game." Bills Pro Bowl nose tackle Fred Smerlas thinks not. "We weren't emotional enough to play a team of that caliber," Smerlas says. "They're the best offensive team we've played. They maul you with powerful people."
After helping guide the Bengals within a game of clinching their first post-season berth in the five years under head coach Sam Wyche, Bengals quarterback Boomer Esiason says, "A lot of people talk about us having an explosive offense. But the most important thing we do is establish the run. When you establish the run, you can do anything."
And so they do, helping perennial Pro Bowl left tackle Anthony Munoz neutralize fellow future Hall-of-Famer Bruce Smith on the edge. "We always have a top 20 play list and the first couple of plays were runs and Anthony was knocking Smith off the ball and their linebackers were over pursuing to the outside," says left guard Bruce Reimers. "So there were natural cut-back lanes. Every time we came to the sidelines we just kept screaming, 'Keep running the ball."'
Wyche obliges and rookie running back Ickey Woods adds to his burgeoning legend with 129 yards and three touchdowns while back-field mate James Brooks adds 93 more and one TD rushing and another receiving, allowing Esiason to average 9.5 yards per his 25 throws while completing 18 of them. "We had to run," says center Bruce Kozerski. "We knew we couldn't line up against these guys and throw 50 times a game and we knew if we were going to have a chance we had to keep the ball out of Jim Kelly's hands."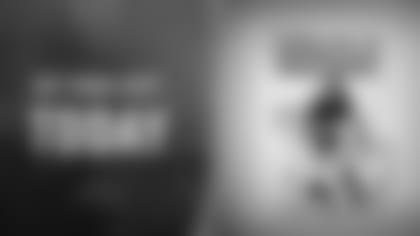 This is an excerpt from the new book "This Day in Bengals History" by Geoff Hobson. For a limited time, save 30 percent when you purchase the book at the Bengals Pro Shop or online at Bengals.com/Book.