Wide receiver Mohamed Sanu breaks open a one-touchdown game when he runs a reverse for a 25-yard touchdown with 13:26 left tonight as his 8-0 Bengals and quarterback Andy Dalton reverse his Thursday fortunes in a 31-10 victory over the Browns at sold-out Paul Brown Stadium. The Bengals come into the national showcase with a big agenda and cash the chips in deflating Johnny Football for the second time in a year while becoming the 11th team in this century and the 33rd of all-time to start 8-0. And the first team from the AFC Central-AFC North tree to do it. Plus, they match the franchise's all-time record of eight straight regular-season wins.
When Dalton floats a 19-yard touchdown pass down the left sideline with 7:43 left for tight end Tyler Eifert's third touchdown catch of the night, his response to the prime-time critics is as deafening as the crowd of 65,816 that defensive tackle Domata Peko calls the loudest he's heard in his 11 seasons. At that point, Dalton's 142.2 passer rating is 140.2 points more than his infamous 2.0 implosion against Cleveland 364 days ago. He hits his first eight passes of the second half, 19 of his first 24 for 207 yards and sets up the last TD to Eifert with a pump fake and run to convert a third-and-two.
The Steelers of the '70s and '90s didn't go 8-0. The Bengals of the '80s didn't go 8-0. Bengals head coach Marvin Lewis was the defensive coordinator of the record-setting Ravens defense that won the 2000 Super Bowl and they didn't go 8-0. "It's cool," Dalton says. "It's crazy the number of so many good teams that have been in this division and this is the first one. I'm happy for Marvin. He deserves everything that we're doing. It's not easy to get to 8-0." The Bengals defense, burned by Browns quarterback Johnny Manziel's passes rolling out of the pocket in the first half, adjust by slowing down their rush to strangle the Browns in the second half. Cleveland, held to seven yards in the half until the last three minutes, whiffs on its first four third-down attempts of the second half.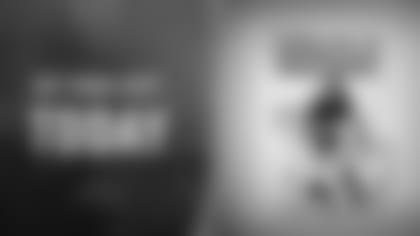 This is an excerpt from the new book "This Day in Bengals History" by Geoff Hobson. To purchase the book, visit the Bengals Pro Shop or go to Bengals.com/Book.