By the time Bengals head coach Marvin Lewis got his first teamers out of there after the first 12:44 of the preseason Thursday night at Paul Brown Stadium, they had 139 yards and the Bears didn't have ten and for a team that got whacked by Chicago, 33-7, in this building back in December, the 30-27 win in the pre-season opener had to be a step in the right direction.
Especially for that offense that had just 234 yards that day.
"It's what we wanted to do. We wanted to be efficient, we wanted to kind of spread the ball around and get a lot of guys involved, and we did that," said quarterback Andy Dalton after continuing his brisk training camp with six of eight passing for 111 yards. "We marched the ball down the field twice and ended with touchdowns. That's what we wanted to do."
It turns out that training camp isn't lying The guys that have been making plays for the last two weeks made them Thursday night with seven guys making one catch of at least 20 yards and the karma frothing down to the bubble players when seventh-rounder Auden Tate won it catching Jeff Driskel's 33-yard scrambling heave with 2:04 left.
This from a team that last season had the fourth fewest catches of at least 20 yards in last season's NFL.
The first offensive line did what it's done for two weeks and gave Dalton a firm enough pocket so he could find five different receivers. The forgotten kids of the 2017 draft, first-rounder John Ross and second-rounder Joe Mixon, did what they've been doing with Ross confounding alternately with drops and brilliance and Mixon making people wonder why they don't throw it to him more often.
"I just wanted to make the Andy Dalton highlight film," Mixon said.
No Virginia, this isn't the same offense that was dead last last season.
"We're rolling right now. We're figuring it out," Ross said. "It's just the beginning. It's what page we went to be on. Everybody knows what's going on. We just have to play together. We've got a lot of guys that can play."
Barely had the crowd ceased buzzing over Mixon's make-em-miss-24-yard-catch-and-run to give them a 7-0 lead on the first drive than Ross had atoned for causing Dalton's pick-six with a stunning now-you-see-him-now-you-don't 20-yarder, another of the catch-and-run variety. Say what you will about his struggles to make a contested catch, the man is a nightmare in space.
"That's all I think about is making a play," Ross said and that makes Dalton happy.
"I came right back to him and he made a great play and made a couple guys miss," Dalton said. "I thought he was going to get in the end zone but they had a good pursuit on him. He's a special player. I think he's going to make a lot of plays for this offense."
And then there's Mixon taking Dalton's four-yard flip and turning it into an I-was-there-moment. He deked a cornerback on the sidelines. He juked a backer into the middle of the field. Somehow kept his knee from hitting the ground and his torso in the air.
"The hesitation, I made a guy miss," said Mixon of the first. Of the second, "He came at an angle. He came at me kind of hard. He wrapped up, but I kept the legs really moving, spun off and kept my balance.
"I hope we keep the fire rolling. It definitely is different."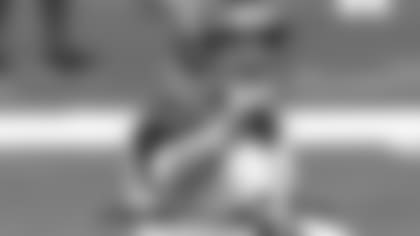 The first line had no sacks and while Mixon didn't get much on the ground, Giovani Bernard worked behind them for nearly six yards per pop on his four carries.
"I was comfortable back there. I thought they did a good job," Dalton said of his line. "There weren't any negative plays with it. I think we jumped offsides one time (tight end Tyler Kroft). we obviously don't want that. I thought our guys up front played well."
Not only that, there's enough talent to go around, they like watching each other.
"He's a different breed. He's a rare blend of talent, size, hands, and sped," said the great A.J. Green of Mixon. . "We see that every day at practice."
"We all think he's a freak," Ross said. "His catch radius is ridiculous, and he can go get the ball better than anyone I know. We knew it was coming, even the defense. As soon as 19 went in, we all tilted our heads and looked."
The 6-5 Tate just keeps doing it.
"We see it every day in practice," Green said.
It came on a scramble drill and the man who threw it, Jeff Driskel, just may be the best scrambler in Bengals history.  He backpedaled. He jerked forward. He wheeled right, spun and heaved.
"We had a quick pass on. The DBs kind of sat on us and I extended the play," Driskel said. "I saw Auden get by the corner on the left side. I just threw it high so he could go get it. He's a great target. I can't give you an answer on what I saw and what I felt. It's just you knew it was time to extend plays."
For Tate, it wasn't like when he beat Wake Forest on a 42-yard post last year for Florida State with 50 seconds left. That was scripted. On Thursday, Tate broke off an out route up field.
"I was just trying to get him between me and the ball," Tate said. "I saw him scrambling, so I was scrambling, too, looking for a spot."
The first day back and the offense wasn't scrambling.