The 5-3 Bengals are in the first-half playoffs as the AFC's second Wild Card. Here are the Bengals.com mid-season award winners and what they have to do to get them into the real deal:
Never mind that he's learned a new offense so seamlessly over the off-season that the Bengals are sixth in scoring after they were 24th in 2016 and 26th in 2017. Never mind that he didn't have tight end Tyler Eifert, running back Giovani Bernard and wide receiver John Ross together for less than half of the first half and his 17 touchdown passes are behind only Patrick Mahomes and Andrew Luck. Never mind that for the sixth time in his eight seasons he's got them in the thick of the play-off picture when you sit down for Thanksgiving and at .590 he's got the sixth-best winning percentage among quarterbacks since 2011. (Tom Brady, Aaron Rodgers, Alex Smith, Russell Wilson, Ben Roethlisberger.)
Forget all that. He gets our MVP vote for his four game-winning drives that have kept this season going behind a new offensive line that had to play with a new center five quarters into the season, as well as compensating for his missing weapons. As every Cincy school kids knows, it could very easily be five game-winning drives but it was snuffed out in 63 seconds by Big Ben's game-winner.
WHAT HE HAS TO DO: He'll probably need one or two more of those game-winning drives on the road for the Bengals to win the AFC North. He's got two this year and 14 of his 24 during his career have come on the road, the most on the road of any of the six QBs that have the most game-winning drives since 2011. Note the away games in the second half. Nov. 18 in Baltimore, Dec. 9 in Los Angeles and circle the finale in Pittsburgh on Dec. 30. But a good start is making sure the Saints' Drew Brees doesn't tie him and get his 14th road game-winner to start it off on Nov. 11 at Paul Brown Stadium.
OFFENSIVE PLAYER OF THE YEAR: WR Tyler Boyd.
He's been huge, particularly in the NFC South wins over Atlanta (a third-down conversion and two fourth-down conversions in the final drive) and Tampa (a career-high 138 yards) and he's on pace for 1,240 yards. That's a heck of a number. Cris Collinsworth, Carl Pickens and T.J. Houshmandzadeh never had a season like that in stripes. In his third season, Boyd has delivered when he absolutely had to with tight end Tyler Eifert done after 16 quarters and no wide receiver other than Boyd and A.J. Green with more than eight catches. Green has been superb doing what everyone expects with a 90-catch, 1,374-yard, 12-TD pace, but Boyd has come into his own.
WHAT HE HAS TO DO: The Bengals have converted 37 first downs (tied for 16th in the league in conversion percentage) and 13 of Boyd's catches have come on third down, as many as the Steelers' Antonio Brown in a tie for 12th in the league. Boyd led all rookies with 22 third-down catches in 2016. He'll need to beat that (and probably Brown) for the Bengals to make it.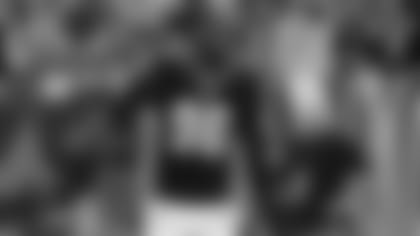 DEFENSIVE PLAYER OF THE YEAR: LE Carlos Dunlap
You've got to hand it to Dunlap and defensive tackle Geno Atkins. They got the big extensions at the beginning of the season and they've put their money where their mouths are. They've carried a unit that has been decimated by injury. And, sure, we could have gone for a co-winner. Atkins remains an inside menace. According to profootballfocus.com, he has the second most sacks and third most hurries and hits among NFL defensive tackles. And while he hasn't had a sack in the last three games, it was his grind jobs against Tampa Bay that resulted in Dunlap's two sacks last Sunday and highlights what his style means to them rather than his stats.
But Dunlap has been immense down the stretch of games with a team-high seven sacks that projects to 14, the most since Coy Bacon's 22 when he went surreal in '76.
Late in the third quarter in the opener Dunlap sacked Colts quarterback Andrew Luck, forcing Adam Vinatieri into a 55-yard field goal that he missed as the Bengals erased a 23-10 lead. The next week against Baltimore with the Ravens coming back on the Bengals' 11-point lead in the third quarter, Dunlap hit Ravens quarterback Joe Flacco's arm to cause a pick and blunt a comeback. During the third quarter in Atlanta Dunlap sacked Falcons quarterback Matt Ryan on the Bengals 6 to force a field goal in the points-fest the Bengals won by one. As the Bengals erased a 17-0 lead the next week against Miami, Dunlap sealed the win on back-to-back possessions late in the game when his forced fumble of Dolphins quarterback Ryan Tannehill turned into rookie Sam Hubbard's 19-yard TD return and a pressure forced the scrambling Tannehill to throw a pick.
That would be pretty good for an entire year. That deserves his own award.
WHAT HE HAS TO DO: If Dalton has the franchise record for game-winning drives, Dunlap may have the record for defensive closes. His ability to get his hands on the ball at the line of scrimmage is uncanny. He's got five batted at the line of scrimmage this season, second most in the NFL according to PFF, and since they're headed to their first 20-interception season since 2015, one of those tips may actually get caught. That could secure the game they need. Keep tipping. If he can get near his monstrous 13 tips (according to PFF) of 2016, one may put them in the playoffs.
SPECIAL TEAMS PLAYER OF THE YEAR: K Randy Bullock
Bullock's day last Sunday is emblematic of the rough up-and-down year the kicking game has had. He missed his first extra point of the season and he kicked a ball out-of-bounds at a terrible moment as the Bengals looked to put the hammer down on a 27-6 lead. But he also negotiated difficult gusts to drill a 44-yarder on the last play to win it while jacking his touchback total to 30, fifth most in the league.
Sunday was his only glamour kick but he's had plenty of big ones. He's 6-for-7 in the fourth quarter on his 20-yarder with 3:30 left giving them the lead for good against Miami, his 39-yarder with 3:57 left in the opener forcing Luck to need a touchdown and his 36-yarder with 8:19 left stemming the Falcons' 10-0 run to open the second half. Bullock also hit two in the final 2:59 to cool off the Ravens after they cut it to five.
WHAT HE HAS TO DO: Sunday was the Bengals' first walk-off field goal since 2015 and Bullock's first in 26 games with the Bengals. He'll probably have to do it again or hit one close to the gun for the Bengals to make it. Their last two wins in Baltimore have come on TDs in the final 2:10. When they secured a 2012 play-off spot by knocking out the Steelers in Pittsburgh, it came on a last-second field goal. And the last time they won in L.A.? It was one of Jim Breech's 9-for-9 in overtime.
ROOKIE OF THE YEAR: FS Jessie Bates
As advertised. They went into the draft seeking a heady play-making center fielder and leaped on Bates in the second round. They virtually made him the starter from day one and even cut the popular George Iloka two games into the preseason. PFF seems to agree.
His 587 snaps are the second most of any safety and of the safeties with at least 400 snaps the web site has graded him third overall. Of the safeties that have played at least 200 coverage snaps, he's ranked fifth and is the top rookie in both categories. And his team-leading three interceptions put him on pace for the Bengals' rookie interception record currently held by five players with five picks. Cornerback Leon Hall last did it in 2007. Cool kid? He has yet to be flagged for a penalty.
WHAT HE HAS TO DO: Bates has five missed tackles and they'd like to see that improved but what they really need him and strong safety Shawn Williams to do over the last eight games is prevent the deep ball. They've got to make sure there aren't as many blown coverages. This year the Bengals have allowed seven balls of at least 40 yards. That's just something they haven't done in the last decade of defense under Mike Zimmer and Paul Guenther since 2008. In only one season (2010), did they allow 10 passes of at least 40. In four of those seasons they allowed fewer than seven. And last year it was eight. If they give up seven again the rest of the way, it's going to be hard to duplicate 5-3.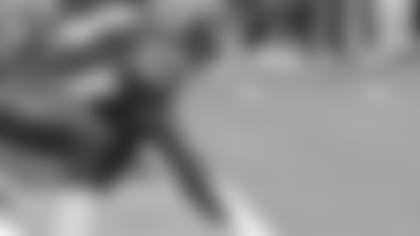 BENCH PLAYER OF THE YEAR: C Trey Hopkins
The Bengals offensive line underwent a massive overhaul during the offseason and the centerpieces were Frank Pollack, their first offensive line coach in 23 years, and rookie Billy Price, the first center the Bengals have drafted in the first round in 35 years. When Price went down with a foot injury on the 19th snap of his second game, well, get them re-write.
But Hopkins, showing that he's one of the smartest guys in the building, has been terrific. Consider that 20th snap in the win over the Ravens was basically his first ever in a game that counted. In college, he snapped once on a Texas kneel down and that was it. Playing next to first-year starter Alex Redmond at right guard and in front of Dalton operating a new offense, he has not only kept the trains running on time, he has prevented them from smashing into each other. He's the only starting offensive lineman that has yet to be flagged on a unit that has its share, but it is also generating the sixth most points in the league while allowing the tenth fewest sacks per pass. And don't forget the 4.4 yards per rush, another top ten figure.
WHAT HE HAS TO DO: Stay loose. Price figures to be back starting on Monday when they return from the bye. But you figure Hopkins is the first guard and center off the bench and, who knows, maybe the first right tackle?
COMEBACK PLAYER OF THE YEAR: RB Joe Mixon
Both the rookie Mixon and the offensive line struggled last year with Mixon averaging just 3.5 yards. But he's taken to the new mentality up front and is gashing people on 4.8 yards per carry despite missing two games with a knee scope and is just off a career 123-yard day. He's less than that (118) from surpassing last year's total and is on pace for 1,018 yards. But if he hits his average of 85 yards per game, he'll finish with 1,187 for their most rushing yards in a decade.
WHAT HE HAS TO DO: The coaches are still looking for consistency, at times, and that may keep him on the field for those one-minute drives. In last Sunday's second half some of that hesitating at the line from last season creeped in a bit, a real surprise since he's been so good hitting the holes. Mixon has 15 runs of at least 10 yards, more than Saquon Barkley, Kareem Hunt and Kerryon Johnson. He's ranked just 58 in the league in PFF's average for yards after contact. If he goes straight ahead and up in those rankings, he'll probably take the Bengals with him. Mixon, Green and Dalton are their most important players on offense. They make them go.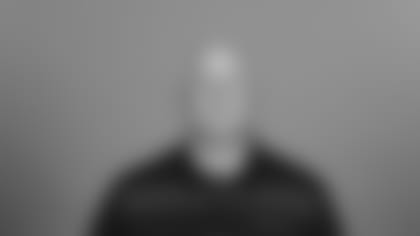 ASSISTANT COACH OF THE YEAR: Frank Pollack, offensive line
When Pollack came from the Cowboys and switched jobs with long-time Bengals assistant Paul Alexander, the line was not in a good place. It was still reeling from the two top picks of the 2015 draft, tackles Cedric Ogbuehi and Jake Fisher, unable to replace Andrew Whitworth and Andre Smith, and the middle of the scheme unable to keep tackles off Dalton. For the first time since the grim days of 1999 and 2000 when they hung on to the ball like Linus and his blanket, Bengals quarterbacks took 40 sacks or more in back-to-back seasons.
Pollack started over with four new starters, among them two veteran tackles, a first-time starter at right guard and a rookie center that got hurt after five quarters. At times, it hasn't looked pretty but when the dust cleared at the bye they were on pace to have just their second pair of 1,000-yard receivers joining a 1,000-yard rusher and 4,000-yard passer in matching the 2006 team. With running back Joe Mixon slashing at 4.8 yards per game and Giovani Bernard at 4.6, the Bengals are pace to have two regular backs each averaging more than 4.0 yards per carry since 2009 in Cedric Benson (4.2) and Bernard Scott (4.3). And Dalton is on pace to be sacked 32 times, more like the 2013 season he got taken down 29 times while throwing a club-record 33 TD passes.
The biggest thing Pollack seemed to change up front up was its personality and it appears the line has adopted his edgy persona. The veteran tackles, Cordy Glenn and Bobby Hart, play hard and keep scrapping. Left guard Clint Boling is the calm senior leader. Hopkins is smart and reliable. Redmond is trying to put it all together. Lewis approved as the mix as they went into the bye.
"They keep getting better, and that's the important thing. They continue to keep getting better as they play together. We still have some occasional miscommunications or bad plays, but I think as a group they're collectively getting it, they're understanding it, and they're coming up with some personality. We're going to need it. So yeah, from that standpoint, it's something just like everything else in this building that we have to continue to build upon," Lewis said. "They're a group of guys that will fight until the end. They've played the majority of the snaps, they don't come out of the game, they practice and play hurt, and they figure out ways to get it done, which is good."
If anybody can sum up that new personality up front, it's Redmond, the talented second-year guard with the kind of bring-it-on-down-hill-physicality mentality that Pollack has been looking to cultivate.
"We're working men. We're blue collar," Redmond said. "We go out there and do our job. We don't complain. We get it done and that's about it. We take no crap."
The goal with Redmond has been to bottle his tremendous intensity and mix it with his power and strength. So far he feels like he's improving with the rest of the line.
"He understands some blocks are not going to be perfect, some blocks you're not going to get. Some blocks you're going to get picked off," said Redmond of Pollack's experience as a lineman in the league for eight seasons. "Things happen. He understands that. He knows it's not going to be perfect every time because he's played the game … He does a good job of seeing those things and not getting down when you don't really need to be.
"We communicate. We're playing hip-to-hip. We've getting movement. We're staying square on guys. People aren't allowed to two-gap and read off of us very much. We're driving them downfield. I just feel like as a group we'll only get better."
WHAT HE HAS TO DO: Pollack has to make sure they only get better. And you know his big thing over the bye is going to be cutting down on the penalties. Redmond (six), right tackle Bobby Hart (seven) and left tackle Cordy Glenn (five) lead the team in flags. In order for the Bengals to make it, they probably have to take it down far below a combined 18.