From right to left, Adam Jones, Andrew Whitworth, and Vontaze Burfict greet the kids after the surprise.
Out in Corona, Calif., Vontaze Burfict got his first bike from his mother when he was about five or six, a black beauty with pegs that made him love black bikes forever.
Down in West Monroe, La., Andrew Whitworth was about the same age when his parents got him his first bike, a sleek white BMX with white tires, and since his dad rode a motorcycle Little Big Whit put cards in the spokes to make it loud
In Atlanta, Adam Jones got his first bike when he was nine and …
"We should not talk about how I got my first bike," says Jones, his eyes dancing like a cornerback breaking on the ball. "Growing up in the projects we're running up and down the streets. You leave the projects and you go up into the neighborhoods and you see a bike laying in the yard you just jump on it and take off. You live and you learn."
The only thing stolen Tuesday is hearts as Jones orchestrates one of the great holiday heists ever seen in Bengaldom. After surprising the Lincoln Heights Elementary assembly with his Pro Bowl trio, Jones is there to apparently reward three "Why I Deserve a Bike," essays with the help of Burfict and Whitworth.
After Principal Dawn Bailey, who, by the way, is the school's MVP, leads the winners through a reading of their works, the three shiny bikes are displayed on stage and then Jones starts wondering into the mike.
"Hey Tez, do you think we ought to give out a few more bikes? What about you, Whit? Do you think we ought to give out more bikes?"
And so a minute skit ensues with Whitworth and Burfict trying to convince Jones to give out more bikes and Jones saying he's not so sure about that and …ah, what the heck. Everybody gets a bike. Turn around."
And the kids turn around to see the partition tugged back and a gym a veritable Toyland full of shiny bikes of all colors and shapes. As the kids let out a collective stunned gasp before shrieking with delight, a weeping Dawn Bailey grabs the mike and says as she quiets the din with a royal sweep of her hand, "Logistics. Say Logistics."
Jones and Burfict figured it out last year after they left Rockdale Elementary. Jones got the idea from Oprah.
"We've been doing it for three years now and after we did it last year we gave about 180 bikes we were talking about how we felt like we left kids out," Burfict says. "This was Adam's idea. It worked out great."
Dawn Bailey let some of her staff in on the idea. After all, you can't secretly deliver 287 or so bikes to an elementary school without a little help. And, besides, most everyone being in Bengals' garb is pretty normal around here. The Princeton City Schools District is part of the Cincinnati holiday charitable outreach program, "Fill the Truck." If the kids bring a canned item, they get to wear Bengals stuff at a day of Bailey's choosing.
"Even though we're the second smallest school we've brought in the second most items," says Bailey, Bengals ear rings dangling. "What does it mean to them? They know I love them and our staff loves them. But when someone comes from the outside to show them they care, that means so much."
Bailey figures about 98 to 99 percent of her children are on lunch assistance. But if the three essays are any indication of what's going on here, her students are feeding off all the right things.
"Best essays I've ever heard," Jones tells them.
There is already a lot of sharing going on.  There are Bengals jerseys from every pocket of the Marvin Lewis Era, starting with the No. 28 Dillon. There is a No. 9 Palmer and a No. 84 Houshmandzadeh. Rudi Johnson needs a recount. There is a No. 32 Benson and a No. 32 Hill and a No. 42 Green-Ellis.
"I like your jersey," says Burfict to the girl with the No. 28.
"It's my brother's," the girl tells him.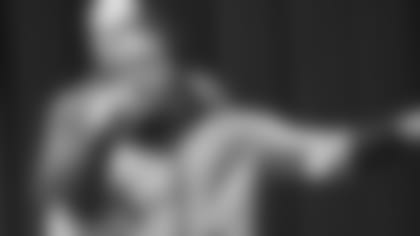 Adam Jones borrowed his holiday idea from Oprah.
 One of the essayists, fourth-grader Yishi Israel, writes that he'd share his bike with his brother. As the kids began to file through the gym to look at the bikes and thank the players, they hit it off with Yishi. He's quiet, but he has no fear. He's sitting on his bike of choice.
He likes the Pegs. Just like Burfict did about 20 years. Burfict helps out a reporter. He says to Yishi, "Tell him what the bike means to you."
"My brother doesn't have a bike. And now I can go places with him. We don't have to get in the car and cause pollution," Yishi says.
"The park, right?" Burfict says. "The store to get some candy. I know you want some candy."
This is why Burfict does it. Tackling Tez is racking up some more today. He's hugging kids as they come through the line, telling them Merry Christmas. He likes to break up the kids who look so serious.
"The funniest one was this kid who asked me if I could send a picture to his mom," Burfict says. "He knew her number and we sent it and his mom must have been like, 'What the heck is this?'"
Burfict lived three minutes from Stallings Elementary and it's one of the reasons he wanted a bike. That and so he could show off for the girls with tricks, like riding on the handlebars.
"It was uphill and downhill," Burfict says. "I didn't have professional athletes come to my elementary school. Your role model never came to the school.
"We could have just dropped off the bikes and said Merry Christmas," he says. "But we wanted to be here, meet them. Sign autographs. Give back to the kids. Give back to the community. We've got great fans here in Cincinnati."
The 6-7 Whitworth, as big in the community as he is on the field and the locker room, heard about the bike giveaway last year and loved the idea. And you're talking about a guy that knows how to give away stuff.
Whitworth arrived at Lincoln Heights Tuesday straight from a local school where the week before he had appeared as part of the Marvin Lewis Community Fund's Learning is Cool program. It seems the principal is a wild-eyed Steelers fan complete with a decked-out office, so Whitworth came back Tuesday with 350 tickets and now everybody can go to Sunday's game.
But he liked what Jones and Burfict had done last year with Reggie Nelson and he kept it in the back of his mind. With Nelson now in Oakland, Whitworth approached Jones and it was a done deal. It would again be split three ways.
"Love it," Whitworth says. "Just to see the smile on the kids' faces. It just feels good to give back and know you're helping people out. I guess that's what the holiday is all about."
Jones and his wife Tish are beaming looking at the scene. Mrs. Bailey has already fought back the tears, telling them, "When you're happy, I'm happy." Even Jones admits, "I almost lost it. But you gotta buck up."
Jones is thinking about that nine-year-old. He'd like to give away one more bike. But he never knew who that first bike belonged to. So he brings a message instead.
"Treat people with respect," Jones says. "Treat them how you would like to be treated."