Leini Tonga grasped his hand while she gave birth to Man-Man and Bubba. His mother always looked for his hand right after he scored a touchdown for West Virginia and the Bengals, knowing he would punch the sky with his index finger for One Love. Rusty Guy held his hand as he died. But the baby Chris Henry called "Man-Man," has his hand.
Chris Henry Jr., has both of his dad's hands.
"Scary," says Leini of her oldest son while driving him home from middle school in Charlotte, N.C.
"Everything is the same. Same shape. Long. Thin. Long fingers. Same swagger. Very sweet. When he started playing Pop Warner I saw him running and saw him catching the ball. I said, 'That's crazy.' Everything about him is like his dad."
It is 10 years to the week the world lost Chris Henry. He was the dad in the middle of a December run to the AFC North title. It was in the middle of a week where the Bengals were preparing to win the AFC's No. 2 seed in San Diego. In the middle of the Bengals locker room after his teammates were told they turned off the machine keeping him alive in Charlotte, you could hear a pin drop.
In the middle of a godawful nightmare.
"Unbelievable. Unbelievable. To go through all that and to have this happen to you?" asked T.J. Houshmandzadeh for all of us the night before he died.
But this is like every day for Leini Tonga.
She always talks about him so his two sons know him as well as she did. They are both honor students. Student athletes, she makes sure she calls them. Chris Jr., 12, is playing middle school football and tearing it up on both sides of the ball. DeMarcus, 11, is playing AAU basketball, skipped a grade so he's now in sixth and his dream is to play at Duke and become a brain doctor so he can help people facing the same problems as his father.
They're asking more and more questions all the time about dad. After all, Chris was two and DeMarcus was one when he died in a Charlotte traffic accident a month after his season ended with a broken arm. A cruel end to what started as the NFL's feel-good story of the year. Henry, the NFL's perpetual bad boy, had gone straight.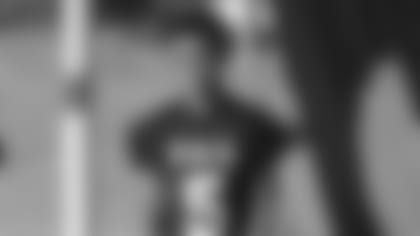 Remember? Remember that first practice of '09 training camp? After four arrests, three NFL suspensions, and a release from the Bengals in April of 2008 after yet another incident, there was Henry, after looking so good in his reunion with Carson Palmer, bouncing Bubba in his arms.
(Bubba is the name his father gave DeMarcus because when he was a baby he would crawl around the floor excitedly eating crumbs gurgling B-B-B. He's the one with his dad's dreadlocks, the one thing Man-Man doesn't have from his dad.)
"I love spending time with my kids," Henry said that day at Georgetown College. "I was living like I was still in college, you know?"
He was one of the reasons Bengals president Mike Brown, a man Leini says her family is blessed to know ("When everybody was ganging up on him, he was the one person that didn't") allowed the NFL to film the always radioactive Hard Knocks in that training camp. Brown put a team in charge of working with Henry, chaired by Rusty Guy, the Bengals' versatile director of security who can play good cop and bad cop in the same sentence. Also huge in Henry's development was Eric Ball, the director of player relations, and former assistant strength coach Ray "Rock," Oliver.
They were the Odd Couple, Guy and Henry. Guy, who grew up in Pittsburgh, played golf at Duke before going into law enforcement. Henry came out of one of the roughest parts of New Orleans, where law enforcement didn't go to golf. But they went through so much together that they could talk to each other about how both spent most of their childhoods without a father. More than that, they listened to each other.
"Everyone said Chris was so quiet, so taciturn," Guy says. "But you knew when you were talking to him he was listening intently."
Everyone heard Guy quote everyone from Jim Valvano to Vince Lombardi to Galatians as one of his eulogists the day they said good-bye at the Alario Center.
"If you knew him only by hearsay you would think he is some kind of ogre," Brown said of Henry before that camp opened. "It's not true. He's a good person. When you see him up close, you'll find that you'll like him. He'll be soft spoken and a pleasant person. People who understand him to be different (will) now know better. The same is true of other people. We have a lot of good guys. They're interesting as personalities as well as players and if that comes through in this program I think that helps the Cincinnati Bengals."
That's a story that covers both topics for Leini, always looking for Chris stories for the kids.
"I tell them how he was as a father. How he was with them. How much he loved them," Leini says. "I let his friends tell them how he was as a football player."
She tells Chris Henry, Jr. , how his dad would point at him as he loped out of the tunnel for a game. And then how after the game they would wait with the other families behind the rope outside the locker room, but there was Man-Man flying under the rope to go get him when he saw his dad breeze down the hallway. Sometimes he'd scoop him up and take him into the locker room.
Man-Man, another nickname bestowed by the dad, can tell you how he was as a player. At 12 years old, he's seen enough video of his dad in stripes to come work for Bengals video vicar Travis Brammer.
"He's good," says Man-Man and when asked what he likes best about his dad's game, he says "When he jukes everybody. I really don't try to run like him. But we play like each other."
"He's good. When he jukes everybody. I really don't try to run like him. But we play like each other." Chris Henry, Jr., on what he likes best about his dad's game.
Man-Man ("Chris was so proud to have a son and he was so cute. He looked at him and said "My little Man-Man," Leini says) probably has this all figured out. But at 6-5 his father was a tall glass of water that drained defensive coordinators because it seemed like he could never get overthrown, the X factor for a team that already had a Pro Bowler in Chad Johnson, a 1,000-yard receiver in Houshmandzadeh and a guy that could throw it through the bus to the airport in Palmer. The Steelers still haven't covered him. They called him "Slim," but he got fat going deep.
Man-Man may not know this. Chris Henry, Sr., authored glittering stats during his first two seasons in the league, when he scored 15 touchdowns on 67 catches for a stunning ratio of a touchdown every 4.5 catches. His career numbers of 119 catches for 15.3 yards per catch during five seasons represent the seventh best yards per catch average in Bengals history among players with as many catches.
But then, seventh-grader Chris Henry, Jr., another tall glass in the rack at 5-6, had great numbers this season for the middle school team at Mountain Island Charter this season. Five touchdowns as a wide receiver. Three interceptions as a cornerback. His adopted uncle, former Bengals cornerback Adam Jones, is a big reason he's going double-duty.
"I never played corner and then they asked me if I wanted to play corner," Man-Man says. "I was like, 'Yeah.' I thought about my Uncle Pacman. I said, 'Yeah, I'll play corner.'"
Man-Man and Bubba spent Thanksgiving weekend at Jones' home in Cincinnati, which has become a holiday tradition of sorts. If not Thanksgiving, Christmas. Leini is driven by one thing. Making sure her sons are surrounded by people who loved their dad and love them. She makes sure their support group is filled with positive people. One of the great ironies in Bengals history is that Jones never played in Cincinnati with Henry. He signed the spring after he died, so the two close college teammates never got a chance to practice against each other.
"But Pacman has always made sure he stayed close to the kids," Leini says. "Always checking in. They both have their own cell phones now, so they text him about games and school. He's always in touch. Always there when needed."
Cincinnati is a favored destination. Henry's mother, Carolyn Henry Glaspy, never left. Hurricane Katrina drove her and her family out of their New Orleans home during Henry's rookie season and life went Category 5, too. She married a Cincinnati man and is a busy volunteer ambassador for the LifeCenter, a group with the mission "to save, enhance and change lives through organ and tissue donation."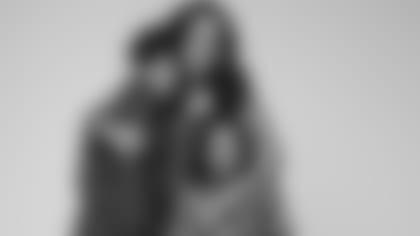 Glaspy saw the many lives her son saved by donating his organs and she spreads the good message through the schools, particularly to the students receiving their temporary driver's licenses so they understand exactly what they're signing. She'll represent the LifeCenter at next year's Transplant Games with the competitors transplant recipients, living donors and donor families.
She also mans the LifeCenter's table at two Bengals games a year and it's still tough when she goes inside to watch.
"I miss him coming through that tunnel and pointing. One love," Carolyn says. "And when I see somebody else wearing that No. 15, it's hard. I know he'll be always be No. 15 in my heart. I guess it will never get any easier."
Carolyn has always been close to Leini and Leini keeps her heavily involved with her grandsons. Kindergarten graduation. Academic awards ceremonies. Big games. She travels. At one of the ceremonies Bubba took down the highest math score in the fourth grade. Carolyn knows why he wants to study the brain. She donated her son's brain to the University of West Virginia and researchers revealed he had CTE, but the mystery is he had never been diagnosed with a concussion in college or the NFL.
"He wants to see what's going on in the head," Carolyn says. "He wants to know what causes headaches, the things the players go through, the concussions. He wants to see what makes it tick. He wants to help the people that have what his dad had."
The kids love coming to Cincinnati, but they saw the Bengals last year when they came to Charlotte to play the Panthers and that's when it kind of hit Leini how close the Bengals are to their hearts. She doesn't keep up with football. The kids do that. So when she found out only a few days ahead of time they were coming to town, she texted Guy to see if she could get the boys and some of their friends into the game.
Guy did a lot more than that. The group went to the hotel the night before the game and met the players during the team meal. Man-Man met his favorite Bengal, Andy Dalton ("Because he's a good quarterback") and running back Giovani Bernard took some time and a picture. "The one in the backseat is telling me Giovani Bernard," said Leini, when asked if they know any of the current Bengals as she drove home from school.
Then the next day the group went on the field before the game and got a picture with another play-making Bengals receiver. A.J. Green.
"Rusty made it all happen. He's always been good to us. And the Brown family, too," Leini says. "The kids had a blast. That's all I really cared about."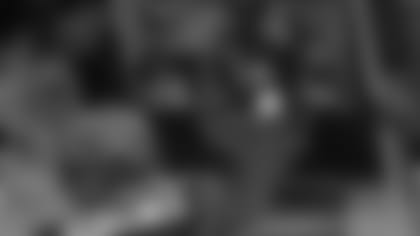 They probably weren't too concerned the Bengals lost. "I'm bandwagon," says Man-Man, who says his favorite team this year is the Ravens and his favorite Ravens are Lamar Jackson and Mark Ingram with his favorite NFL receiver Stefon Diggs of the Vikings.
"I like his number (14) and he's good, too," Man-Man says.
If he can get No. 15, he'll take it. But Leini says she likes to keep the spotlight off the kids and not advertise who they are, so they don't make a fuss about it. They'll wear No. 24, too, for Uncle Pacman. This season his team didn't have 15, so Chris wore 25, because it's close to 24.
"Ten years," Leini says. "To me it seems like yesterday."
Guy feels the same way. He's two games from retirement and it went by like that because of relationships like this one. He still remembers how warm Henry's hand was in his last minutes. "Not a scratch on him. Like he was sleeping. Like he was going to get up and go play football," Guy says.
"I don't take credit for him turning the corner," Guy says. "It was the normal process of maturation of a guy that simply grew up. A late bloomer who wanted to take care of his family."
The family sees him every day. Man-Man says his favorite football video is his dad playing against the Saints. He's probably looking at that pre-season opener in that final season of '09, one of those games he leaned and stretched for seven catches for 100 yards.
"He was great. He reminded me of myself," Chris, Jr. says.
His favorite video of the ones his mom shows is when he and Bubba are in diapers and his dad is pulling up Bubba to dance. The voice in the video is calling, "C'mon Man-Man," as Chris Jr. wanders off after a few bounces while the voice is singing to Soulja Boy's "Turn My Swag On."
"It's me, dad and Bubba and we're next to the pool table," Man-Man says. "We're dancing and rapping."
Ten years later and Slim is still on hand.