It sounds like they're fitting No. 85 for Tee Higgins in Bengaldom, which is just about right because he's tailored for it. As the Bengals second-round pick in last weekend's draft, he fits all the dimensions of the Big and Tall history of Bengals wide receivers.
 "I can't wait to put that number on," Higgins said Monday after a weekend of trading a text or two with A.J. Green and DMing Chad Johnson on Twitter. "Keep the tradition going."
Johnson is just as jacked.
"An honor. An honor for me for him to wear 85," Johnson said, safe and sound in Miami. "I was sheltering long before everybody else. I'm just here gaming."
Green never wore No. 85, of course, but his frosy grace that has chilled seven Pro Bowls hasn't cooled the torch he took from Johnson nine years ago.
Johnson is the most visible of their 85s. Isaac Curtis was so good he began the tradition and made them change the rules while wearing it. Tim McGee went to a Super Bowl and Tyler Eifert went to a Pro Bowl wearing it. Johnson, who was a social media giant when Twitter was a baby and that makes him a cultural pioneer, is not only the Bengals all-time leading receiver but one of seven receivers they've taken in the second round that have combined for 18 seasons of 1,000 yards and 11 Pro Bowls.
Johnson went to his platform at the end of the first round to make it clear where he stood on Higgins after he wasn't taken.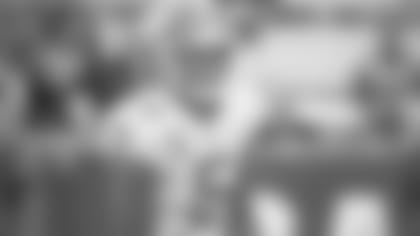 "I'm going to bed," Johnson tweeted after he called bull. Or something like that. All was good after Higgins went to The Ocho's old team.
"It's amazing what one draft can do. It can change everything. I think this one did," Johnson said Monday. "Tee is a lot like A.J., yeah, I agree. Same body. He's big. He goes up and gets the high ball better than I did and he's a better route runner than he gets credit for. Defenses are going to get tired trying to cover two tall guys like that. Then you've got John Ross running around and Tyler Boyd in the middle of the field. I'm excited."
Johnson is so excited that he has tagged the Bengals receivers via Twitter and offered his services as a cornerback whenever they can get together to throw.
"I have no idea when or where. Whenever they say it's safe to do," said Johnson, 42, who last played when Green was a rookie in 2011. "I'm still running. I look like I did when I played. I can play corner. I've got the quick feet. But I just wouldn't cover them, I'd teach them some things."
Higgins knows all about Chad Johnson's feet.
"Crazy fast," is how Higgins remembered him. "Quick feet. Just real quick and he had great hands. He ate at McDonald's, so I have to like him."
Higgins hasn't been there lately because of the eating healthy thing, but he was thinking of driving through Monday to get his usual.
"Double cheeseburger plain," he said. "Large fries and that Sprite. That Sprite is ridiculous."
That sounds just like something Chad might say, but Higgins looks like Green. The scouts say wait until you see the 6-4, 215-pound Higgins and their frames are head-shaking similar. And he has a lot more in common with the guy he calls his idol.
For one thing, the way they play. Higgins comes out of Wide Receiver U, where he tied the Clemson career TD record of DeAndre Hopkins and Sammy Watkins, but he watched them all:
Julio Jones: "When he catches the ball he's just going to try and run you over or he's just going to burn you with his speed."
Amari Cooper: "He's a finesse guy. He's going to finesse you on his route. He's going to get you in that double move. He's a great route runner."
Green: "He's a jump-ball machine. He's fast after he catches it. Yards after catch. His body control is unbelievable."
"I'm closest to A.J.," he said. "I think a lot of people can agree with that."
So can KeKe Stewart, who broke the scoring and rebounding record at Oak Ridge High School, where Higgins was later named Tennessee's runner-up in Mr. Basketball balloting.
If you want a scouting report on Higgins off the field, ask him who knows him the best and there's no pause.
Or "Sussy." When it came to her baby brother by 10 ½ years, she wanted to be called something other than KeKe, short for Shakia Quinsha. So she was "Sussy," and he was "Boot," and they really don't know why. All they know is they've been close since always.
"He leaned on me and I leaned on him. Especially the nights that that my mom wasn't around," KeKe said. "She was a drug addict and she was in and out. She's been clean 13 years on Aug. 19."
KeKe and Tee and Camillia Stewart have gone public with Camillia's battle because, like KeKe says, "It's a victory."
Tee has written about how when he was in kindergarten he was greeted in the school office by the usually strong, outgoing KeKe reduced to tears. She was only 17, but had to tell him their mother had been shot. A year later she took a basketball scholarship to Middle Tennessee State, but stayed just three days and went back home to help her aunt and grandmother raise Tee.
When she had her daughter a year later, she told her mother if she didn't get clean she wouldn't let her be a part of her life. When MTSU recognized KeKe's scholarship in 2010, Camillia was clean enough to take care of her granddaughter, just like KeKe kept an eye on Tee.
"I think my daughter saved her life," KeKe said.
 So when Tee got his mom back as a 10-year-old, he knew what a win was. Then he watched his sister play for the next four years and that senior year she made the USA Conference honor roll and set the league record with 11 three-pointers against North Texas.
Everyone was there Friday night when the Bengals called. All around Tee. Later this week KeKe finishes her LPN nursing studies. There have been victories all around the Oak Ridge home. 
"He loves it. A.J. Green is his idol," KeKe says. "It was a life-changing moment. His dream was to play in the NFL and so that was our dream.
"Just family support," KeKe said of how they made it. "We were there when he needed it most. My aunt and grandmother and we kind of took turns looking out for him."
So here's her scouting report on Boot:
"A laid-back humble young man. He hates drama. He knows when to leave. He doesn't like the big spotlight. He just likes to be laid back and cool and watching everything. He didn't get that from us. I'm rowdy. I'm a loud person. I'm definitely a leader. He's a leader, too, but he has to know you to be a loud person."
If that doesn't sound like A.J. Green, it's pretty close. The old 85 hopes to work with them both.
"When I intercept it," Johnson said, "I'll be practicing social distancing."
Just like Higgins seemed to will playing with Green, No. 85 almost seem fated, too.
"That's a good reason," Higgins said of the tradition. "But I just want to keep my number 5. Five is also my number."
A high five in the finest Bengals tradition. Tee Higgins has a little bit of all of it with Johnson's number and No. 18's style.