No, the Bengals don't plan to add former No. 10 pick Josh Rosen Sunday from their inside pole positon with the NFL waiver wire's No. 1 claim.
"That's not the direction we're headed right now," said head coach Zac Taylor Saturday after the Bengals cut the active roster to the maximum 53.
Other than that, Taylor didn't want to offer much with teams spending Saturday night looking for clues as they rip through the wire to upgrade their rosters while also raiding teams to form the biggest practice squads in history in deference to the pandemic.
He did indicate that cornerback Trae Waynes, recovering from pectoral surgery, is going to be the only player put on injured reserve recall Sunday. Which means they must be pretty healthy because under the current rules they could be back in three weeks, although Waynes figures to be out longer.
"There's certainly a good amount of guys that we're looking to get back," said Taylor of the 16-man practice squad that is finalized Sunday. "I don't want to share specifically who that is because you want to try to get them back. Certainly there's some guys that got a leg up there."
The Bengals got down to 53, but it's going to be a different 53 on an Opening Day that is now less than eight days away against the Chargers Sept. 13 at Paul Brown Stadium. There is the Waynes move and then there is the waiver wire.
Before Friday's trade, finding a fourth defensive tackle apparently had been the biggest need. But not after the Bengals picked up an experienced rotational player from Denver in Christian Covington when director of player personnel Duke Tobin shipped linebacker Austin Calitro to the Broncos.
Calitro was on the bubble here behind the three drafted rookie backers, but Covington figures to be active for the Chargers with 66 NFL games under his belt.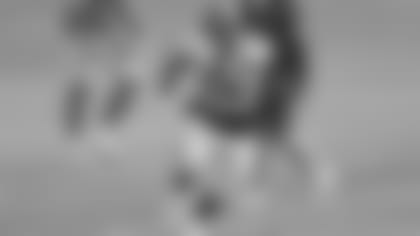 "That was a good deal for us. Austin Calitro was someone we were positive on," Taylor said. "You guys have seen the depth we're working with at linebacker right now. We feel good about the guys that we ended up keeping there. When it works out to where you can add some depth to a group that you needed some depth at, we feel like it worked out for us. Happy for both teams."
The scouts had good grades on the 6-2, 305-pound Covington (so did profootballfocus.com with a top 50 rating among defensive tackles for pass rush last season), plus he played with a current Bengals defensive lineman (D.J. Reader) and offensive lineman (Xavier Su'a-Filo) in Houston.
"We certainly did our research on him before it happened. He's got some experience in this league," Taylor said. "He's got some experience with guys on our team. We felt like we were able to do the proper background work. It wasn't signing a rookie that didn't have tape out there. This is a veteran player who's been around for four years and we feel like we had a good evaluation on him."
And there's the problem. There's no pre-season tape because there were no pre-season games.
But what helps is the bigger practice squads and the fact that not only is every player in the league eligible, but it is easier to promote a player to the active roster because they won't be exposed to waivers. Plus, four of them will be protected from waivers for all but 48 hours each week.
It all amounts to almost having a Triple A team in your building.
"Now you have some flexibility at some positions where A, you have more people to practice with, which is good," Taylor said. "Often times you have offensive linemen playing D end and tight ends playing D tackle and vice versa you have D tackles playing offensive line. So from that standpoint you've got a healthier team where guys aren't playing out of position as much on the scout team.
"It also allows you to carry maybe an extra guy at a position that you're a little deeper where normally the guy wouldn't have been able to make it around because of the reasons I just mentioned. You need people to be able to practice, but now you need a guy who maybe didn't get a chance to show as much in training camp, he's a younger player, now you can keep him around a little longer and get a better evaluation of him." 
Saturday night is going to be a long one at Paul Brown Stadium for the personnel department. They'll come back from dinner and stare down the wire, knowing they can have any player they want. They'll cross-check with the coaches and the thing could go to midnight. Then they'll meet with the coaches and ownership Sunday morning to put it all together.
If the opener is going to test the mettle of Taylor's coaching staff, Saturday night puts a hot scouting staff on display after drawing raves for its work in free agency and the draft this offseason.
"They've been tracking this for weeks now on what they see as potential cuts, teams that are maybe deep in certain positions, who can become available," Taylor said. "And at the same time passing those names along to the coaching staff to get their opinion as well.
"We've got reports with those guys from college and pro teams that we've tracked, and some of the names that pop up, you tracked last year during the cut-down process. And so we feel like we're familiar with some of these guys and we'll continue to beat on it, you know, over the next 24 hours and make sure we're making the right decisions. "
Despite not having spring football and not getting on the field in pads until less than three weeks ago, this roster reduction was as clear-cut as any in memory. The only thing near a surprise was cutting veterans Brandon Allen and Jake Dolegala and going with two quarterbacks.
But with Allen a free agent and he and Dolegala protected, for the most part, by the practice squad guidelines, both could be back here in some form on Sunday. Needing control of more than two quarterbacks is a must in pandemic conditions.
"We'll look at those practice squad spots to figure out what the best way to handle that is," Taylor said "The two guys we kept around did a nice job for us and we'll look to solve that problem in the next 24 hours."
Taylor could stage only two full scrimmages in place of the four pre-season games, but that appeared to be enough because he spent the last week of camp trying to keep guys healthy more than anything.
"I think when you look at the final roster, these guys have all had good camps from start to finish," Taylor said. "And for me, I feel like our staff has had just such a good hold of this roster going into this training camp, that we felt like we knew the areas where there were going to be battles, and there were battles.
"And so we sought to identify that … we've got to make sure that we're very clear on what our vision is at that position by the end of the cuts, and it felt like we had plenty of time to make those decisions and feel good about it. And that's really where you end up this last week, just making sure we keep our team healthy because we felt pretty good about how the 53 was going to shake out."