PHOENIX - In the background was the crush around six-time Super Bowl champion head coach Bill Belichick.
Next door was a rubber-necking scrum jammed around new Browns head coach Freddie Kitchens, the man suddenly pushing the buttons of Baker Mayfield and Odell Beckham Jr., in what may replace the Steelers as the AFC North's next soap opera.
Meanwhile, Zac Taylor sat at a serene table Tuesday during his first NFL head coaches media breakfast at the league meetings as a few curious passer-bys stopped to gauge the temperature of the new Bengals head man.
There was more than his small dish of fruit on that table. Everything was symbolically on the table because Taylor is an all-your options guy. Even though he envisions Andy Dalton as his quarterback for the long haul, "everything is on the table," for the 11th pick in next month's draft. Even though the re-signing of cornerback Darqueze Dennard has filled up their salary cap allotment for free agents and looked to be the final player acquisition before the draft, Taylor said they could still be enticed by the waiver wire and that they'd keep their options open.
And all available options and everything on the table are good ways to describe his running game, which he reiterated Tuesday is going to be the building block of his playbook he's crafting to be quarterback-friendly and AFC North hostile.
"It's a big part of our scheme. It's easy to say, 'We want to run the ball,'" said Taylor, putting a fist down on the table. "We at least want to give the illusion we're going to run the ball. You want to be under center at the line of scrimmage and present the defense with we can run it left, right.
"We're not in the (shot) gun and you're a little bit constricted that way. The key is to be under center so all the options are on the table. Run the play-action, the play-action screen. All that stuff has to be on the table."
The Bengals have the AFC rushing champion in running back Joe Mixon, but they've run the ball tentatively the past two years. After coming off the worst rushing season in franchise history in 2017, Mixon won the title on 4.9 yards per carry when he had just five games with at least 20 rushes and his only two with more than 25 didn't occur until Dec. 9 and 16.
Look for that to change, particularly when Taylor revealed Tuesday his role model as a play-caller is former Texans and Broncos head coach Gary Kubiak, now Bengals old friend Mike Zimmer's assistant head coach and offensive adviser in Minnesota.
It's not like Taylor knows Kubiak all that well. But he watched plenty of Texans games when he worked with his son Klint Kubiak at Texas A&M. The solid execution of a simple but varied offense made a lasting impression and is the reason that the H-Back on those Houston teams, James Casey, is the Bengals' new tight ends coach.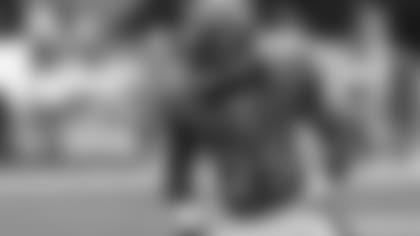 It doesn't hurt that former Packers head coach Mike Sherman, Taylor's father-in-law and one of his two biggest influences in coaching, once served as Kubiak's offensive coordinator in Houston.
"I've always appreciated a Gary Kubiak game plan," Taylor said. "He's always under center, it starts with the run, then there's the play-actions and the naked (bootlegs) and the screens built off that and then you drop back on known passing situations.
 "We'd sit there on Sunday afternoons and when Klint is sitting next to you you're going to watch the Texans game … I appreciated the way that he attacked teams and used those tight ends they had and that kind of led us to James Casey. I remember seeing James Casey and how specific he was with his technique and hearing everything (how) he got there and so I would always follow his career."
The Bengals would like nothing better than to have that kind of success. They've never beaten a team coached by Kubiak. He's 7-0 against Cincinnati, beating the Bengals with four different quarterbacks.  His scheme was so solid that he beat them with Texans rookie back-up T.J. Yates to win the 2011 AFC South on the last play and a play-off game by a rout inside of a month and with Broncos back-up Brock Osweiler to secure a play-off bye they took from the Bengals in 2015. Then in 2016 Trevor Siemian did what Matt Ryan, Joe Flacco, Alex Smith and Russell Wilson couldn't do against a Paul Guenther defense in Paul Brown Stadium and won.
The numbers? Kubiak's teams averaged 30 rushes and 122 yards per game against the Bengals and four of them were against Zimmer's proud top ten defenses. No wonder he took him to the Twin Cities.
That number of 30 rushes in a game may sound familiar. In Dalton's 55 starts the Bengals have rushed at least 30 times, he's 47-6-2. It's a number they've hit just seven times in the past two seasons, when they're 5-2. Twice last year for 1-1.
But don't look for Taylor to beat Mixon to a pulp. He indicated Giovani Bernard should plan on getting plenty of work. He saw Rams running back Todd Gurley get worn down late last year and he wasn't himself in the two biggest games of the year.
"It's hard to take Todd Gurley off the field. Last year, look at the scores. I swear every game was a one-point game," Taylor said. "Every game we were trying to find a way in four-minute to get a first down to ice the game , otherwise they were going to get the ball back with a chance to win. Every game felt that way.
"It's harder to take your starting running back who was the league MVP the year before off the field. But any team would say you have to take care of those guys late in the year. You have to find ways to get them off the field and get the No. two or No. three guy on the field. It's hard. It's a challenge in games. But you have to create a plan you try and stick to and do your best to keep those guys fresh."
Taylor has yet to call plays for a full season in the NFL. He did it for a year in college (Cincinnati in 2016) and on an interim basis for half a year in the league (Miami in 2015), but he believes being heavily involved in game planning with Rams head coach Sean McVay and Dolphins head coach Joe Philbin as their quarterbacks coach has prepared him.
"Any team I've been a part of, everyone is so involved in the game planning and why this stuff is in the game," Taylor said. "Certainly some guys, Sean McVay is an unbelievable playcaller, so it's hard to ever predict where you're going to measure, but you always felt like … I know why we're doing this in situations we want to use this stuff and you can jump in and go. And so it's just a matter of doing and putting it out there."
When asked how far he thinks ahead for plays, Taylor gave a glimpse that he's been preparing for this role for a long time.
"I think you go into each series with an idea of how you want to attack that drive. So you have an idea how you see the series unfolding. Often times that's the first play, first three plays. Maybe you want to get these calls in the first two plays because on the sixth pay if we get this thing moving we want to come back and get them with this," Taylor said.
"The next part of the question is, now you're first and 10 and you're thinking we're at second and 11 it's this, if you're second and four, it's this. You have two calls in your head based on the success of the play that's upcoming. You don't think about that every snap, but there are times you have to think that way because you have to get the play out quicker. So you have to have a couple of plays in mind based on what you predict the success could be of the current play."
The ramped-up running game is pretty much designed to make life easier for Dalton. And Taylor is all in on the guy. He ran it through for the national media one more time Tuesday on how he really admired Justin Fuente, Texas Christian's quarterbacks coach and co-offensive coordinator and that meant he was watching a lot of tape of the red head playing QB.
"I have full belief in our quarterback," Taylor said. "Andy has won a lot of games in this league and so I'm excited. If he had been healthy all season, I would've been excited to see what he did last year, healthy for all the games. I'm excited to work with Andy, full belief in Andy, that he's the right guy for what we want to do.
"He can handle everything (cerebrally). He can handle everything you want to do at the line of scrimmage, which is key. He can make all the protection calls, understands what we're looking for in the run game. Andy is great in that regard. He's got a high football IQ, he'll be able to handle anything they throw that him."
So there it is. It also sounds like he's OK with backup Jeff Driskel, although no one would be surprised if the Bengals drafted a QB to develop. Taylor said as much. The question there, is how high do you go when you can use that pick to help the guy that is actually going to play QB?
And the Bengals have had plenty of chances to go after a vet back-up QB the coaches know (Ryan Tannehill) and one both the Bengals and coaches know (AJ McCarron). But nothing.
"That's right. Good observation," Taylor said.
"Jeff's got a lot of great tools that we're excited to work with as a No. 2 quarterback. It's good he got the experience he got last year. I think that's good for any young quarterback to be able to get that experience and learn from it and get that second year. But like any position you're always looking at the draft and seeing where you can improve your whole time. But we're excited to have Jeff."