Bengals.com's Geoff Hobson sat down with head coach Zac Taylor for one last look at Sunday and a peek at next Sunday's game (1 p.m.-Cincinnati's Local 12) in Buffalo.
You had energy all last week. A lot of momentum from Seattle. Guys were confident coming into the thing.
We did. I don't think that confidence ever wavered. That's not the way we anticipated it. But that's not the team that we are and we are looking to rebound this week.
What about the notion that in this league you spend September trying to find out who you are?
It's a long season. You never want to over react in one game because you've got a chance seven days later to get it fixed and show who we really are. We're looking forward to that opportunity.
No. You just can't listen to outside noise. We know the things we can correct and do better at and that's our focus right now.
Did you commiserate with anybody in the aftermath?
No. Myself. Just get through it and pick your head up and come back the next day. We have another tough task this weekend, so we have to be ready to roll.
Did you watch tape right after the game?
It takes a little bit longer to process into the system. I usually wait until the next morning.
You mixed it up and had the team watch the game together on Monday. That seemed to go over well, talking to the guys.
I think so. We just want everyone to see how close we are. Not overreacting to a disappointing loss. Making sure get the mistakes corrected.
It's like you were trying to show both sides of the ball how close that game was. When you're playing in it, you may not be aware the game could have turned if you make that play or make that play.
Yeah, it's a different game. That's what we wanted to make sure our guys were clear on. That's not the type of performance we expected and we can do better this Sunday.
Knowing you, you're breaking down your own performance.
We go back and look at every drive to make sure the communication was clear on the coaching side of things and what could we do to manage the situation better. We're always looking to better ourselves.
The end of a half is always classic second guessing for guys like me. If you go down and score, what a great move. If you don't and like Sunday you end up turning it over with an interception that turns into points, then people ask why didn't you just manage the clock?
I felt like we were doing a good job managing the clock. We got it back with four minutes left backed up on a minus three and at the time of the interception there was only two minutes left. If we had kept on making the progress we anticipated making, we would have been in good shape there.
If the running game is going, that solves a lot of problems.
It does. We just can't keep going backwards on first-down penalties and negative yardage runs on first downs. We have to do a better job keeping ahead of the sticks.
What's wrong with the running game? Is it the flux of the offensive line? Is it the tracks? What is it?
It's usually a different person on each one of the runs. We didn't get a lot of them. We really only had 11 or 12 normal down runs in the first half. You can over think 11 plays. In the second half we were down 21 points and it was a little harder to go to the run game because we needed to throw the ball to get back in it. It's not something we're going to overreact to in two weeks.
You've been dealt a very difficult hand up front. Last Sunday you were down to your fourth left tackle, your left guard won't play this week.
"You can't make excuses in this league. Everyone has their own issues. Some teams have lost key players and that's just the way the league is. Whichever team handles adversity best is going to be successful.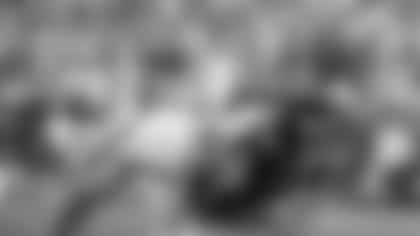 How close do you think the run game is? You get a 12-yard run called back early. If the hold isn't called, maybe you get rolling.
You can point to a lot of drives in the first half. We ran a screen that got called back for holding. Good run called back for holding. First play of the game we have a mental error and then a fumble on the second snap. There's just so many things you can point at that we can do better and that game wouldn't have gotten so out of hand.
The Niners were so aggressive in the pass rush. It looked like there was room to run.
They have a good front. They invested a lot in that front. They've got a lot of first-round picks to count on. They've upgraded the linebacking corps. It's a solid defense. That team is going to win a lot of games.
There's no mystery to what Buffalo will do. They'll try to run on the edges. That's what they've been doing the last two weeks. They've got a pretty strong run game. Is tackling more of an issue or is it a scheme thing?
They do a good job attacking defenses. I've got a lot of respect for that offensive coordinator. Our defense has to get in tune with what they're doing. I think our scheme needs to be sound and when our guys are in position to make plays they need to make.
Do you see a lot of New England concepts from them?
(Offensive coordinator) Brian Daboll's upbringing has been New England through and through. There's a lot of influence there.
That means possession passing game, right?
I think they've got some good receivers and they do a good job using their strengths. (Former Ravens speed receiver) John Brown is certainly an addition.
Defensive coordinator Lou Anarumo's big stat yesterday was that more than 160 yards came after contact and 100 yards on screens.
That starts with being in the right place sooner than we were. We were a step slow in some aspects. Guys have to be ready to fit their gaps and we won't have so many missed tackles.
Bills quarterback Josh Allen has improved his completion percentage from 58 last season to 64 this season and looks much better.
He's a big, strong-arm kid that can create. They probably like the direction he's headed. We have to make sure we plaster those receivers when he gets on the perimeter.
Flip it and you guys have done a much better job this year getting the ball down field and the last two years the Bills lead the NFL in defending the long pass.
It will be a great matchup. It will really test us. We have to do a good job protecting and when the shots are there we have to make sur we hit them.
John Ross has stepped up. I know he had a drop Sunday, but he keeps battling to make big plays.
He does. He can improve every single week and he has been and so we're encouraged by what we've seen from John.
The guy who always seem to show up, last year, this year, is wide receiver Tyler Boyd. He's got 18 catches and as advertised.
Every time we've called his number he's stepped up and made the play and he's certainly someone we can count on.
What has to happen in Buffalo that didn't happen last Sunday here?
We have to start faster than what we started. We're down 7-0 because of mistakes we made in all three phases. That's not how we anticipated starting that game and we have to be better coming out of the gates.