After sleeping on the 16-10 loss to the Steelers, Bengals head coach Zac Taylor decided his team needed a win more than another Sunday evaluating rookie quarterback Ryan Finley. Taylor announced Monday that Andy Dalton is again his starter for what he hopes are the last five games of the season beginning against the Jets at Paul Brown Stadium this Sunday (1 p.m.-Cincinnati's Local 12) and the NFL's No. 8 defense.
Taylor would only give one reason for the move and wouldn't look into a future beckoning with next season's top draft pick in Dalton's contract year. Dalton's 128-game Bengals career was thought to be dead last month, but on Sunday his first touchdown pass puts him past Ken Anderson as the franchise's all-time leader in front of a crowd that no doubt is going to resurrect the "Let's Grow With Joe," sign in honor of Ohio-bred LSU quarterback Joe Burrow.
Taylor, the winless first-year coach, is clearly looking for his first win more than the first pick, although he did offer Finley has a "great future," with the Bengals.
"I'll let those people say that," said Taylor of potentially losing that No. 1 pick with a few wins. "We just want to win."
Taylor said the move has nothing to with getting A.J. Green on the field for the first time this season, but nobody may be able to throw to Green. Taylor is no longer predicting Green's rehabbing ankle is going to allow him to play this season.
"I don't believe it has any effect specific to who's playing quarterback. A.J. is just trying to get to a point where he's feels comfortable going out there and playing in a game. So far, he hasn't felt that," Taylor said. "Day-to-day. We'll see. I don't want to make any comments. Two days from now, it's hard to say. Tomorrow, he may say, 'I can go,' or he may say he cannot. No comment on that one yet."
Taylor indicated he informed Bengals president Mike Brown and director of player personnel Duke Tobin of the move ("They're on board with everything we've decided to do as a coaching staff") and that he didn't feel like he needed to turn to Dalton to save the locker room ("I think the team has understood everything we've done up to this point") while believing his relationship with Dalton has remained open and good.
In his most public display of emotion since he became the Bengals starter nine seasons ago, Dalton said the day he lost his job he disagreed with the demotion and was miffed the Bengals didn't try to trade him. Now he's been entrusted with the next five games to lay the foundation for what could be another franchise quarterback.
"Andy and I have had many, many conversations since all that happened. Before and after. We've been on the same page," Taylor said. "Andy's handled it as well as you could hope any veteran would. He wants to play, he feels he can help the team win, but at the same time was still a leader for us and going about things the right way when he wasn't the starting quarterback. He and I always had a relationship where we can be open with each other, so we appreciate that, and now we are relying on him to help us win games and he's going to take that and run with it."
A mere 27 days after losing his job on his 32nd birthday, Dalton inherits an offense that still has many of the deficiencies that spelled his benching and made Finley's first three NFL starts a struggle. Working behind two different left sides of his offensive line, Finley completed 47 percent of his passes that were, at times, under constant pressure. His highly-regarded football I.Q. and crisp pocket presence he showed in the preseason rarely made an appearance as he ended up taking 11 sacks while the Bengals wide receiving corps, minus A.J. Green and John Ross, had trouble getting open while he averaged 5.4 yards per attempt with a 62.1 passer rating.
(Dalton: 6.7 yards per pass and a 79.2 rating.)
Never mind the locker room. Taylor had a tough time blaming Finley, just like he did Dalton, and he may have wanted to make sure he didn't lose a shell-shocked rookie to a lack of confidence.
"There were some challenges (Sunday) where as you go back and watch the film, he was getting hit a couple times as he's throwing or he can't finish a throw that didn't look as obvious on the sidelines as it does when you watch the tape," Taylor said. "Again, any time this happens, you're not blaming the quarterback for what's gone on. We felt like this is what we need to do right now, and it is hard because there's been a lot of challenges for anybody that's been back there, especially this last game. Sometimes you've got a guy in your face, you're getting hit, so those things have been challenges for us."
The Green injury has taught Taylor a valuable lesson about issuing timelines, but he says he doesn't want to make another change at quarterback this season. Taylor, who said he went to Finley so he could get an exhaustive evaluation for next season, said he is still in the Bengals' plans after they traded up to get him in the fourth round last spring.
"I wouldn't say fully," said Taylor when asked if he truly knows what he has with Finley. "It's hard. I made that statement before and I've defended young quarterbacks as loudly as I could. I don't think you will ever know fully after three game, maybe through eight games, what you have. Right now, we had to make this decision. That's what we did, and we're going to move forward with it."
Taylor wouldn't say Monday's move means the Bengals need to take a quarterback with their first pick in the 2020 draft. Another option could be making Dalton a bridge guy to the No. 1 pick, like Jon Kitna was in 2003 during a season Carson Palmer sat on the bench and watched Kitna named NFL Comeback Player of the Year. Or, another option is the Bengals trade Dalton in the offseason. Or …? But, at the moment, Taylor is just worried about December.
"I don't think it was ever too much for him," Taylor said of Finley. "We've obviously had our challenges on offense, regardless of who's playing quarterback. You can say it's not fair to either one of those guys the times they've gotten pulled, and you've heard my thoughts on: 'You've got to give a rookie some time to play,' but as I sleep on it and think through it, Andy gives us a great chance to go win a game here. Ryan has done everything we've asked him to do. It's hard to be a rookie quarterback in this league, and he still has a bright future here. You want to explain to him this doesn't change the future with us. It's been a tough stretch. It's going to continue to be a tough stretch. We know that. We just had to make the decision to put Andy back in."
Under Dalton or Finley, the Bengals just haven't been able to score. In Finley's three starts they scored 33 points. In Dalton's last three games they scored 44 points. Taylor cited a dangerous stretch of defenses, beginning with a "challenging coordinator this week," in the Jets' Gregg Williams. There are also two games against a Browns' No. 15 defense that won't have its two top edge rushers Dec. 8 and the Patriots' No. 1 scoring defense Dec. 15 at PBS.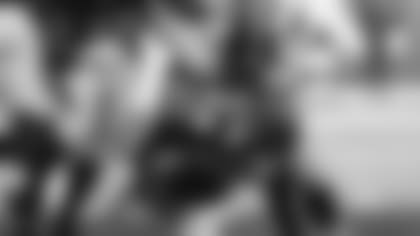 Dalton has had success against those exotic, all-out defenses Williams ran in Cleveland and the Rams. He's got a 120.3 passer rating in those four games and a 3-1 record with 10 touchdowns and two interceptions. Of course, in three of those games Dalton had Green and Williams has a lot of talent up front in New York. Both are surrounded by much different personnel, but Taylor is looking for a steady, get-the-ship-upright effort.
"That veteran presence he has will certainly be helpful through all the things we've been experiencing so far on offense. He has great experience," Taylor said. "Andy will help us prepare for (Williams). We've always known Andy is a great quarterback. We made the change for the reasons we needed to. It's time to give him another opportunity."
Dalton looks like he'll have two things he didn't have in those first eight starts. A game plan committed to getting running back Joe Mixon the ball and a defense playing well enough to win. The coaches began tinkering with the run-blocking in Dalton's last start in London and it's blossomed into productive running game that is averaging five yards per carry in the last four games, ninth best in the league. With Finley, Mixon averaged 21 carries. With Dalton, 12.5. Plus, Ross, their fastest receiver, is on target for a Dec. 8 return.
"You can't. You don't," said Taylor when asked how he can compare Dalton and Finley with such different personnel. "You just need to make the decision, be confident in it, move forward and know that it's in the best interest of the team and hope that everyone is going to rally round it. We're going to go out and get ourselves a win. If you try to measure everything that's happened to us over the course of the season and measure this versus that, you need to throw it all out the window and just make a decision and go with it."