FORT WORTH, Texas _ As the Bengals prepare for Saturday's second pre-season game (7 p.m.-Cincinnati's Channel 12), you can count the number of open roster spots on maybe one hand. But Florida State rookie wide receiver Auden Tate is making a run for one of them with both of his very sure hands.
"C'mon, what's the recipe?" asked rookie linebacker Chris Worley, staring at him across the rookies' annex of a locker room this week after a practice. "I mean, I want some of that. I'll catch everything. C'mon, what's the recipe?"
 Tate just looked at Worley with a beatific smile worthy of the name his father gave him ("It means friend,") and could have told Worley one of the ingredients is nabbing tennis balls one-handed tossed by his dad when he was a year old.
 Or a few years later catching rockets in the parking lots of his dad's church fired by Bishop Heanon Tate and his brothers.
 Or maybe the key additive came the night he and the Bishop walked late into the South Carolina state championship game featuring his nephew's Gaffney High team and the first thing his nine-year-old saw was Summerville wide receiver A.J. Green catching one in the back of the end zone.
"Auden looked at him and said, 'Oh my God,'" Tate said. "He followed A.J. through high school and college."
Whether Tate, the rookie Florida State wide receiver that has wowed even Green during a catch-it-all summer,   can make that sixth receiver slot on the Opening Day roster is the hot spot on the final 53-man alignment among fans and media in Bengaldom. Even driving the scribes into divides during a pre-game Texas dinner.
But make no mistake about it. Tate is getting what special teams coordinator Darrin Simmons calls "a big chance," against the Cowboys. He's going to start on the kick and kick return teams and later he's going to work on punt and punt return after Simmons hardly used him in the pre-season opener because he was coming off a concussion.
Also make no mistake. Tate can make another night at the Improv winning touchdown catch like he did in the opener and it may not mean a thing unless he makes a few plays as a gunner covering punts or as a wing man covering kicks in a mundane third quarter.
"That's the way it is for a guy in his position," Simmons said. "You have to be a four-phase player in the kicking game."
OK. Green, Tyler Boyd, Josh Malone, John Ross make it. Alex Erickson, their only proven returner, and Cody Core, a speedy staple for Simmons, have a leg up. They've kept seven receivers before and they could do it this trip by keeping three running backs. That leaves three QBs, four tight ends and eight offensive linemen.
A little dicey at running back and the line. Maybe they keep just two QBs. But talk to Simmons first because the 6-5, 230-pound Tate wouldn't be active for games. His knock on teams is that he lacks big speed. But after watching big receivers like Kevin Walter and Tab Perry become productive gunners, Simmons isn't so sure that hurts him.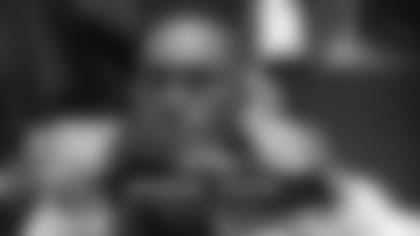 "There are a lot of teams that have big gunners," Simmons said. "They use what they have to their advantage and with Auden it's obviously his size and hands."
Oh, those hands. Bishop Tate, who played running back at South Carolina State before moving to just track as a sprinter and hurdler, stood his one-year-old son on a bed to toss him the tennis balls.
"He'd catch them one-handed," Heanon Tate said. "I'd make sure I put him on surface that wasn't sturdy so he got used to being off-balance when he caught it."
Then he graduated to kick ball games at church where his dad said he "caught the uncatchable," and barbecue games of catch.
"My dad and uncles would really throw them hard at me," Auden Tate said. "I remember when I caught my first one over the shoulder with a football. I think I was about 12. It felt great."
Heanon Tate named his children according to the personalities he thought they'd adopt and the one he gave Auden helped in the move. When Heanon Tate took the family from South Carolina to Tampa, Fla., to start a church and school for Force of Life International, Auden was in tenth grade and starting over.
"I looked it up. Auden means 'friend,'" he said. "And he's that way. He loves his sisters and wants to do what's best for everyone else."
Heanon let him research where he wanted to play his football and it looks like he made a pretty good call on Wharton High School, home of Bucs cornerback Vernon Hargreaves III, a top 11 pick. Tate is a seventh-rounder, but he's this close to making an NFL roster.  
"No, I don't," Auden Tate said of counting to six. "I can't control it. The only thing I can control is how I play and how hard I play and let the chips fall."
He's smiling all the way with the name and hands his father gave him.
"He's a nice, mid-mannered young man off the field," Heanon Tate said. "He does what he has to do on the football field."
 "He does what he has to do on the football field," Heanon Tate said.