Cincinnati-bred Sam Hubbard, the Bengals' workmanlike right end with steel-belted production, realized the other day just how many people aren't working.
Hubbard, who has clocked in for 14.5 sacks during his first two NFL seasons, saw another number last week that stunned him enough to pledge his own number to Cincinnati's Freestore Foodbank.
"Something like 16 million filed for unemployment in a week," Hubbard is saying Monday from his fortress in Mount Lookout on Cincy's east side.
"My parents told me when they were younger, my age, about to have kids, if their paychecks had ever stopped they wouldn't have been able to pay for groceries. I can't imagine how many families are in that situation right now."
Trisha Rayner has a pretty good idea. Rayner, vice president of external affairs for the Freestore, says 50 percent of the customers coming through the doors downtown and other locations are "newly unemployed and have never been to a food pantry. People are making decisions between groceries and the electric bill, mortgage payments and prescriptions. Families are faced with tough choices between the furloughs and layoffs."
Hubbard made a decision, too. Like the rest of us, he has been sitting around watching and wondering, except he did something about it. He looked at his jersey No. 94, created a go fund me page and said he'd match $9,400. The number zoomed past like Hubbard bearing down on Tom Brady back in December at Paul Brown Stadium, especially when his sack buddy on the other side, Carlos Dunlap, chased it down on social  media and stepped up to match.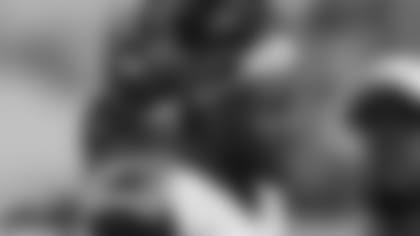 When the dollar signs cleared after Bengals ownership and Tri-Health also matched the jersey and the public worked on doubling the pledge, in just three days Hubbard's effort had created 169,000 meals with more than $56,000 and counting.
"I've got the figures," Hubbard says. "I just wanted to show I'm actually giving my own money, you can do it, too. I'm just trying to be a little bit of a leader that way. Give people the push they need to start donating. It's amazing to see how they were giving $15, $25, whatever they could and it just adds up."
It was no surprise to Hubbard that Dunlap dove in, too, because he's spent these last two years not just watching him in pass-rush drills. He's been there when Dunlap, as well as the great Michael Johnson, Hubbard's right end predecessor, handed out back-to-school backpacks or holiday turkeys or was the front man for one of the Bengals hunger drives known as Taste of the NFL.
"He loves the food bank and we know all the stuff he's done for the community. It's awesome how he jumped on board," Hubbard says. "It was an amazing gesture to show support for me and the community. I'm kind of trying to follow him. He does everything because he's been doing it so well for ten years."
Dunlap is still in Miami. They haven't even said a word to each other about it, just texts and posts.
"Great idea by Sam and I was happy to join in," Dunlap says. "It's always a great cause, but especially now."
The unemployment numbers jar Hubbard, but Dunlap has had to live them. He's had to make new calls for some of his employees at his Miami breakfast eatery Honey Uninhibited that soared on takeoff back in the fall. This is not an easy time. He called back the team a few days ago and they're trying to figure out the new world.
"Pancakes aren't exactly the kind of food that gets delivered, but we're working on it," Dunlap says. "The government hasn't really given us a road map for when things get back, so we're taking it day by day."
Like all families, both of their families are grappling with the crisis. Dunlap had to watch his mother's wedding in South Carolina on Facebook Live. Hubbard's father, Jim, chief legal officer for a New York City bank, has been sheltered, healthy, in the city for about a month.
Jim Hubbard often gets back to Cincinnati to see his wife and family (certainly every Bengals home game), but with Sam's mom Amy, the head nursing supervisor at University of Cincinnati Hospital who is an asthmatic, they figured it was best to keep Jim in New York.
Meanwhile, Amy Hubbard is either working or by herself in her Cincinnati home with the family taking turns at doing her food shopping. Her daughter Madison, Sam's sister, works for her mother as a critical care nurse and Hubbard says, "They're not backing down."
"My mom is at the hospital and she sees so many people unsure how they're going to feed their families. That's the No. 1 thing with unemployment and bills. Bills are one thing, but when you don't have enough food every day, when they don't know where their next meal is coming from, it's survival at that point. It's a whole another ballgame."
In this age of no fun and games, both guys are trying to get ready for whenever the page is turned. Hubbard has a gym in his garage, runs his driveway and has a backyard for drills. Dunlap says he's always on the lookout for "a random patch of grass," to get a workout in.
But they also know while they're practicing, there's a very big game being played.
"Being in Cincinnati for such a long time, my grandparents have donated to them forever," Hubbard says of the Foodbank. "They just do really good work and they have the infrastructure to get meals out, so what better place to partner with to raise money?"
It seems there are 94 answers.