After his first Bengals practice Friday morning inside the confines of Paul Brown Stadium, first-round pick Ja'Marr Chase sounded comfortable operating around both his new hash marks and Cincinnati streets.
Chase, the LSU wide receiver who has yet to hook up with his old/new quarterback Joe Burrow, had to adjust to No. 3 quarterback Kyle Shurmur and former Syracuse quarterback Eric Dungey in a try-out role. Like most rookie minicamps, the passing game was off but Chase liked the feel as they lined him up in the slot a few times.
(Later Friday, Dungey signed and became the first Syracuse quarterback to be on the Bengals roster since Todd Philcox three decades ago.)
"The NFL hash marks are a lot tighter, so we have more space in the slot now. In college, we would be almost outside by the numbers, and that would make tighter space for the outside and the inside receivers. There's much more space now," Chase said via Zoom. "It's going to take time to get used to, but I actually like it. It feels like the field is way wider, bigger and I think that's actually better."
Chase has hopped on a scooter in The Banks and took in sights that surprised and pleased him.
"I like the little view they have so far. This is not what I thought Cincinnati was going to be, so I'm actually liking this so far. I'm pretty sure I will explore more this weekend and next weekend," Chase said. "I actually thought Cincinnati was going to be a bunch of land … I didn't realize we had so many buildings, tall buildings, hills, like trains. So much is down here you know, so I was actually surprised."
- Michigan running back Chris Evans did nothing to dispel his tag as a sixth-round steal. He smoothly caught the ball out of the backfield, away from his body, which is exactly what head coach Zac Taylor and offensive coordinator Brian Callahan saw at the Senior Bowl.
"Chris's trait that is different than a lot of other running backs in the league is his ability to catch the ball and he's a very natural route runner out of the backfield. He can split out," Taylor said. "Today you probably saw us moving him around a little bit to get a better feel for him in person. He did a nice job. He seems like he's smart. He understands it. He can retain information. It makes sense to him and then he went out there and made some nice catches."
Taylor observed how natural and easy running routes were for him on Friday and there may be a very good reason. Evans said the Bengals language isn't much different than what his college head coach used in Ann Arbor.
"We've been talking about it and we've been watching the recorded Zoom meetings from the past couple days and last week too," Evans said. "Just going over it and just watching it and just grasping it in. Most of the stuff is pretty much what I learned under coach (Jim) Harbaugh. Same terminology, same language—it's just some names are flipped and stuff like that but it's pretty much the same idea.
"Maybe 25 percent the same words. And then the rest is either the same concept or same pattern or whatever. But it's pretty much the same stuff. It's just knowing exactly what you've got to do and how you've got to do it."
- Evans is an interesting guy. He's been texting the guy he's going to be backing up, Joe Mixon, and says while he hopes to add pieces of Mixon's game to his, "hopefully I have some things that he can learn from me, too," as he begins his joust with veteran Samaje Perine for the No. 2 back.
When Evans got drafted, he explained how his college position coach had taken one of Mixon's moves and turned it into a drill called "The Mixon." Evans couldn't really explain it on his draft day Zoom, but he got out of his chair Friday to show the hesitation step.
"So I've got the ball and if I'm going this way, I've got this leg up and I'm like this and I'm gaining ground as I'm trying to figure out what hole I'm about to go in," Evans said. "It's not too slow but it's not too fast."
Evans on why he enjoys the grind: "When the lion is going out hunting the elk, me being the lion, I enjoy the process. Seeing what he does throughout his day and learning from him and finding his niche and what he's doing to know when to attack. By the time the tiger gets to the prey, it's like saying 'I can eat now.' But I enjoyed the process of getting there."
- Sometimes, in fact, many times, the assigning of jersey numbers isn't rocket science. Third-rounder Joseph Ossai, the relentless edge player from Texas showed up wearing No. 58 not because Carl Lawson wore it on the Bengals edge for the previous four seasons, but because "They gave it to me and I took it. I'm not complaining."
Still, Ossai knows it's a special number among edge players of this generation.
"You have a lot of great guys who play my position who wear that number – Von Miller, to be exact," Ossai said. "Hopefully I can take that number and make it my own. Forty-six was great in college I wanted that number, too. I didn't get it but that's all right. It's just a little switch up, a little change ball."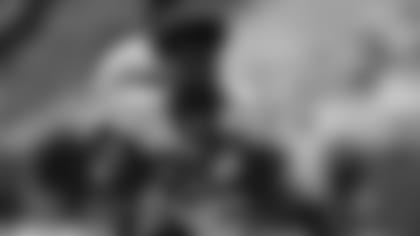 - Ossai's family story is well known. How his mother won a Diversity Visa Lottery and how they moved from Nigeria when Joe was ten and how he dominated in soccer before he saw football on TV. The family is extremely tight with an inspiring story to tell and Ossai offered one up after Friday's practice. He said his sister Peace sent him two motivational sayings before his first NFL practice and when asked if he'd shared them he attacked his phone to find them: "For sure. Maybe I can inspire someone out there."
The first one: "Will it be easy? Nope. Worth it? Absolutely.'
"The other one that I liked was, Ossaii said, 'The biggest source of motivation are your own thoughts. So think big and motivate yourself to win.'
"We have a little family group chat we text and check in with each other," Ossai said: "There is no specific formula for how I am going to involve my family. It just happens. I reach out to them whenever, this morning my sister sent me two motivational quotes. They were great. My mom, I talked to her last night. It's always love. My little brother is about to go up to Louisiana-Lafayette and play so I need to hit him up after this and talk to him. Make sure he's in good spirits. There's no particular formula, it's just natural."
- Taylor said the Bengals are still on NFL protocol, which means Zoom meetings and wearing masks indoors except when working or practicing outside.
"We've still been on Zooms. It would've been nice to have them the last couple weeks, but it's been good. Our players have been great. We've been meeting with them the last couple weeks," Taylor said. "It was good to finally get on the field this weekend. We'll have some guys out there next week as well, which is going to be fun. But it is getting back to somewhat normalcy here, and that's been fun for us.
But that was before the NFL announced Friday afternoon that fully vaccinated people can go mask less in facilities and on the field.
The rookies get to go back on the field next week and then phase three starts May 24, when veterans are able to practice on the field. Taylor is hopeful he can get a big turnout as the NFL and NFL Players Association haggle over the offseason.
"I've gotten great feedback from our veterans. We've been in constant communication over the last couple of weeks," Taylor said. "Those guys feel like we have a lot of work to put in to be the team that we talked about being. To get some stuff done this offseason, I've been really impressed with the leadership on our team. Those guys have communicated to me that we feel like we have a ways to go and (we've got) to get on the field and get some work in."
Take a look inside the Bengals rookie minicamp at Paul Brown Stadium.