Brandon Wilson's first NFL touchdown ball is probably already in a display case. It just happens to belong to Justin Tucker.
Tucker, the Ravens kicker and one of those traveling Hall-of-Fame exhibits, kicked off Sunday's game with one of the three balls each team reserves for their kickers and punters. Wilson, the Bengals' third-year safety, took it back 92 yards for a touchdown and after he crossed the goal line he looked to the sky, moved the ball to other hand and then tossed it backward as he began to greet his teammates.
It never crossed his mind to keep the ball until fellow returner Alex Erickson texted him after the game. "Hey, did you get that ball?"
"Never thought about it," Wilson said Monday. "I was like, 'Dang. I forgot.' I'll keep the next one for sure."
It would have been quite interesting if he had remembered because he would have had to get it away from Tucker. Teams usually make sure that first kicking ball is worked in pretty good. The second ball is OK, but it's not as good. And by the time they get to the third ball, it's probably been hardly paid attention to. Tyler ("Trunk") Runk, one of the Bengals equipment managers, says there's a 95-percent possibility that Tucker used that first ball that Wilson caught to make the 40-yard field goal 12 seconds into the second quarter that put him over the 1,000th point mark for his career.
Not only did Wilson not get the ball, he doesn't even have the NFL kick return lead even though his 39.8-yard average is ahead of leader Jamal Agnew's 32.4. Agnew and Wilson have the league's only kick return TDs this season. Wilson needs eight to qualify and has only six with a total of 239 yards. That would put him second behind Cleveland's Dontrell Hilliard, first among the qualifiers at 246 yards.
Wilson, who had a 52-yarder last week against the Cardinals, needs three returns Sunday against the Jaguars to qualify. Agnew's Lions played in Green Bay Monday night and he needed three himself to keep the lead but got only two. And his average dipped because he had two for 55 yards.
Wilson, 25, had no idea it was the first Bengals kick return in ten years. Where was he on Nov. 15, 2009?
"Calvary Academy in Shreveport, Louisiana," Wilson said.
DROPPING-IN: Bengals wide receiver Tyler Boyd had his worst day in nearly two years Sunday when he had just ten yards on three catches. He came into the game as profootballfocus.com's wide receiver who had the most targets and no drops. But that ended Sunday, except PFF had him for one drop, he had himself for two.
More insight on why Boyd has emerged as a force. He's currently this team's MVP, but he was hard on himself Monday.
"If I get my hands on it, I have to catch it. It's a drop," Boyd said. "If I make those two catches, I've got about 60 yards, a good enough day that gives us a chance to win."
Boyd had a tough one-on-one matchup with Ravens cornerback Marlon Humphrey, but Humphrey also had help from rotating safeties as Baltimore made sure Boyd didn't beat them. PFF probably marked down the third-down incompletion as the drop.
On the Bengals' first drive of the second half, trailing, 17-10, they had a third-and-five at midfield. Boyd ran a double move on Humphrey down the right sideline on a fade and quarterback Andy Dalton made a nice throw even though Humphrey was plastered on Boyd. Boyd jumped in front of Humphrey, leaned back to the ball and looked to make a marvelous catch for the conversion as the two began to tumble out-of-bounds. But at the last instant safety DeShon Elliott came over to drill Boyd and knock it away. 
"I got my hands on it. I secured it. I just wasn't able to tuck it because of how Humphrey was playing through me, which had me try to hold the ball away with my left hand," Boyd said. "As he's falling, I maintained it and then the safety hit it at the last minute … I've got to find a different way to secure the ball."
Boyd also felt he should have caught "a through route," over the middle on the second snap of the fourth quarter. Dalton had pretty good time and got rid of it just before linebacker Jaylon Ferguson hit from the blindside. The pass looked to be low and too far in front, but Boyd dove and couldn't scoop it off the grass. But he touched it.
"On the through route, I separated well," Boyd said. "It's a tough matchup. They're physical. They grab you a lot. At the end of the day I feel like I'm better than that. On third down it would have been a different game if I make that play."
INJURY UPDATE: Bengals head coach Zac Taylor said Monday he'll know more about cornerback Dre Kirkpatrick's knee on Tuesday. This is the kind of season it's been. Just when they get back their slot cornerback, Darqueze Dennard, it looks like they're losing one of their starting outside corners.
Dennard, who has yet to practice this season rehabbing a knee injury, is coming off the physically unable to perform list (PUP) and defensive coordinator Lou Anarumo has no qualms about going to him with just a week of practice a day after managing cornerback William Jackson (shoulder) and safety Shawn Williams (thigh) after Kirkpatrick went down in the second quarter.
"We will take all healthy bodies," Anarumo said. "(Dennard) is a pro. He's been playing ball for a long time. I've gotten guys on Wednesday afternoon walking on the field during practice and played on Sunday. That's how I view it. I view it as a veteran guy who has played a ton of football. I remember it like it was yesterday, the first time I met Dmitiri Patterson was in the huddle on a Wednesday afternoon in period three. And he started a game on Sunday, made a mental error the first play and played his (butt) off the rest of it. Been down that road before. So, we'll fill his plate with stuff as fast as we can."
Taylor made no call on A.J. Green's status and said left tackle Andre Smith (ankle) was day-to-day. And there was no news on left tackle Cordy Glenn (concussion).
O-LINE UPDATE: The left side of the offensive line may be intact for a second straight week against Jacksonville if Smith can't go. Taylor said Billy Price plays left guard again and he had good things to say about left tackle John Jerry. But now it's the right side dealing. Guard John Miller (groin) was gone after eight plays and they liked what they saw from Alex Redmond at right guard just two weeks in to his return. Overall, he liked how they protected Dalton in Baltimore.
"We're still working to find that chemistry up front. These guys need reps side by side. That hasn't happened. Billy and John Jerry, side-by-side, have probably gotten a day together," Taylor said. "Redmond zero days. They're not mistargeted in the protections. There aren't guys running free.
"We got sacked twice in the two-minute drive when they were just teeing off because they knew we were throwing the ball every snap. Overall in the last two games, especially in the protections, they've been targeted. They've done a nice job. Andy gets hit occasionally, but they've prevented the sacks. We just need to get the run game going."
Taylor has no problem with the revolving door policy even though he seeks chemistry.
"It's not possible to not tinker," Taylor said. "We lost a guy on the eighth play of the game, so Redmond jumped in there. He had four practices under his belt, and he did a really good job. He was physical. He brings energy to that line. With injuries, we can't make an excuse for it. We need to find a way to get those reps together and find that consistency. I have full belief that we will. There's no one that doubts that. We face some tough times in some games. We just need to find a way to get through it and find an answer."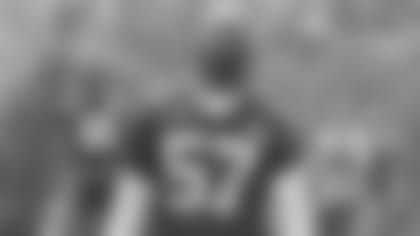 MORE WORK: Anarumo gave rookie middle linebacker Germaine Pratt and Wilson their first NFL starts and it sounds like they'll get more work even though Anarumo thought they were good and bad. He wasn't enamored with how Pratt covered Ravens tight end Mark Andrews on two wide open balls during his career-high 31 snaps. Especially the first one up the sideline, a play that seems to get run on them every week and has yet to be covered.
"That's his job. That's his guy," Anarumo said. "What's going through a rookie's mind, I can't tell you. But that's a Day One pick-up. One and two up, three out, that's his play to make, all day, every day."
 Wilson played 56 snaps Sunday, two more than he played all last year from scrimmage.
"Whether they are a rookie or not, at this point they are going to go out there and play," Anarumo said. "As we talked about last week, those guys are going to get a chance to go out there. Sometimes they'll experience somethings for the first time. Germaine made some mistakes. He also made some positive plays but obviously he made mistakes as well. Brandon was in a similar boat. He did some good things and he did some things where you scratch your head at."
FIRST WATCH:  Five of the nine biggest rush games the Bengals have allowed in the last 20 seasons have come in the last 14 games and Anarumo responded to the Ravens going for 269 yards Sunday by making them watch every run together.
Ravens quarterback Lamar Jackson, who had 152 of them, said after the game he knew he could get yards after watching Cardinals quarterback Kyler Murray rush for 93 last week against the Bengals.
"When you have a minimum of two guys on the guy and they don't make the play, it is disconcerting," Anarumo said. "When we are asked and tasked to do a job, they have to do it. Scheme wise, you turn the tape on and there are players at the point of attack and they got to make the plays. That's the way it goes. So good for him. That's what they said, that's what they saw, and they executed and had a good day. But there are guys in position to make plays. That's what's important to us, to understand that you have to know how to fix it. For our players to sit in the meeting room, and know 'okay, here's what I did wrong and here's how I fix it.'"
Here's how Anarumo broke down Jackson's day:
"He had 152 yards rushing, 52 of it on scrambles. The one at the end of the half was a good thing for us because the clock ran out (as he ran for 29). He had 12 called runs. I think he had 70 yards on three carries and those were the first three runs of the game – 36, 21 and 14. And then the rest is what you want when he's pulling the ball … You can't give him 70 yards on three carries that's absurd. They have to understand where their fits are. They have to understand where they need to be and there's no gray."