The Bengals offensive line has emerged from days of uncertainty and criticism as a one of their most potent groups in the two games since the bye when head coach Zac Taylor has called the run 76 times and been rewarded for 4.7 yards per carry.
"In the room we've always believed in ourselves, we knew what we were capable of doing," said left tackle Jonah Williams in Monday's media Zoom call. "We've shown little bits and pieces of that and so I think that there's a lot of confidence in the room, there's a lot of we have each other's backs and there's times where you see what we're capable of and it's really impressive stuff."
Even though it wasn't a free agent signing, the Bengals were banking on the hiring of offensive line coach Frank Pollack for run game coordinator as being impactful as any player addition.
It's starting to look that way with running back Joe Mixon ranked third in NFL rushing in an offense balanced enough to keep quarterback Joe Burrow clean enough to produce big numbers. He leads the AFC in passing and is on pace to break the team record for touchdown passes and yards passing despite throwing 60 fewer balls in 11 games than he threw last year in 10.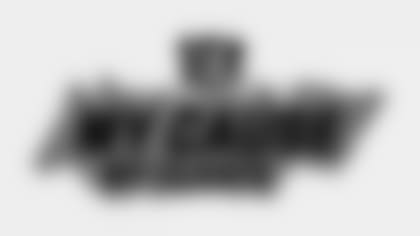 My Cause My Cleats
NFL players reveal their passions beyond the game and wear their hearts on their feet through My Cause My Cleats. Players have the opportunity to pick a cause that is important to them and represent their chosen organization on custom designed cleats.
Meanwhile, Pro Football Focus has the offensive line in top 10 pass blocking efficiency while allowing the league's third fewest pressures. Against the Steelers, Pittsburgh hit Burrow just three times, twice on sacks in 27 drop backs. Game-breaker T.J. Watt didn't touch him.
"I think that when teams have to defend that sort of running game, you know, they can't really pin their ears back and just rush upfield and do exotic blitzes and exotic fronts and everything," Williams said. "You're kind of forced to play both ways, and when you're in second-and-two versus second-and-10, the defense is a lot more limited in what they can do. It makes it a lot easier on us to pass protect when they're so weary of the run game."
Williams, the first draft choice in the Taylor era as the 11th player taken in the 2019 draft, is representative of the young talent they hoped Pollack could groom. The wide zone scheme Pollack installed to marry up with Taylor's pass game has not only fit Mixon, but the tackles.
"We definitely didn't lean on it as heavily in the past," Williams said of the wide zone, "and we have plenty of other things we can do. But it's good to know that when we call it we can execute it. And there's a lot of other things we can do with outside zone in terms of play action, other things like that, so it's an awesome scheme."
Mixon is running like he did when Pollack was here the first time in head coach Marvin Lewis's last season, when he led the 2018 AFC in rushing with a career-high 1,168 yards on 4.9 yards per carry. He did that on 237 carries. Now he's already got 208 with six games left, on pace for 1,428 yards, seven shy of Corey Dillon's club record, at 4.4 yards per go. He looks like the first Bengals back to carry 300 times in a season since Cedric Benson in 2010.
"It's a simple scheme for us in terms of our technique. We either do one thing or another thing and we trail it over and over and over again," Williams said. "We just keep on getting the techniques perfect so when it comes out in the game, you can just come off the ball and play fast and physical. And it matches up with … Joe's skill set is, his ability to stretch and cut and run through arm tackles, run through smaller players because as an O-line we're trying to displace the structure of their defense and cover up the big guys, getting them moving and then allow Joe to make a cut, get upfield and run the power like he does. I just think it's kind of all very symbiotic in we help him find the lane and create wide lanes for him and then he's able to do the rest."
Talk about symbiotic. The chemistry between Mixon and his line can not only be seen on the stat sheet, but in Sunday's celebration of the last touchdown of the day. Before Mixon's one-yard run, he conferred with left guard Quinton Spain and he suggested the two-step made famous by the Temptations. The next thing the packed house at Paul Brown Stadium knew, Mixon was singing into the football with Williams running in on the end even though he had no idea what he was doing.
"I don't care about making a fool out of myself I just want to do something with the group, do a celebration with the boys. It was a lot of fun," said Williams, who is good naturedly taking the heat on Twitter and joked he worked on the move for two hours Monday.
"That's how you know a game is going well when you're running the ball however you want to and scoring touchdowns and then you have the whole group celebrating. That was a lot of fun."
This is how fun it's going. During his Zoom, Williams sipped out of a coffee mug his brother sent him. Somehow he got a picture on it of the world famous cart the Bengals public relations department uses to socially distance the media's recording devices. Since all Monday interviews are via Zoom and the players had a Victory Monday off, Williams did the interview from home and couldn't resist.
"I felt a little bit empty inside. I felt like I was missing something. I had to bring the cart to this press conference as well," said Williams with a face straighter than Mike Hilton's pick-six. "I had to make sure the cart makes an appearance in every press conference, even when we're out of the stadium.
"I think that our record with the cart versus our record without the cart, I think that just says a lot to what the cart has done for us. I think that we have a lot of… I think we're forever indebted to the cart."
When you're winning, that's the way it's going.
SLANTS AND SCREENS: Well, Watt did touch Burrow once. He manhandled him following an interception and while Williams was able to joke about himself and the cart Monday, he wasn't pleased with Watt.
"I don't think that he would have blocked anyone else on the field in the same manner," Williams said. "I don't know the rules to that extent. I don't like seeing anyone hit my quarterback like that. So I don't necessarily know the rules but I definitely don't like it."
After watching the tape, Taylor didn't think it was malicious, but he was glad the offensive line rallied to Burrow's side.
The Bengals spent a week coaching Chargers quarterback Justin Herbert at the Senior Bowl three months before the draft. As they prepare for him in Sunday's game at Paul Brown Stadium (1 p.m.-Cincinnati's Channel 19), defensive coordinator Lou Anarumo appreciates the local knowledge but doesn't think it gives them an advantage.
"You get to see his skill set up close and personal. You know his arm strength is real, you know his scrambling ability is real and you know how smart he is. You've seen it up close for a week," Anarumo said. "He's so athletic. He can throw the ball great down the field. He's gaining more touch as he goes along. He knows where to go with it. He's smart and when the pocket breaks down, as you saw in the Steelers game, he can really hurt you with his legs."
Last Sunday's most serious injury came in pregame when tight end Thad Moss was set to make his NFL debut but couldn't go because he pulled a hamstring and he'll be out more than a week. But it sounds like right tackle Riley Reiff (ankle) and running back Chris Evans (ankle) are going to be back for the Chargers after being limited early in the week.