ARLINGTON, Texas _ Jonathan Brown had "no clue," his 55-yard field goal in Friday night's 21-13 pre-season victory over the Cowboys for the Bengals' first points would have tied the club record if it had occurred in the regular season.
He apparently has no job, either, because while head coach Marvin Lewis said Brown did a great job he also said there is no kicking competition and that would indicate Randy Bullock is the guy.
But his powerful right leg makes him the most intriguing of Bengals this preseason and they let Brown get a lot of good tape out there Friday because he also hit a 34-yarder that gave them a 14-10 lead early in the fourth quarter and then he hit the crossbar on the ensuing kickoff.
"It doesn't bother me because if I'm supposed to be here, I like it here, and if not then I'll go where I'm supposed to be," Brown said. "I put on some good tape."
Brown got a practice swipe before the long one because the official waited almost ten seconds to blow the whistle and Clark Harris snapped it.
"Crushed it. It was wide but I was all set for the next one," Brown said.
ROSS LEARNING: Remember the play last week when wide receiver John Ross barely missed a touchdown when he couldn't get his feet down in the back of the end zone?
On Friday he ran a similar route across the back of the end zone on the two-pointer that gave the Bengals the lead for good with 70 seconds left in the third quarter on a throw from Jeff Driskel.
The best part of that play was the shot he took in the middle just after he gathered it in and holding on.
"I'm watching tape knowing what I have to improve and that one I just ran a better route," said Ross, who had one catch for 29 yards.
TOUGH SLEDDING: The first offense wasn't nearly as smooth as it was in last week's pre-season opener. The line gave up more pressures and turned from tackle Bobby Hart and guard Alex Redmond to tackle Cedric Ogbuehi and guard Trey Hopkins in the second quarter as they try to solve those right-side spots. Joe Mixon and Giovani Bernard rushed for just seven yards on six carries in the first half as the Bengals fell behind, 10-0.
In what looked to be a surprise move, Lewis sent the first line (with Ogbuehi and Hopkins) out to start the second half. He said the move was done so they could see more of Driskell working with them and they just worked the one series that ended in Brown's field goal.
YOUNG BUCKS: The young defensive linemen were terrific. The Cowboys are one of the best running teams in the league and they averaged just 3.9 yards per carry Friday night.
Rookie Sam Hubbard had a sack and forced fumble, second-year end Jordan Willis had two sacks and three tackles. Andrew Billings and Ryan Glasgow each had tackle for a loss.
"I think we just play well together," said Hubbard, maybe the most impressive rookie of camp. "I felt a little better this week. It wasn't like I had camp legs."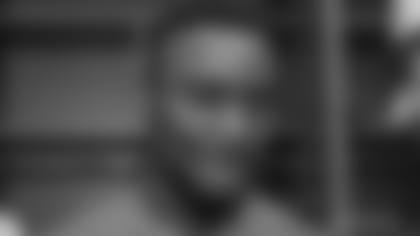 CLIMBING THE HILL: Second-year back-up running back Brian Hill had his own drive and the Bengals' last touchdown of the night was his first NFL touchdown. He handled all four plays in the 59-yard drive, the last three on a pass from quarterback Matt Barkley. But the big one was the first one, a catch-and-run 44-yarder born in last week's film getting taken down by the first man.
"That was a big emphasis this week," Hill said. "When I got the ball, my only focus was not to go down, whatever you do. The play last week didn't go as we wanted so I just wanted to run."
The TD came out of an empty backfield and when he went in motion, he thought he might have it.
"When I went in motion I knew it was going to be man (defense) most likely," Hill said. "I knew (the defender) had to get someone else before he got me, so I just knew I had to turn my head around."
Preseason, regular season, it doesn't matter.
"I got in the end zone," Hill said. "It doesn't matter."
INJURIES: The big injury is to cornerback Davontae Harris, the fifth-round cornerback out of Illinois State. It's believed he's getting an MRI Sunday and it could be a significant enough to sideline him for a good amount of time. But they don't know yet. Tight end C.J Uzomah returned from getting a cut on his face to make a 23-yard catch.