It became official Friday afternoon, about 24 hours before the Bengals depart for Seattle and Sunday's (4:05 p.m.-Cincinnati's Local 12) opener at CenturyLink Field.
Left tackle Cordy Glenn has been ruled out of the game with a concussion, giving Andre Smith his second NFL start at left tackle to go along with his 92 at right tackle, seven on Opening Day. Given the game is in one of the loudest NFL stadiums ever made and the Seahawks have added two Pro Bowl-type ends in Jadeveon Clowney and Ziggy Ansah, there is more concern than usual about the state of the tackles.
The good thing is that new offensive line coach Jim Turner began working with his guys on such things as the cadence and silent count since workouts began. Although right tackle Bobby Hart committed nine false starts last season, Turner hoped the Bengals re-signed him because, among other things, he thought he could fix what happened with Hart. Turner could have noted that Hart hadn't had that problem before in his career and that five of the nine came after quarterback Andy Dalton got hurt.
Whatever it was, Hart and the rest of the line sat down with Turner back in the spring so the coach could poll them how they wanted to handle the cadence stuff. If Seattle isn't the loudest stadium in the league, then Kansas City is and in the pre-season opener the first line didn't flinch. Hart has said now that everyone is lined up the same page, he believes it has been addressed. Trey Hopkins, Sunday's starting center who started there in Kansas City during last year's regular season when the line had no false starts, said they've worked on it so often that it was second nature by the time of Seattle week
"You've got a lot of things that are important to nail down, so it's important to nail that down and we've been working on it for a long time," Hopkins said this week. "We've been there with Turner since OTAs going over cadences. Bobby has been very instrumental in how we actually do the silent cadence. It's most important to the tackles because whenever the ball gets snapped, the guards can see it. But the tackles need that edge. They can't be a split hair late off the ball because the ends are so fast in this league you have no shot of blocking them."
Turner has worked with both centers, Hopkins and Billy Price, to make sure everything stays the same if there are moves made during the game.
"I've been talking to Bobby, Andre, Cordy, John Jerry, all the tackles, making sure they're comfortable," Hopkins said. "And me and Billy are on the same page if something happens and we have to switch spots. You want that to be consistent."
Hopkins, the valedictorian of the line who subbed as a seventh grade science and math teacher for a month this past offseason, likes Turner's teaching methods.
"He's helped a lot," Hopkins said. "His big thing is taking the information he needs to give you and compartmentalizing it so you don't have to think of this, this and that. We've got rules, but not too many, and that allows you to identify things quickly so you can play fast and not spend too much time at the line thinking."
Which is going to help Sunday, when Clowney and Ansah make their Seattle debuts despite not any preseasons because of Clowney's holdout and Ansah's shoulder surgery. No one is thinking they'll play 50 snaps. But they'll certainly play on third down, one would think.
PRICE IS RIGHT: Price, who took a few snaps at left guard Friday, is just as important as he was before Hopkins became the starter at center. They view him as a key guy that's going to be around a long time helping set a tone for the group.
"He's our next in at both guard spots and center. He's constantly competing for opportunities to start," said head coach Zac Taylor after Friday's practice. "His mentality is exactly what we want from our players. He's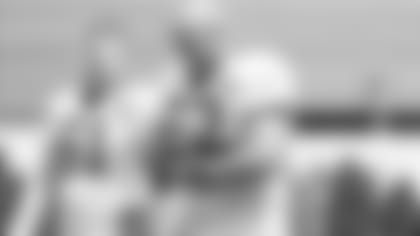 been on board and everything we knew he would be. We are going to be counting on that guy a lot this year and over the next several years. I'm excited about what his approach has been like."
INACTIVES GLIMPSE: With Glenn expected to be inactive, guard-tackle John Jerry would be dressed. With A.J. Green (ankle) out and wide receiver Auden Tate (knee) doubtful, the five receivers would be Tyler Boyd, John Ross, Damion Willis, Alex Erickson and Pharoh Cooper. With running back Trayveon Williams (foot) declared out, running back Samaje Perine joins Cooper being on the active list in his Bengals debut. Third QB Jake Dolegala joins Green, Glenn, Williams and probably Tate on the inactive list. That means they'll probably deactivate two defensive linemen to round out the seven-man active list if they want four tight ends and nine defensive backs.
TAYLOR TIME: During the five-hour flight to Seattle for his debut, Taylor plans to catch up on his journal, reading and sleep, although maybe not in that order. The first two items are all about self-improvement. He's been keeping a journal for three years and it's time for him to start another notebook for the regular season.
"It's funny, I usually get through with (the journals) as a segment of the year gets done. And the winter and the spring, it's usually like clockwork," Taylor said. "On that last OTA, it's like the last page I'm writing in there. Training camp usually has its own (journal) and the season, usually. It's crazy. Last year, especially. I finished the Super Bowl and literally had no more room. I couldn't take any more information because it was not going to fit into the notebook.
"I don't pretend to have all the answers. I think you gain that through experience quite a bit. At the end of each week, I go through the week and write some things I can do better and things that went well. Months from now, years from now, you kind of go back and make sure you made those improvements."
He's reading "Starts With Why," a book that he also took on the road in the preseason.
"I think you constantly have to search for self-improvement," Taylor said of the book. "It's the whole purpose of why a leader starts something and a purpose on how you get the most out of your organization."