INDIANAPOLIS - The NFL draft galaxy of scouts, coaches, analysts and media (somewhere in the sky is the Bengals striped star) is pointing to LSU quarterback Joe Burrow going to Cincinnati on April 23. Maybe even before.
So are his foes and teammates from the SEC who surfaced here this week at the NFL scouting combine.
"When the play breaks down, man, it's like he's on fire. He turns it into a bigger play," said Georgia safety J.R. Reed. "Ultimate competitor. He doesn't give up on anything. That's the thing that stood out to me."
If you think Burrow has a little Boomer Esiason in him, a little stuff in his neck, so to speak, you're right. LSU linebacker Patrick Queen saw it in practice and Alabama safety Xavier McKinney saw it on one of the biggest stages of the year.
"He's a very smart player as you can tell. He would read the defense before the play and be like, 'Y'all coming here,'" said Queen, a first-round candidate. "So sometimes before the play I'd try to talk to Joe to get him out of his game, but he'd still try to pick you apart. He wasn't a big talker, but sometimes he'd give you a little wink or a little point at you. Let you know, 'I'm coming at you.' Joe has that confidence and swagger every team should want."
Burrow led a 46-41 victory over the Crimson Tide while taking a few shots from McKinney. McKinney remembers one on a blitz where Burrow overthrew his receiver, a rare mistake during a blistering 31 of 39 effort for 393 yards and three touchdowns.
"He's got great poise. He's a guy I hit good a couple of times and he would get back up," McKinney said. "He kind of had some words after one hit … He said something like, 'Good hit.'
"A great quarterback. He can throw, he can run, he reads the defense well. All around, he's a solid quarterback and knows how to win."
McKinney's teammate, Tide edge rusher Terrell Lewis, couldn't get to him enough that day.
"Burrow is a very smart guy. Elusive guy. Elusive in the pocket," Lewis said. "He always keeps his eyes down field and he's an accurate guy. He knows how to make checks."
Burrow isn't an incessant talker, but he won't back down, either.
"He didn't talk too much," Reed said. "He's got his team around him, his LSU brothers that talk for him. He might talk a little crap, but not much."
Reed has the final word here.
"Over my three years of playing," Reed said, "Joe Burrow is the best quarterback I ever faced."
Burrow's teammate and practice foe, LSU safety Grant Delpit, went a step longer.
"Joe is the best quarterback I've ever seen in person," Delpit said. "Having him on our team, playing him in practice, it prepared us to see the best every week. I wasn't surprised by any quarterbacks' skills because I saw the best quarterback every week, every day in practice. Obviously he's the No. 1 pick, my choice. Joe is the best I've ever seen."
Delpit, who feasted on enough quarterbacks' weaknesses to become the top-rated safety on some big boards, didn't have that luxury in practice. He says Burrow's biggest strength is his judgment.
"He doesn't make mistakes. That's probably the top thing you want in a quarterback. He makes all the right decisions," Delpit said. "That (ticks) a safety like me off because you're looking for interceptions in practice. You get kind of frustrated playing safety against him because he makes all the right throws. He never really misses keys or his throws. He's the best."
LSU tight end Thaddeus Moss was also "Rockin Joe Burrow," as he called it, during his media availability. Moss, the smooth 21-year-old who is as polished as you'd think the son of Hall-of-Famer and TV analyst Randy Moss would be kept going back to the stats.
"The numbers he put up this year (60 TDs-six picks) were no fluke. On top of that he did it in the SEC West," Moss said.
Here is Moss' first play he recalls of all the great ones: 
"Third-and-15, third-and-17 against Texas. He stepped up in the pocket and avoided the blitz. And just threw it off one foot and threw a dime to (wide receiver) Justin Jefferson coming across the field. Justin ended up scoring a touchdown and that was the nail in the coffin. That was probably the biggest play. I think everybody was like, 'Man, we don't know how you made that play.' They sent the house. It was a cover zero (all-out blitz) and he made it happen."
BACK-UP DEBATE: Here are two sides of an issue the Bengals face if indeed they draft Burrow. Their last two franchise quarterbacks had veteran backups in their first seasons of starting, Jon Kitna for Carson Palmer in 2004 and Bruce Gradkowski for Andy Dalton in 2011. The thinking is Dalton won't be in the room if Burrow is.
Head coach Zac Taylor and offensive coordinator Brian Callahan indicated this week they don't think a veteran backup is mandatory, particularly on a coaching that staff that has three NFL quarterbacks coaches in Taylor, Callahan and new quarterbacks coach Dan Pitcher, who spent the previous four seasons working with Dalton and the wide receivers. Callahan also gave a strong endorsement of current backup Ryan Finley as he heads into his second season. Plus, that vet QB money (and it won't be a low number) maybe should go to defense.
"No. I think you can go about it any way you want," said Taylor when asked if he needed a vet backing up a rookie. "We feel like we have a really strong quarterback room right now with Andy, Ryan and Jake (Dolegala). That's a great starting point for us right now going into the offseason. We've got guys that we believe in. It's a really good room. However it shakes out, we're going to have a really good room. I understand that question, but we've got coaches with a ton of experience as well, that have coached the position for a long time and are ready to help them."
Gradkowski, here at the combine as an analyst for NFL Sirius Radio, offers the flip side. As every Cincy school kid knows, he came off the bench to rescue Dalton's NFL debut in the 2011 opener while throwing A.J. Green's first NFL touchdown pass to win it during the fourth quarter in Cleveland.
"That has a lot of value. The guy has been through the ropes," Gradkowski said on a break Friday during "The Morning Drive." "When you're a veteran quarterback you've been battle-tested. You've probably been cut or on the street. You've probably bounced around and been in different systems. Or you have a lot of playing experience. Any of that helps. Your preparation from week to week, the adjustment from college to the NFL where the game plans are different and the schemes are different offensively and defensively."
All that said, Gradkowski was extremely taken with Dalton's football maturity and you hear the same kind of stuff about Burrow.
"The thing that impressed me about Andy when he was a rookie was his knowledge of protections," Gradkowski said. "I love Andy. He's a quarterback in the league I would want as my quarterback. He understands protections. He's accurate with the football, he has athleticism. When Andy first came into the league, that's what caught me by surprise. This dude understands football and that's not easy to do as a rookie."
Gradkowski is also a big fan of Burrow and he's watching to see if he's got the same kind of expertise as a rookie Dalton.
"I like Burrow. I think he's smooth. He has the anticipation. The footwork. He's got enough arm to get it done," Gradkowski said. "That's the question I have is his knowledge of protections. I remember Andy's rookie year and we'd go into Pittsburgh against that Steelers' vaunted defense and how they move around with the three down linemen and different looks and we're in an empty backfield set, but Andy understood how to move the protection and that's hard as a young guy. I like Burrow's game. He can get it done."
One of the reasons the Bengals were so pleased with their first meeting with Burrow here earlier this week is he was so fluent in the game. To get another cerebral guy like Dalton would be a massive boon to go along with Burrow's skills.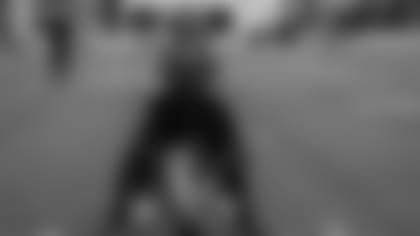 CENTERING THE KID: Callahan coached two overall No. 1 QBs in Denver's Peyton Manning and Detroit's Matthew Stafford when they were vets. But he's also had his share of youngsters and he knows what a smart, veteran center can mean to a rookie quarterback. And that's exactly what the Bengals have in Trey Hopkins, guy Callahan says, "sees everything, very rarely makes an error in terms of getting identified," as he heads into his second season as the starter.
"It's underrated," Callahan said. "To have a veteran center who understands, knows and sees can take a little bit of a load off the quarterback as far as getting things identified. There's a comfort level there. I've felt the really good quarterbacks and the really good centers work together and that gets glossed over. It can really benefit your offense."
BIG BACKERS NOT EXTINCT: Greg Cosell, the highly-regarded senior producer for NFL Films, knows players as well as anyone. On the subject of this new brand of ultra-quick, small linebacker coming out of college, he offered a warning to NFL scouts and coaches here Friday. There is nothing wrong with a 240-pound down-hill tackler.
Rey Maualuga, a 40-yard dash driven sport turns its lonely eyes to you.
"Everybody says that's the new breed in the NFL. I guess that remains to be seen," Cosell said. "More teams this year played fullbacks; the run game came back a little bit this year. If you're going to play the 49ers and the Titans, you're going to need linebackers that use their hands, shed blocks and play downhill."
To heck with the Niners and Titans. How about playing in the AFC North against Pittsburgh, Baltimore and Cleveland?
"And now Kevin Stefanski is essentially going to run the Gary Kubiak offense that starts with the run," said Cosell of Cleveland's new head coach.
Cosell says there's a place for these run-around guys. But he took a look at a 235-pounder that could go in the first round.
"He's your so-called run and chase linebacker," Cosell said. "I watched his tape and he hardly had any plays at the line of scrimmage or on the offensive side of the ball. He's one of those athletic backers. There's a place for those guys. I don't know if you can have three of those guys."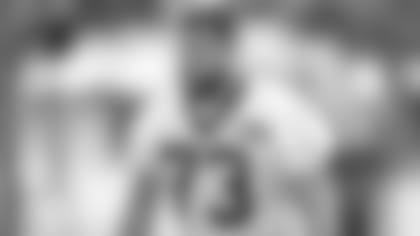 TIDE REPORT: Terrell Lewis, the 'Bama edge rusher, reminds us why the Bengals took teammate and left tackle Jonah Williams with the first pick last year and why they think he'll be effective as the starter this season despite missing his entire rookie year to shoulder surgery.
"Jonah has always been a witty guy. A smart guy," Lewis said. "He knows how to use his angles and leverage as a pass setter. He's just a tough, hard-nosed, smart tackle as far as blocking. And pass blocking he's intense and knows how to use his angles. He knows where his quarterback is. He's just a real smart guy."