With wide receiver John Ross leading the league with 270 receiving yards and running mate Tyler Boyd racking up an AFC-best 18 catches (tied with the Jets' Jamison Crowder) heading into Sunday's game (1 p.m.-Cincinnati's Channel 12) in the season's first two weeks, it makes you wonder how good the passing game would be if they were able to run it more than 33 times for 1.8 yards per.
"If we can be balanced, you get to use the whole playbook," said quarterback Andy Dalton after Friday's practice. "We've already seen this offense can get a lot of guys the ball. Look at all the guys (10) that have caught it and we need T.B. and John to play well and they have been."
Boyd says his favorite stat is wins. So he's not happy. But he does like the 18 catches and he likes the catch percentage per target stat better. According to profootballfocus.com, he's at a league-best 90 percent (18-for-20) for receivers with at least 10 targets. He's tied with old friend Marvin Jones of the Lions, in with nine catches (on 10 targets) for 99 yards. But Boyd has twice as many catches and nearly twice as many yards 187. That comes to 10.1 yards per catch.
"I want the yards to be right there with the catches. If I get 100 catches, I want them to be for about 1,400, 1500 yards," Boyd said. "But any catch over 10 yards is a positive. I break it down how many hit my hands and how many of the (targets) were catchable, but even before looking at all that, 18 out of 20 is a plus."
He doesn't have a drop, according to PFF, joining a heady group of receivers with 20 targets or more without a drop: Larry Fitzgerald, Julio Jones, Odell Beckham Jr., Sammy Watkins and D.J. Moore. And his 63 yards after catch are more than those accumulated by such speedsters as T.Y. Hilton and John Brown, the Bills down-field threat the Bengals face Sunday.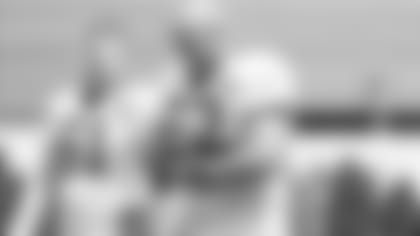 INJURY UPDATE: The Bengals ruled out three defensive regulars for Sunday's game (1 p.m.-Cincinnati's Local 12) in Buffalo when defensive linemen Ryan Glasgow (thigh) and Kerry Wynn (concussion), as well as slot cornerback B.W. Webb (forearm) were all iced. Plus, pass-rushing end Carl Lawson (hamstring) was called doubtful, although head coach Zac Taylor said after Friday's practice he was a game-time decision.
The left side of the offensive line is categorized as questionable, but that looks to be a bit brighter. Left tackle Andre Smith (groin) went full in Friday's practice and left guard Michael Jordan (knee) practiced for the first time this week Friday and went limited. Taylor said Jordan won't start, but thought he had a shot at playing.
That means Billy Price gets his 11th start and first at left guard. With two D-linemen down, first-year tackle-end Andrew Brown is expected to make his NFL debut. With five players already ruled out (wide receiver A.J. Green and left tackle Cordy Glenn are sidelined again) and No. 3 quarterback Jake Dolegala inactive on Sunday, it appears the seventh and final inactive spot goes to either a running back or linebacker or Lawson.
After missing the first two games, rookie running back Trayveon Williams isn't on the injury report and figures to make his NFL debut. Will they go with the fourth running back (Samaje Perine) or fifth linebacker (LaRoy Reynolds) or Lawson?
ARRAY OF PACKAGES: Taylor patiently walked through why he's hesitant to say the Bengals have been in a nickel defense for every snap this season even though they've never used three of their listed linebackers at the same time.
"We've played a lot of different personnel groups," Taylor said. "Five D-linemen, two linebackers. Five D-linemen, one linebacker … I would say having five D-linemen is a form of base and having five DBs is a form of nickel."
Taylor warns it's hard to get a read on what they're running through stats, "because every game is different. Two games is a small sample size … We've played two unique teams. Seattle is a big run team and San Francisco is unique because they've got tight ends and a fullback that can spread you out and make you pay if you don't like the matchup because those guys are really talented receivers. It makes you play different packages."