At some point after Sunday's game and before Wednesday morning's walk through, Bengals quarterback Joe Burrow whispered less and less like Marlon Brando in The Godfather and sounded more and more like, well …
"He was regular old Joe," said wide receiver Tee Higgins before Wednesday's practice. "Speaking regular. Talking to us the same way he always does."
Three days after Burrow went to the hospital to get his throat checked for bruising, head coach Zac Taylor gave him a voice rest day, but no alarms were needed on the emergency broadcast system. Offensive coordinator Brian Callahan said Burrow had a typical Wednesday practice before a road game with the silent count.
"We always use it in practice when we're going on the road. Road game mentality," Callahan said. "So we can get guys on the same page with the silent count."
The Bengals just don't want Burrow yelling or projecting his voice now, but Callahan said he could be heard in the huddle and could carry on locker-room conversations.
"He'd talk in the huddle with a little lower voice, but that was about it," Callahan said. "We just don't want him to overdo it."
SLANTS AND SCREENS: When it rains it pours. With starting cornerback Trae Waynes (hamstring) on injured reserve until what could be late in the year with what looks to be a serious hamstring problem that doesn't need surgery, Darius Phillips (knee) rested his knee on Wednesday as he often does early in the week. But now he's the first man off the bench with Eli Apple moving into Waynes' starting spot.
With starting right guard Jackson Carman shelved by COVID, rookie D'Ante Smith makes his first NFL start Sunday (1 p.m.-Cincinnati's Channel 19) in Detroit. But Smith (knee) was also limited Wednesday …
After carrying ten times for 33 yards last Sunday despite not practicing until Saturday, running back Joe Mixon (ankle) went limited Wednesday, but he's good to go.
"We'll still manage him. He gets a good workload, he's coming off the ankle injury," Taylor said. "So we will still manage him the next couple days but he'll be good to go for Sunday."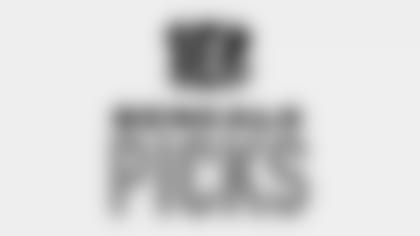 Bengals Picks, presented by OHIO Lottery
Play Bengals Picks every week for a chance to win prizes. Predict individual and team outcomes and compete against other Bengals fans for a chance to take home the prize, and the bragging rights!
With backup running back Samaje Perine (COVID) out after one of his best games as Bengal with 83 all-purpose yards, rookie running back Chris Evans is expected to get his first NFL carry in Detroit.
And Callahan and running backs coach Justin Hill are more than interested by-standers. Evans who caught a 29-touchdown pass in preseason, has looked so polished in the pass game with five catches for 55 yards.
Now everyone wonders how he'll look running it.
"He's smooth," Callahan said. "He's got some sneaky weird quickness cuts he can make. He's just a smooth athlete. He runs below his pads and so he's got good contact balance."
"The only thing I'd like to see him do in the run game is when he gets those opportunities is trust it, see it, play fast and go be Chris Evans. Be himself," Hill said.
The defensive line has been showing great depth with seven players getting at least 31 percent of the snaps. And with the return of Khalid Kareen to practice for the first time in the regular season, they just get richer whenever they decide to activate him from injured reserve. Kareem, an edge player who performed well in the preseason, can be looked at for 21 days without counting against the roster before they have to make a call.