INDIANAPOLIS AT CINCINNATI
"I wish we would have made a couple plays to finish it out. That is probably the disappointing part. The guys that were left were playing their tails off. We just ran out of people and weren't able to get them stopped. The team will learn from the penalties — the penalties we had in the last drive, the two holding calls and, obviously, the roughing the passer. Those are things you learn from, but now we are here. We got a lot of good (things) accomplished tonight, and now we are moving forward."
Has quarterback Jeff Driskel proved anything to you this preseason?
"We have been pleased with Jeff, what he has done and his poise."
How tough was it to see safety Trayvon Henderson get injured?
"That's the unfortunate part of football."
Any update on injured quarterback Matt Barkley?
"No we don't (have one)."
Are dealing with injuries challenging when trying to decide on the roster?
"We will deal with it. We don't have another choice."
Would you rather deal with just evaluation and not worry about injuries?
 "Sometimes (the injuries) make it easier."
Why were different offensive line combinations used tonight?
"Coach wanted (Bobby Hart) to play, and get ready to play, a game tonight. He played a series, but it wasn't much. He got to go through the process. We got a lot of good work out of Jake (Fisher) and (Cedric Ogbuehi) tonight, and that's good. Trey (Hopkins) got some work tonight, and (Alex) Redmond got a little work tonight. To play football, you have to play football, so that is good."
How do you think today unfolded for you, given the circumstances?
"It was a bummer to see Matt Barkley go down early in the game. But that's part of it. I hope he's well. I thought early, I was taking what the defense was giving us. They were playing some deep zones and there were a lot of check downs early. We took advantage of some good field position and were able to punch it in at the end of the half. It was a good situation for us to learn from. It's the second time we've done that this year. I thought the guys were poised. It was good to go into the half with a touchdown. I was ready to go from the moment Matt got hurt; my helmet was on."
You're athletic and strong, but you're grasping the mental part it seems. Do you feel like that part is coming along?
"I think I've made a big jump the past couple of years. I'm trying to see the field, know what we're trying to get done with route combinations, and pulling the trigger. Things happen in the NFL quickly, and you have to be ready to let it rip. I feel like I did that today."
Third-down conversions were big today, and so was scoring at the end of the half. Those give the team a big lift, don't they?
"It was good. We were on the 20-yard line. We had 15 seconds to go, and knew that I had to drop back and get the ball out. I didn't have too much time. I just threw one to the back of the end zone for Josh and he made a good play to get behind the corner. That's something where we can keep growing as a team and know in that situation that the coaches are confident in us. We had two seconds left, so even if we didn't score there, we could kick a field goal. That was good clock management."
How do you think today went?
"I felt good. You always feel like you left plays out there, but you have to move on. I try to focus on the good runs and forget the bad runs. I tried to come out here and control the things I could control. I can't control my playing time or the plays called."
How important was this game for you?
"It's very important. I had a good preseason leading up to this, and I wanted to finish it off strong. I wanted to put myself in a good position, either here or somewhere else."
NFL teams are probably impressed with your tape these last four games ...
 "That was the plan coming into this preseason. When Mark (Walton) got drafted, I knew there wasn't space for everybody. I'll focus on what I can control. Today, I wanted to go out and make those plays."
What are the next 48 hours for you like?
"It's definitely going to be stressful. It's the unknown. I feel like I put myself in good spots. Hopefully I make it, but if I don't, I have a good chance to play somewhere else."
Your experience last year shows the potential of a practice squad spot ...
"Last year I was injured too. I have two healthy hands this year, so I'm focused on that."
You've seemed to look free out there running the ball. Does it feel that way?
"I felt good. I have weight off my shoulders. I just tried to go out there and do what I've been doing for 15 years. I tried to put myself in a great situation, and we'll see what happens."
Describe the play you had for the touchdown ...
"I just saw it was Cover 2, and just ran my route and caught the ball and made sure I was in."
What is the thought process in the back of the end zone? Was it one of those things where you're thinking you need to make sure you get both feet in?
"No, I was just more focused on just catching the ball and then my feet just do the rest of the work. That was my main priority, just catching the ball first."
You had a great catch on a back shoulder throw from Logan Woodside, so a good way to finish up the preseason for yourself ...
"It was a great throw by Logan. He just gave me a chance to make a play on the ball and the rest is just history."
The Colts rallied to win tonight. Is it disappointing not to go undefeated in the preseason?
"You want to win every time you step out on the field, so we fell short in our last game."
Assess your preseason ...
"I felt I had a solid preseason. I felt I went through training camp pretty well and I felt I put out great film and did what I had to do out on the field."
You were able to sit back and watch tonight. A lot of spots were up for grabs. What kind of competition did you see out there?
"It was good. It's a lot about opportunities and putting your best foot forward."
In what ways has this team progressed over the last four games?
"We had great weeks of practice. I felt like the third preseason game we played well. I thought we felt good about that game."
Starting the season on the road with three of your first four games away from home, how do you combat that?
"I think it's good to start on the road, especially the first couple of weeks. It keeps us more focused. I like playing away, especially the first couple of weeks."
When you went into the game at safety, who gave you the word?
"Coach Lewis just yelled my name and said I was going in at safety. I kind of had to make sure he was talking to me. When I got out there and it was pretty basic, just Cover 3."
How would you sum up your preseason?
"I played good and made plays when I was in, which is what it's all about. Tonight I was just trying to go out there and make a couple more plays and make some plays on special teams. That's probably going to be my calling card for a while, so just go out there and showcase my abilities."
Coming from college to the NFL, what was the biggest adjustment you found?
"The biggest adjustment has been just the overall terminology of everything. Not so much the speed of the game, because at Ohio State we played top tier. The biggest thing is just the mental aspect and how up to speed every single player is on other teams, and then you get on this team and you're going up against guys that have been playing in the league 10 or 11 years and he's fighting to make it as much as you are. Just overall, the knowledge of the game."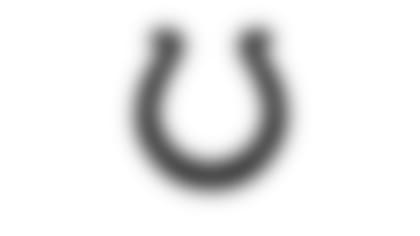 INDIANAPOLIS AT CINCINNATI
"Just a quick update on injuries: (Chris) Cooper and (Robert) Jackson — concussion. Ross Travis is a knee. We'll have to wait to see how serious that is. And then (Tarell) Basham was a knee. That was minor.
"Overall thoughts from the game, I really liked how the guys finished. It means something. I know it's the fourth preseason game, and we know what it's not, but we know what it is — an opportunity to show what you can do. I think the players took that seriously and played hard and did a nice job out there. We did a nice job. Offensively, I thought that it was a really good showing. The receivers made those decisions tough — I thought they played well. The offensive line blocked really well, protected the passer really well. And then the defense ran hard to the ball all night and did some good things. And special teams did the same thing."
You entered this with some questions about the fourth and fifth WR spots. What did you learn about those two spots tonight?
"It's going to be a tough decision. I think it's going to be a tough decision. Guys are running hard and playing hard, so we're going to have to get a real close look at them. Obviously we came in with some preconceived ideas about which direction we might go, but you always have to leave it open for a game like this. There were a lot of plays in the passing game, so those will be factored."
Darrell Daniels, was he injured?
Did anybody make a great first impression, or last impression?
"Like I said, I thought the receiver group, as a whole, played well. And the offensive line played well. In the passing game, I thought we did some stuff, and in the run game, we had some big runs — we had some explosive runs in the run game. You have to avoid the turnovers."
We saw Joe Haeg at the RT spot, but we did not see Austin Howard. Are you any closer to a decision?
 "I think we are closer. We have a lot of info on Joe, a lot of intel on Joe, because he's been here and we have a lot of tape on him. I just thought it'd be good to give him one more shot there at right tackle. I think we'll make this decision here pretty quick."
Going into having these cuts, when you have a few guys banged up who are week-to-week and not day-to-day, how tough does that make it when you have positions to fill?
 "You'd like it to be clean, you'd like it to be healthy, but unfortunately that's the way it is around the league. Everyone's dealing with the same thing. Everyone's dealing with the same thing at the moment. We'll deal with it and keep ready."
What are these next 40 hours like as a staff, making these tough decisions, knowing that a lot of these guys' futures are on the line?
"It's tough. They're tough decisions because there's close battles, but then they're tough decisions because these are guys that you've come to love and respect. You've worked hard for six months with them, and you know it's not easy. The message is, if you do happen to be one of the guys to get cut, you stay alive, you keep fighting. In this league, a lot of people go through it so, 'It's not over' is the message. You keep fighting and you believe it."
Did the injury to Basham make Ryan Delaire play a little more in the situation?
"Yeah, we just had limited guys there, so they were going to have to play. When Bash got hurt, sure, it factored into those guys who had to rotate through the end of the game."
Does it give you guys a little bit of momentum going into the regular season having a victory?
"I think there's something to it. I know it's only preseason, but when you're a new staff and a new program, winning feels good — it's contagious. The way we won tonight is good. To be able to come back in a two-minute offense scenario, we realize it wasn't our starters or their starters out there, but it was still good establishing, as an offense and a team and then having the defense having to stop. They had plenty of time to go down and kick a field goal — so I thought it was good momentum."
Zach Pascal seemed to get some momentum last week. Did he build on that tonight?
"Zach had a couple nice plays, played sound and punched well. He certainly didn't hurt himself."
Frank, is Andrew Luck still on track to practice on Monday?
 "Yeah, he's good to go. He'll practice on Monday. He's looking good."
What about Anthony Castonzo?
"Not sure yet about Anthony."
Just the fact that he got through the preseason, with all these questions on the injury, are you going to sleep well tonight?
 "There you go, yeah. He's starting and we feel good about where he's at. That's a good thing for all of us and it's a good thing for him. We've got a long way to go, and we all need to keep fighting to get better. It's been a good process and we appreciate his leadership and how diligent he's worked to be ready to go Week 1."
We heard the guys celebrating with you in here afterwards. What does that feel like walking in the locker room?
"It feels great, no matter if it's the preseason or the regular season. Just to go out there and play with these guys, it feels great. Just getting used to these guys and getting comfortable, I enjoyed every minute of it."
I know its only preseason, but those last two minutes winning the game — that has to give you some momentum going into the regular season ...
"Just to go out there and show that we can move the ball efficiently against man-to-man coverage, that's a great feeling."
You finished off the preseason with a game-winning drive and a nicely placed ball. Can you take us through that last drive?
"I just wanted to give Cobi (Hamilton) a chance to make a play on the football. Cobi ran a great route and I just wanted to put the ball in an area where Cobi could make the play, and he did."
This is a reflection of what we've seen from you all summer. Do you feel a lot more comfortable this time around?
"Absolutely. I've just been going out there, enjoying it and having fun. Last year, I think I was pressing too much. Whether it was preseason or practice, I was trying to do a little too much. I expect a little too much from myself. I was just trying to have fun."
To get the 18-play drive under your belt going into the season, does that do anything for you?
 "I think it was good for our offense to go down there. It was a long drive, but to go in the huddle and see everybody huffing and puffing but sucking it up to play the next play, was great."
How much more comfortable are you than when you showed up here, and how foreign everything felt then, to where you are tonight?
 "It's night and day. To be able to know the offense and have the OTAs and training camp under my belt with this offense, it's been a great asset."
To have Andrew Luck back, are you breathing a sigh of relief too that after everything he's been through, he got through the preseason healthy?
"Yes, I'm happy for him. I'm excited to see him play. I'm excited that he's healthy. He's in a good spot with his mind and getting ready to go out there and play football."
Talk about the young wideouts and where they are at ...
 "I think they did a good job tonight. They went up and made a lot of plays. We threw the ball a lot and they played a lot of special teams. I thought they did a good job of coming out and competing and doing a great job."
How do you feel like your fared tonight, and how do you feel heading into the weekend?
"I really have to leave that to the coaches. I feel as if I've gotten better. Missing the first preseason game kind of set me back, but I can say that each game, I've improved. I'm just going to leave it up to the coaches."
The next 40 hours can be quite long. How will you pass the time?
 "Just relaxing and leaving it up to God. I'll play a little Fortnite here and there, but really just relaxing. There are a lot of great receivers on this team. You never know."
Did tonight go as well as you had hoped?
"Yes it went pretty well. I was really trying to focus on special teams and be sound on my assignments. That last long pass — I needed to reel that one in. It would've had me smiling, but it kind of jarred out when I hit the ground."
How fierce has the competition been?
"It's been a good thing. It's a good thing to show versatility, especially on the offensive line. It's been good and we have camaraderie between the guys. We'll see how it unfolds."
How do you feel this team has grown from Day 1 of training camp?
"I think it has been really good. I think the guys are buying in to what the coaches are talking about. There's been a good atmosphere in the locker room."
Heading into the regular season with a win can help ...
"Definitely. Just seeing guys come out here, who probably haven't played much, go out and give their all in the final preseason game — that goes to show how good the coaching is here on this team. Some guys wouldn't want to play in the fourth preseason game, but because of the coaches, guys are coming out to play."
What will the next few days be like while you wait to hear if you've made the team?
"It will be relaxing and recovering. I'll get my body ready. You never know what can happen over the next few days."
How are you feeling right now with two preseason touchdowns?
"I feel good. Those are my first two touchdowns in the NFL, so I feel good about that. I can see myself getting better every day. The best part is coming out and having fun with these guys that I've been here with for the past five weeks."
Do you feel like you'll make the 53 man roster?
"I feel like I left some plays out there, but I feel like I did my best. My parents always told me go out there and have faith in God and do your best on the field."
How big was your fire today knowing what was at stake?
"I try not to think too hard. I always try to have fun. Whatever happens, happens. I just try to have fun."