The Bengals made some waiver-wire moves close to home Sunday as they zeroed in on finalizing their Opening Day roster claiming Washington running back Samaje Perine and former Rams and Cardinals wide receiver Pharoh Cooper.
They released four-year wide receiver Josh Malone and third-year linebacker Hardy Nickerson, leaving them with just four backers. They've got five in the building when one of their undrafted free agents, Noah Dawkins of The Citadel signed on the practice squad.
The addition of the 5-11, 235-pound Perine has made Bengals bell cow running back Joe Mixon a very happy man. They teamed at Oklahoma for tandem 1,000-yard seasons while becoming close friends and they figure to be on the field together a week from Sunday in the opener in Seattle. With the Bengals down to two healthy backs, Mixon and Giovani Bernard, Perine figures to suit up as the third back after rushing 20 times for 43 yards and a touchdown for the Jay Grudens in the preseason that included a tough one yard on five carries against the Bengals back on Aug. 15.
"Yeah, you're right. I can't wait to get up there," Perine said Sunday afternoon when asked if the day could have unfolded any better.
Mixon, who attended Perine's wedding, lobbied all day Saturday via Twitter for the Bengals to go after him once Washington cut him. It didn't go unnoticed. Plus, Mixon talked him up himself.
"I mean, it definitely worked out. It worked out," Perine said. "The words of encouragement is always a good thing. He just told me to keep my head up and don't let it get to me."
The raging irony, of course, is that the Bengals claimed Perine because their Oklahoma teammate in the backfield, rookie running back Rodney Anderson, tore his ACL in Thursday night's pre-season finale. When Anderson suffered season-ending injuries in 2015 and 2016, Perine was on his way to OU's all-time rushing record with his second and third 1,000-yard seasons. That last one in 2016 was the sophomore Mixon's first 1,000-yard season.
"That's unfortunate for him," Perine said of Anderson. "We're going to hold it down for him until he gets healthy again."
If the gregarious Mixon has all the moves worthy of a five star buffet table, Perine is bringing the bread-and-butter. He doesn't mind that his buddy is out there talking him up.
"Nothing too flashy. Down-hill running," is how Perine describes his game. "I can do whatever has to be done. If they want me to pass block, I can do that, too. I don't say too much. I don't go out of my way too much. I just keep my head down and go to work. He can do the talking and we'll back it up together."
Perine, known to have a tremendous work ethic that's on display in the weight room, confirmed he once lifted up a car to help someone fix a flat tire.
"It depends what kind of car you've got," said Perine when asked if he's available. "If you've got a big car, probably not."
But he's already got experience with a smart car.
Cincinnati has always had high regard for Perine. They had a third-round grade on him, but had already taken his main man Mixon in the 2017 second round. Perine went early in the fourth to Washington, where he's either been a back in a committee or backing up Adrian Peterson. As a rookie he rushed for 603 yards on 175 carries and had a touchdown each receiving and rushing while averaging 3.4 yards per carry. Then last year working behind Peterson he had just 11 touches, eight of them rushes for 32 yards.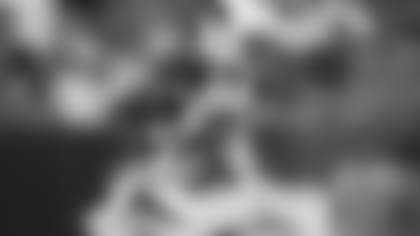 On the other hand, the 5-11, 208-pound Cooper, just cut by Arizona, probably isn't going to dress next week in Seattle. But then, Malone probably wasn't going to, either. They're both fourth-rounders, Cooper out of South Carolina in 2016 by the Rams and Malone out of Tennessee in 2017.
Bengals head coach Zac Taylor spent the past two seasons with Cooper in Los Angeles and the word is he likes how well-versed Cooper is in the system, along with his reliability in the scheme. He's got a career yards per catch of 7.6 on 25 receptions. Malone has seven career catches for a 10.7-yard average. In Cooper the Bengals are getting a guy that has plenty of experience returning with 61 career kicks for a 25.1-yard average and 45 punts for a 10.7 average.
Cooper doesn't have the speed of Malone, but Taylor did watch him go to the Pro Bowl in 2017 leading the NFL with 27.4 yards per kick return that included the year's longest of 103. Cooper injured his ankle in last year's opener and didn't return until mid-November. The Rams cut him a month later and the Cards picked him up for the last two games.
The Bengals clearly didn't like any linebacker names on the waiver wire and now have just Preston Brown, Nick Vigil, Jordan Evans and rookie Germaine Pratt in the backer room with the dismissal of Nickerson. Nickerson, an undrafted free agent in 2017, had been pressed into service because of injuries during his two seasons of nine starts, 30 games and 68 tackles.
It does match the schemes that defensive coordinator Lou Anarumo has been rolling out there with coverages more reliant on multiple defensive backs and fewer linebackers. During the preseason the base defense had been pretty much nickel with two linebackers and sometimes one.
The Bengals put together a nine-man practice squad that includes roster exempt tight end Moritz Bohringer, leaving them two open spots. The squad is headed by veteran tight ends Mason Schreck and Jordan Franks, as well as second-year safety Trayvon Henderson after he missed all of his rookie season with a torn ACL.
Along with Dawkins, the rest are undrafted rookies out of this training camp: Nebraska wide receiver Stanley Morgan, Virginia running back Jordan Ellis, Coastal Carolina cornerback Anthony Chesley, and Texas A&M guard Keaton Sutherland.
One potential practice squad candidate, second-year cornerback Davontae Harris, a fifth-round pick last year, agreed to sign on to Denver's 53 as what reports are calling the team's sixth corner. If the Bengals had gone with six, Harris probably was the guy.