Since he played 87 games during 11 seasons at Paul Brown Stadium on his way to playing the eighth most games in Bengals history, Broncos nose tackle Domata Peko, the lovable, huggable Samoan who is everyone's "Uso," knows downtown Cincinnati like the A Gap.
So it was no big deal this week that he called his buddy Chris Koch, one of the owners of the venerable Koch Sporting Goods on Fourth Street, and ordered up a white quarterback towel emblazoned with the No. 15 that he'll wear from his belt when he comes to town Sunday (1 p.m.-Cincinnati's Channel 12, **purchase tickets**) to play his first game in PBS as a Bronco.
"And I'm going to get some knit caps for the Chris Henry memorial for my wife and family," Peko says from a Mile High. "Chris was a good dude. When he first got there he was getting into trouble, but he turned over a new leaf and things were going well and life got cut short. He hung out in my basement with us after games kicking it. I miss him. Cincinnati misses him."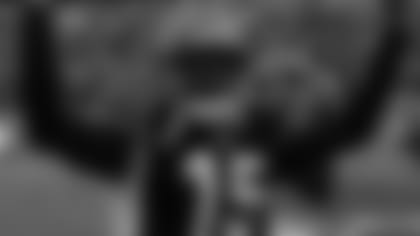 It's been nine years ago Dec. 17 since Henry, the gazellish wide receiver that always seemed open, died at age 26 from injuries in a truck accident and guys like Peko and Koch remember him every year about this time. If you thought Peko got emotional last year in his first year with Denver when he played the Bengals out there, wait until Sunday.
"They always take care of me at Koch's," Peko says. "I have so many friends and relationships there and that's why I can't wait to get back in The Jungle and play in front of Paul Brown. I was always getting the crowd pumped up and it seemed like they really responded to me. Those are the memories I'll never forget. Just winning games there and the crowds. I'm a big lover of the fans."
The feeling should be mutual. While Peko was the anchor of the Bengals defense, it ranked in the NFL's top 10 four times, won three AFC North titles and made it to the playoffs six times. And all the while spreading good cheer through the locker room and the community, one day opening up his Northern Kentucky home to his teammates after a game and the next feeding the homeless under a downtown bridge.
So when the Broncos land Saturday Peko plans to take his "Usos," (friends or buddies in Samoan) to the house he has yet to sell, opening it up to a new set of teammates. Guys from the Broncos defensive line. Guys like Derek Wolfe, Adam Gotsis, Shelby Harris.
"I want to take them around my old stomping grounds," Peko says. "Saturday night we'll go to dinner at Jeff Ruby's. I still have a good relationship with Mr. Ruby. My family is coming out. Wife and (three) kids. This game really means a lot to us."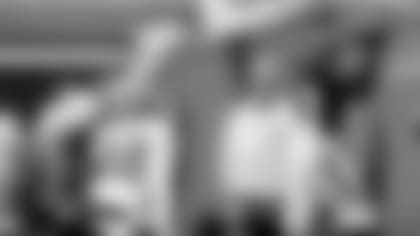 It's quite a river reunion. Anna and the kids are staying with former Bengals middle linebacker Rey Maualuga. Peko's defensive line coach is Bill Kollar, the Bengals' first-round pick from Dave Lapham's class of 1974 who has been one of the NFL's best coaches since Lapham has been one of the league's top analysts.
It turns out Kollar also enjoyed his time in Cincinnati ("He's got nothing but nice things to say about it"), so they've bonded over that as well as Peko responding immediately to his tough love style.
"I'm loving the 3-4. It fits me really well. I'm thankful for Bill Kollar. He's one of the best line coaches in the game," Peko says. "I enjoy playing for a guy that played in the league so long He's just like a Mike Zimmer. He doesn't B.S. around. He lets you know if you're doing good. He lets you know if you're doing bad. There's no gray area. That's what I like about him. He gets after you every day."
Peko won't B.S. you, either. When his Bengals' contract ran out after the 2016 season, he was hoping they'd re-sign him. He knew the PBS security guards by their first names. Their oldest (now a 6-foot teen) was a year old when he was a rookie. No. 94 was a Pro Shop staple.
"I thought I'd retire there," Peko says. "That's what I was thinking. In a perfect world that would have happened. But even Peyton Manning had to leave Indy. No disrespect to the Brown family or anyone in Cincinnati. They treated me great. That's why I'm excited to get back to The Jungle."
Since he won't B.S. you, he'll also admit he'd like to show everybody on Sunday what they're missing. He's speaking this week on his 34th birthday  and in his 13th season on the last year of his deal in Denver he's playing half the snaps with his work on first and second downs and he says he wants to keep going. He says his coaches think he can keep it going and his body feels like it always has.
First, though, either his Broncos or the Bengals, both locked at 5-6, have to survive Sunday's death watch. Loser can start getting reservations for Jeff Ruby's in January. His defense is ranked 25th, but has kept foes under 100 yards rushing in five straight games and it has fueled the Broncos' rise from the dead with wins in three of them.
And anytime you hold the Steelers to 75 yards rushing like they did last Sunday and the Chargers to 22 points like they did the Sunday before that on their two-game winning streak, you're playing some defense.  Peko has noticed the Bengals aren't.
"I've read about some it," Peko said. "They lost their coordinator. That's tough for a defense during the season. But you've got Carlos Dunlap, Geno Atkins, Michael Johnson. (They will) grab the bull by the horns and steer the defense on the right path … The key for us is stopping (running back Joe) Mixon. He's a good back. Strong. And we've got to watch film on the new quarterback."
Peko remembers going against rookie Jeff Driskel in practice during his final Bengals' season and he'll be able to coach up the Broncos on his speed.
"He's athletic. He'd run around back there," Peko says. "He gave us a good look, bro. He'd move around."
You've also got the classic matchup. Bengals' first-round center Billy Price vs. Bengals icon Domata Peko.
"He's good. He's a rookie and playing and that's not easy. He's the quarterback of that offensive line," Peko said. "He's from Ohio State, I'm from Michigan State, I'm looking forward to playing him."
Peko has kept in touch with some of the Bengals' D-line with occasional texts to Dunlap and Atkins and he's spoken to linebacker Vontaze Burfict. And he knows that No. 94 is now worn by a rookie, although he didn't know Sam Hubbard was a Cincinnati kid.
"The tall dude. From Ohio State," Peko said. "He's a hustler. He makes plays."
But the Bengals' famous defensive text tree seems to have been dormant lately from Peko's end.
"It's been a while. That's the way it goes when you leave and build other relationships," Peko says.  "The train in the NFL just keeps on going whether you're on it or not. But I have nothing but love and respect for those guys."
It's like after Sunday's win over the Steelers. Anna planned a celebration at Eddie Merlot's and it turned into a double celebrating the win and Peko's 34th. The D-line was there complete with Von Miller and Pro Bowl cornerback Chris Harris Jr., also showed.
Those are his Usos on Sunday, guys that are trying to spoil Driskel's first NFL start and cripple the Bengals'' play-off run. No. 94 will be firing them up and not the crowd. The emotions are at full boil for him.
"A little different," Peko says. "I'll keep my same routine. Run on to the field. Run to the end of the end zone. Say a prayer. Ask God for strength and just go to work."