Joe Burrow not only has absolutely no desire to watch the all-the-rage Netflix documentary called "Quarterback," he rejected the chance to be in it this year.  
But what we saw during Wednesday's first practice of the 2023 preseason on the Kettering Health Practice Fields and then in the neighboring Paycor Stadium media room would be the first clips of a Joseph Lee Burrow opus documenting the Bengals franchise quarterback who has ice water in his veins  and a furnace in his heart.
It's probably more of an old-school term. You see a person or a player who doesn't particularly stand out and is extremely average and you shrug.
But Burrow, the epitome of current day swag, has turned being Just A Guy into being cool.
"Everybody is just a guy," Burrow said as he recalled his foray into the post-practice autograph gauntlet. "It's always a little weird because I'm just a guy. When people react that way, it's always a little weird to me. But when people take the time to talk to me, I think they realize that I'm just a guy. So I do whatever I can to give back to people that support me."
There it is. That's how Burrow has become the leader of one of the NFL's best teams and one of the faces of the league and why Netflix wants him. This "I'm an Ohio guy," persona has endeared him to his teammates and made him a hero to JAGs everywhere.
"I just love the game. I would say I love the guys in there. I do it for them," Burrow would say at the podium, because anywhere else makes him a bit uncomfortable. "That's my favorite part of the game is being around those guys. One of the reasons I work so hard is so the people that help get me here can watch me on Sundays and be proud of what I'm doing and be proud of what they did to get me here."
This year's Quarterback series includes Patrick Mahomes, the greatest quarterback on the planet.
So, the opening shot of "JAG," would start with how Burrow, who says he's one of the best in the world, wants to beat him out. (Maybe an overhead pan shot.)
"I have been thinking about goals a lot lately," Burrow would say. "I think where my mindset is these days is just improving every day. The point I am at now, I am one of the best in the world. If I just continue to improve every day I'm going to help myself a lot more than if I set these goals for myself that are tangible. I'm just focused on getting better every single day. I know that's cliche but that's the best way to go about it. "
So to hell with remaining the NFL's all-time completion percentage leader or becoming the first quarterback to win three straight division titles in the 22 seasons of the AFC North.
The Burrow doc would zoom in on those behind-the-scenes Dan Pitcher drills in practice as his quarterbacks coach steps him through everyday technique. There would be closeups of head coach Zac Taylor whispering into his ear during closed walk-throughs. Or maybe a mike on new tight end Irv Smith running back to the huddle after a route and Burrow telling him how to do it better.
The ubiquitous camera would be there when Burrow ventured across the line of scrimmage to talk to Trey Hendrickson after practice. Hendrickson, the Bengals Pro Bowl sacker, the blood still on his neck from a scuffle with new left tackle Orlando Brown, Jr. Burrow perhaps practicing shuttle diplomacy as well as shuttle passes as the reserved but influential team leader?
"You see fights along the way if you play this game long enough," Burrow would say. "They usually happen pretty quickly. That's when guys aren't very tired. Day 1 of camp. Third rep. Guys aren't tired yet. Everybody's excited to be here. The adrenaline's pumping. So that's usually when it happens."
Since our Burrow doc would come out after the 2023 season, The Contract would have to be discussed. Maybe with footage of him pulling into his Paycor parking spot instead of pulling up on the couch watching Netflix in a camp holdout.
"I think every situation is unique and every guy is unique and every position is unique, too," Burrow would say. "I think personally I feel in my position I don't want to waste any of these days that I have to get better. I've wasted enough days over the last two years with injuries, appendicitis, COVID year before that, I don't want to get out of camp wishing I had seven more days that I could have got better. So that's the reason I'm here. Maybe business comes first at some point, but I need these days to be my best."
Still, there's no questioning that capturing Burrow on film is going to be just as hard as corralling him in the pocket on one of those slippery scrambles.
"If you guys know anything about me, you know media is not exactly my favorite thing to do. The process of doing that show is very intense. There is a lot of time you have to put into that. Time I'm not ready to give right now," Burrow would say in a tight news conference shot where you could count the fibers in the Bengals "B," of his headband.
"Everybody knows I'm a very private person, especially in my personal life so that's a window into a personal life I'm not quite ready to share yet."
There would also be snippets of first practice news. How the man who has become a Pro Bowler with just three lifetime preseason snaps thinks playing a series or two "would be beneficial." How the rapport with his trio of receivers heading into their third season together is so good he calls their communication "short-hand." How he's moved on from the last unsuccessful drives of the AFC title game.
"You take things from every play of every game," he would say. "You learn from the tape and you move on and that's what we did. We learned from the tape and we moved on just like we do every week.
But since this thing is called JAG, the closing shot of our Burrow doc would have to be of The Grind. Burrow loves the grind. The grind of Year Four has started and there would be a distant shot of the back of No. 9 walking to the field for another day of work. (Maybe to a Kid Cudi song.)
"I wouldn't say I'm hungrier. I would say you change as a person and your mentality changes, your process changes but the grind never stops," Burrow would say in a voice-over as he approached the practice field. "Your why changes and it turns more from motivation to discipline at a certain point. But that's what the great ones do. Once it turns to discipline, they really take off."
Of course, they'll have to edit out the shrieking of the fans during his walk because Burrow has made being Just A Guy so cool.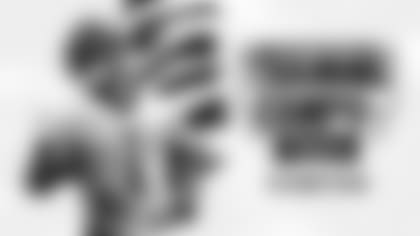 Training Camp 2023 Center
The official source of news and information about Bengals Training Camp 2023.