Downtown Preston Brown, who grew up in College Hill with a Chad Johnson Fathead and bought a place on Cincinnati's Fourth Street a couple of years before he left the Bills, returns to Buffalo Sunday (4 p.m.-Cincinnati's Channel 19) with a smile on his face.
"I love it here," Brown said after he plugged the Bengals defense at middle linebacker during Thursday's practice. "It's been fun. I've never seen so many different position groups hanging out. Usually it's cliqued up. To see offensive linemen with a linebacker or with a quarterback, it's cool to see everybody hanging out."
Brown was a linebacker that could be seen with an O-lineman Thursday as he kidded old Bills teammate Cordy Glenn about the reception he'll get in Orchard Park Sunday. But there's no question that these two have received a stirring welcome in Bengaldom after they have been as advertised when filling two of the off-season's biggest needs. Glenn is the kind of stable left tackle they glaringly missed last season after 15 years of Levi Jones and Andrew Whitworth while Brown brings certain elite middle linebacker skills not seen since the days of a young Rey Maualuga.
Both are easily becoming part of the landscape. Glenn says he likes it here because the Bengals are a contender and the AFC North majors in his brand of down-hill physicality. Brown is a native to the city and the defense, a scheme he says isn't much different than the one crafted by Bills defensive coordinator Leslie Frazier, naturally a former Bengals DC under head coach Marvin Lewis.
"Coach Frazier just plays more Cover Two," Brown reports.
If you haven't heard much about Glenn in the run-up to Sunday's re-union, why should you? He's overcome last season's foot injury and quietly showed up every snap he's been asked this preseason. In fact, early in his career Glenn consulted with Whitworth on certain opponents and now wears his No. 77.
"I love his mentality. He's answered the bell every time, so it's been great," Lewis said this week. "Everything from being here and going through the offseason program, to how he approached training camp, to then see him when the lights come on and it's time to play against another team. It's good to see. You like what he has brought that way — with the maturity level, and yet the ability to go out and do his job as well. I think everyone takes notice of that."
And Brown's not the only former Bills linebacker that likes the move. Try his position coach, Jim Haslett, who still keeps up with the Buffalo franchise that drafted him in time to win the 1979 NFL Defensive Rookie of the Year. Haslett thinks his current team came out of the frenetic off-season activity with his old team holding two gems after signing Brown and trading for their starting left tackle in Glenn.
"I haven't watched Cordy that much because I've been in my own little world," Haslett said. "But he's a big guy, very athletic. The kind of guy you need play that position. A good asset for the Bengals."
As Haslett played 91 games for the Bills the '80s, he lived the town's obsession with the team. Even while they played he and teammate Fred Smerlas hosted a rollicking no holds-barred radio talk show. Late in his career he even married a Buffalo girl and Bills' fan who agreed to meet him even she thought he was a jerk.
"I think it was rated the No. 1 show," recalled Haslett. "Yeah, it had to be on a delay. We never knew what was going to come out of our mouths. Or how many beers we'd drink beforehand."
The hysteria surrounding Sunday's game, the Bengals' first visit to Western New York since their final-minute victory over the Ravens in last year's finale ended Buffalo's 17-year post-season drought, hasn't surprised Haslett in the least.
"They were fired up about that. It's been a long time," Haslett said. "I still keep track of that team. I've got a lot of friends there. I loved the Buffalo fans. They love that team. The Saturday nights and Sundays were great. The fans were unbelievable. Great atmosphere, great place to live. Ralph Wilson was the owner and was a great guy. I understand this guy (current owner Terry Pegula) is just like him. The head coach is doing a good job and they're a team to be reckoned with. They've got a good young quarterback and good players on both sides of the ball."
But Haslett thinks the Bengals grabbed a couple of them, particularly the 6-1, 255-pound Brown, a guy that he just can't get enough of, even putting the big man in the third-down package with Vontaze Burfict shelved until October. Brown led the NFL in tackles last season, but his teammates and coaches believe they have more than a tackling machine but a deceptively speedy and obviously smart presence in the middle that is a top tier player.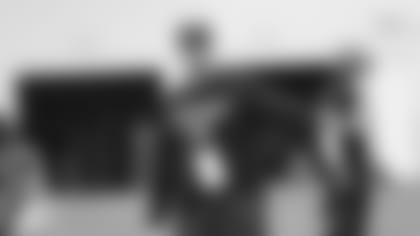 "He's everything you want in a linebacker," said SAM backer Nick Vigil. "He can cover, he can run, he can stuff the run. The first time I saw him run all out, I said, 'Damn. He's a big dude that can run really fast.' That's nice to have."
Brown got beat on a 16-yard pass out of the backfield Saturday night in Dallas after he got a bad angle in the wake of blitzing cornerback, but those plays have been few and far between this preseason.
"He's a heck of a person, a really good player, really smart," said Haslett, who graded Brown as his top linebacker in free agency. "He's a big body, athletic, a guy that can run. I liked him coming out of Louisville and I thought he did a great job in Buffalo. I never thought he would have been available because you don't often see a 255-260-pound athletic guy like that. He's lived up to what we thought so far."
Brown was available because after he led the NFL in tackles, the Bills informed him they wanted to see more and offered as one-year deal.
"If I was going to do a one-year deal, I'll go somewhere else and try something new. I was open to all 32 teams and Marvin called. It was great to come home. I think it was a good decision. We'll find out soon. (The Bills) had a new GM, a new head coach. They both came from a certain system where they had certain players and they want to replicate that."
So there been some covering you know what in Buffalo. The Bills notoriously pad their stats, the buzz says. You don't want him playing on third down is the knock.
"Stats are stats," Haslett said. "He led the NFL in tackles. I don't know how you pad stats. The media takes them and the coaches are the ones who give a little more, but they're not official. If it's not coming from the coaching staff, I would say they're pretty legit."
Third down? Brown, who has never missed a game in his four previous seasons, played nearly 1,100 yards snaps last season and the Bills finished in the upper half of the league in pass defense. Haslett has put him in the first-team third-down package with the supersonic Vigil and wonders what he can do with another 2550-260-pound guy in Vontaze Burfict.
"We've got good cover guys. Vontaze, Nick Vigil and Jordan Evans. Preston. We can mix and match," Haslett said. "If we want to get two big bodies in there, we can do it. (Brown) has more than adequate cover skills. It's a good problem to have."
Brown has no problem with the Bills. Neither does Glenn. Like Glenn said, returning to Buffalo "is nice, but I wouldn't say special." Like Glenn, Brown is looking forward to seeing old mates and coaches before and after the game.
"The weird thing is going to be getting on the bus after the game and leaving," Brown said.
At some point the Bengals are expected to approach Brown about staying on the bus beyond this season.
"I'd love to," he said. "I hope I play well enough that they want me back."
The fit seems irresistible, from Fourth Street running right through the locker room. As if straddling the generations, Brown lockers next to Burfict and the rising sophomore Carl Lawson. Next to Lawson is Vincent Rey, their valuable, versatile linebacker and the Bengal Brown has known the longest. They've been working out together in the offseason at Ignition Sports since Brown was in college and Rey couldn't help laughing Thursday as he recounted how Brown invoked his name during last Saturday's interview in Dallas on the field.
"Whenever I talk about Vinny Rey, it's positive," Brown said. "Vinny is one of the best guys I met in playing football. He's a special kind of guy. Just how he is in the locker room, the way he loves Jesus, the way he loves his family. He's a great mentor me to have."
With the influx of kids lining up with him, like Vigil, Evans and rookie Malik Jefferson, it looks like Brown is becoming a young mentor of 25.
"Just what you want," said Haslett, from one former Bills linebacker to another.