Bengals rookie head coach Zac Taylor offered a veteran move in Thursday night's pre-season finale at Paul Brown Stadium with his team facing a fourth-and-one from the Colts 1 with 3:21 left in a game they trailed, 13-6.
Taylor stayed true to his school that he would give the Seahawks nothing they could sink their teeth into while preparing for the Sept. 8 regular-season opener in Seattle. So he called a zone read for 6-7 flame-throwing rookie quarterback Jake Dolegala and when running back Quinton Flowers got thrown for a loss, Taylor still had his best plays in his pocket after a 13-6 loss that capped an extra vanilla preseason. Taylor gets bonus points for the uninspiring call because that's exactly what he wanted.
"Can't show everything," said wide receiver Cody Core. "It's the last pre-season game. Not many big calls. But we had a lot of big runs. I think he wanted to show we could run the ball and we did."
That's another thing Taylor expertly kept under wraps. Word was the Bengals had run just two different running plays heading into Thursday's finale and they didn't exactly break out the Veer against the Colts. But behind an offensive line built only for late August, the Bengals ripped off their three biggest runs of the preseason to average 3.7 on the night (23-for-85), one whole yard more than their average for the three games.
The problem is they fear their running game took a massive hit Thursday. Taylor did such a good job in the preseason protecting the running game from advance scouts and his players from injury, but they still couldn't avoid what appears to be rookie running back Rodney Anderson's heartbreaking injury history. They've braced themselves for the worst possible news after Anderson limped off the field on his fifth run of the game after injuring the same right knee in which he tore his ACL in last year's second game at Oklahoma.
The fear is he has torn it again, just two weeks after coming back from the rehab and one week after such an encouraging NFL debut. That would be a numbing four early season ending injuries in five years for him. If the fears turn out to be true, they're on the hook for a third running back in Seattle behind Joe Mixon and Giovani Bernard.
Rookie Trayveon Williams (foot) is expected back early in the season but not for the opener, so the Bengals may now be forced to the waiver wire to fill the spot or turn to undrafted rookie Jordan Ellis or Flowers, last year's practice squad player who had all of 15 carries for 69 yards in the preseason. But they're not bell cow size. The 6-0, 224-pound Anderson is.
Running back won't be the only thing they have to mull between now and when they have to cut the roster to 53 Saturday at 4 p.m.:
_Did undrafted rookie quarterback Jake Dolegala, after going all the way Thursday and unable to get a touchdown in four red-zone tries after such an impressive debut last week, do enough to make the roster? And if he didn't, does he clear waivers at the NFL's most coveted positon so he can go on the practice squad?
"It would be great. I love this team," said Dolegala, when asked if he'd stick around on the practice squad. "I love the coaching staff. I love this city. There's nothing I really don't like about this place. That'd be cool for sure. I'm always open to new opportunities. We'll see what happens this weekend."
_The wide receiver scrum came down to the bitter end and, ironically, because of injuries and inactives, only three dressed. And two of them, the veterans Cody Core and Josh Malone, who were in until the bitter end Thursday, just may be battling for a spot. If you figure A.J. Green, Tyler Boyd, John Ross, Damion Willis, Alex Erickson and Auden Tate make six. Core is a special teams staple. Malone can run on a team where the two fastest guys are either hurt (Green) or coming off rehab (Ross). Malone set up the last sequence when he was tugged over the middle and drew a flag. Core, who had the game's longest catch for 39 yards, has had as solid a preseason as he's had catching the ball in his four seasons in the league.
"I couldn't even tell you," said Core, when asked if he thinks he has a spot. "A lot of factors play into it. The numbers game. We'll see what happens. I couldn't tell you."
_Core has been around. He knows. It's the numbers. That's what is working on the offensive line. Most teams keep nine and dress seven offensive linemen for games. Only one of the top eight linemen perceived to be on the roster played Thursday night. John Jerry, the back-up left guard and third left tackle, had to play most of the game at left tackle and he allowed two sacks, one that resulted in a strip-sack and fumble recovery. Does that mean they keep Jerry as a guard, but director of player personnel Duke Tobin and his staff have to find a third tackle on the waiver wire?
"We'll leave all of our options open," said Taylor of the general waiver wire question. "Duke and that crew do a great job of scouring at every position and having conversations about if we upgrade at that position or not. They've done a great job already this last week, so we'll see where it goes."
_After more pocket-pushing performances by first-year defensive end/tackle Andrew Brown and rookie nose tackle Renell Wren, it's hard for them not to keep both guys in a position group that could easily keep 11 but probably only keeps 10. Brown, who has been all over the place in every game, had half a sack and was in on three tackles working at both spots. Wren had no stats, but his massive presence (6-5, 318 pounds) was more than visible.
The big man was watching.
"You try to put an eye on them as the games go on, and I did see them try to create some pressure," Taylor said. "They might not have gotten the sack, necessarily, but they made the quarterback uncomfortable. We had to get off the spot a little bit and move around. I thought they did a nice job putting pressure on the quarterback."
Brown summed it up as well as any bubble player on Thursday. The next two days "are going to be stressful."
"I think I made it," Brown said. "I can't make every play, but I feel like I did everything in my power. Honestly, I did everything I could do to state a case that I belong here. Now it's in their hands."
_Cornerback Darius Phillips looked to have the team made before the game, but his interception along with a 72-yard punt return for a touchdown that got called back won't hurt. But linebacker Malik Jefferson, a third-round pick from last year, needed to do something to make it but he he didn't. He didn't play because of what was termed a non-football injury.
_Temple's Ventell Bryant had taken a back seat to Willis and Stanley Morgan, the club's other undrafted rookie wide receiver, until Morgan got hurt and Dolegala got snaps last week. With both sitting Thursday, Bryant led all receivers with nine catches for 83 yards, a few of the acrobatic variety. He and Morgan would seem to be leading candidates to be on the practice squad if they keep two. Bryant started playing the slot for the first time in his NFL career at the beginning of the week in a receiver spot the Bengals call "F," and came out of it with Dolegala admiring his doggedness.
"I feel like I'm a smart player. Anything you can throw at me I feel I can run it," Bryant said. "I wasn't thinking about the practice squad or the 53. I just wanted to work my tail off, stay out of the training room, stay healthy, just get an opportunity to make the most of it. Just have fun. I wasn't the most recognized player coming in. If the opportunity presented itself, I knew I'd make plays."
Dolegala appeared to have the most to gain Thursday, but he didn't exactly have the fates with him. Just three wide receivers, one of them in a brand new position. A patchwork offensive line, half of which is gone Saturday. Very few three-receiver sets even though it's the base offense. And, a phantom penalty. After a touchdown flip to Flowers with four minutes left, Dolegala appeared to be getting ready to run a winning two-point conversion.
But tight end Mason Schreck, who looked to be simply running a route on the same side where Flowers caught the ball in the flat, was called for offensive pass interference. Much to Taylor's dismay.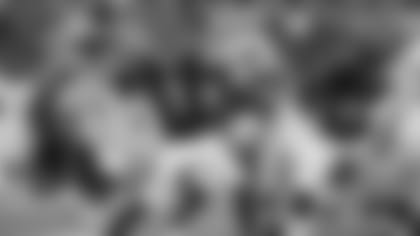 "That was tough. That is really tough," Taylor said. "A receiver gets engaged at the line of scrimmage, and he's not just going to stop. He's going to keep trying to run his route. And, they flagged him for OPI. That's going to be a tough way for a lot of people to lose touchdowns on the one-yard line, if that's the way it goes. That's a tough one for us to stomach there."
Despite the challenges, Dolegala finished with an 82.7 passer rating on 27 of 41 for 253 yards. But he only averaged six yards per throw after hitting three balls of at least 21 yards in the first half. He missed a couple of open receivers and overthrew a couple more, but there's no question he's got a talented arm and a great mindset.
"Not ideal to say the least," Dolegala said. "We were playing guys in different spots. Ventell hadn't played the "F,' until this week. His head was spinning. Josh and CC really helped him getting aligned, getting him set. We did a lot of (double tight ends and double receiver) formations. I think we tried to get the big boys to run it."
He gave it his best. But nobody ever draws up what happens in a pre-season finale. On this night, Taylor's best call was the no call. The don't-tip-your-hand zone read.
"I could have pulled it if I wanted to," Dolegala said. "The defensive end didn't crash. He was kind of in between. I thought let's give to Q to see if he can get in there."
Now Dolegala and the rest wait to see if they're in here.